The body of a volunteer rescuer in Houston was recovered on Sunday. Alonso Guillen, a 31-year-old disc jockey and recipient of the Deferred Action for Childhood Arrivals program, disappeared last Wednesday along with two friends after their boat capsized on Cypress Creek in Spring.
Family members pulled Guillen's body from the creek on Sunday afternoon, the Houston Chronicle reports. His father, Jesus Guillen, said he had asked his son not to go out during the storm, but his son insisted on helping people in floodwaters.
With the recovery of his body, the death toll from Hurricane Harvey climbs to nearly 60, and officials warn that more bodies could be found.
Guillen's mother, Rita Ruiz de Guillen, said from her home in Mexico that she had hoped U.S. authorities would allow her into the country to bury her son, but was previously turned back at the border.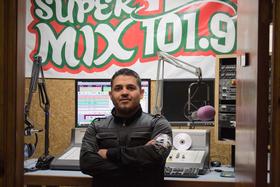 Alonso Guillen was born in Piedras Negras, Mexico, and moved to Lufkin in his teens. Family members said he was allowed to stay in the U.S. because of DACA, an Obama-era immigration program that prevents the deportation of immigrants who were brought to the U.S. under the age of 16.
Guillen's death comes as President Trump reportedly prepares to end the DACA program – with a six-month implementation delay to allow Congress to devise a legislative alternative. This decision, which is expected to be formally announced today, would fulfill Trump's promise to eliminate the program while he was on the campaign trail.
DACA has given about 800,000 undocumented immigrants, including more than 120,000 in Texas, a renewable, two-year work permit and a reprieve from deportation proceedings. [The Houston Chronicle]
Subscribe to Today in Houston
Fill out the form below to subscribe our new daily editorial newsletter from the HPM Newsroom.