THE LATEST
According to the Brazoria Country government website:
"Areas that were previously VOLUNTEER evacuation areas in the County are now MANDATORY evacuation areas. The curfew is still in effect."
NOTICE: Previously VOLUNTARY evacuation areas in the County are now MANDATORY evacuation areas. The curfew is still in effect. pic.twitter.com/lOAACRfndu

— Brazoria County (@BrazoriaCounty) September 2, 2017
The Brazoria County website contains maps and more detailed information about the evacuation areas.
—————-
President Donald Trump and First Lady Melania Trump visited Houston's Hurricane Harvey Relief Center at Ellington Field. They also greeted people who are sheltering at NRG Center, an emergency refuge center. This was the president's second trip to Texas in a week. Next, he will be going to Lake Charles, Louisiana which was also hit hard by Harvey.
—————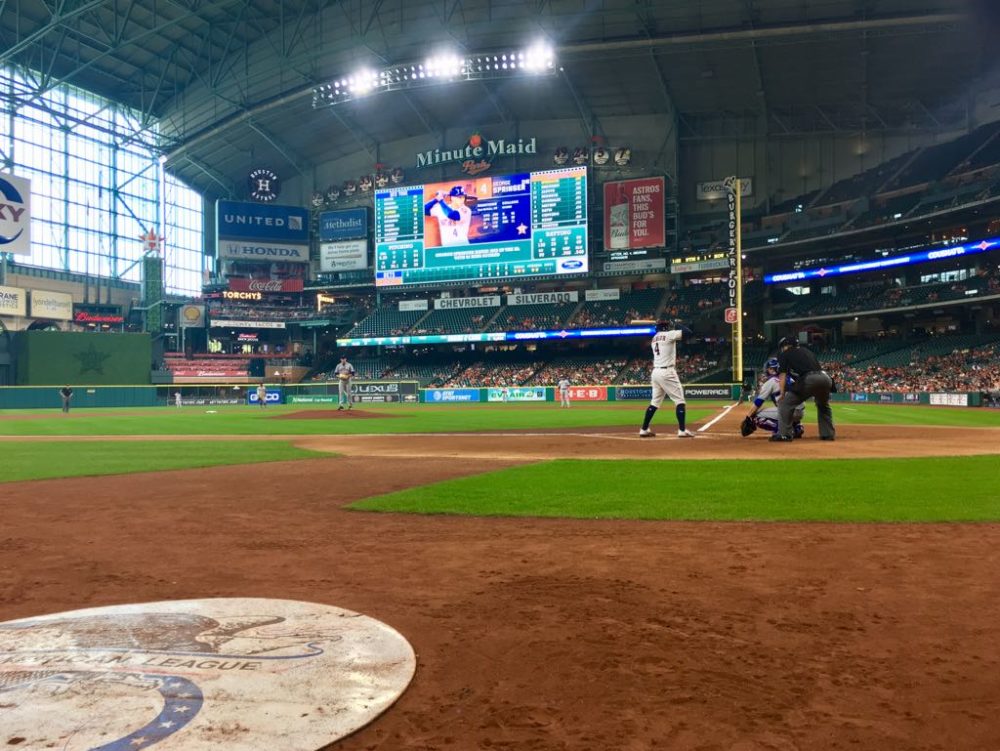 Some Houstonians attending the Astros game on Saturday didn't do it just for fun, but mostly as a support gesture for Houston.
KERA's Stella Chavez talked to the Leong family about it: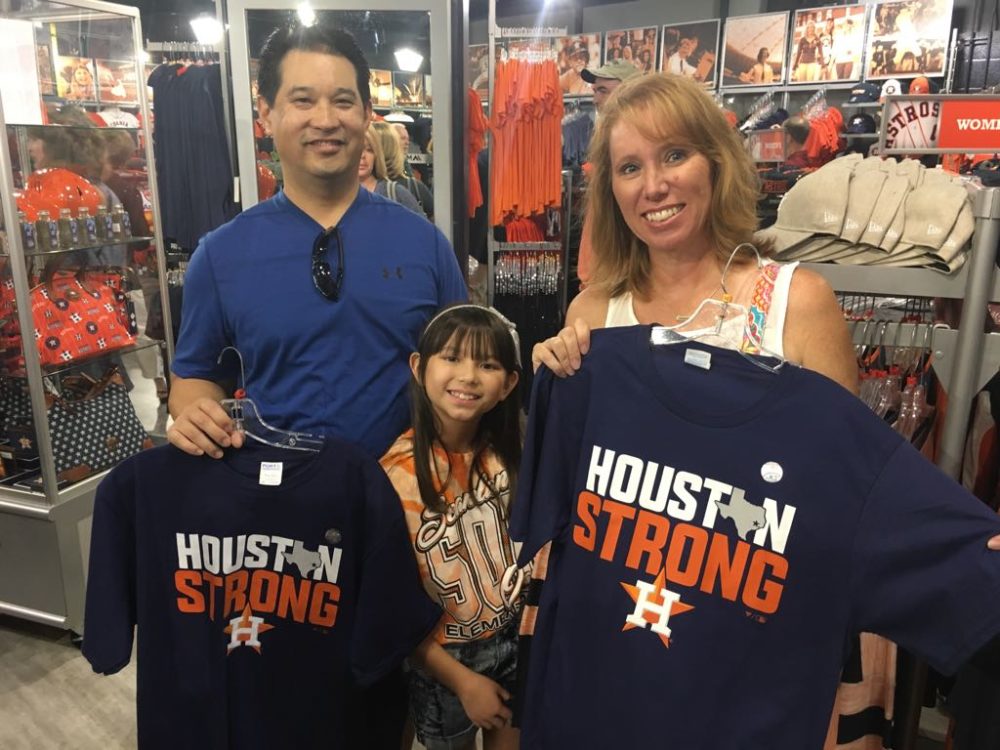 ———-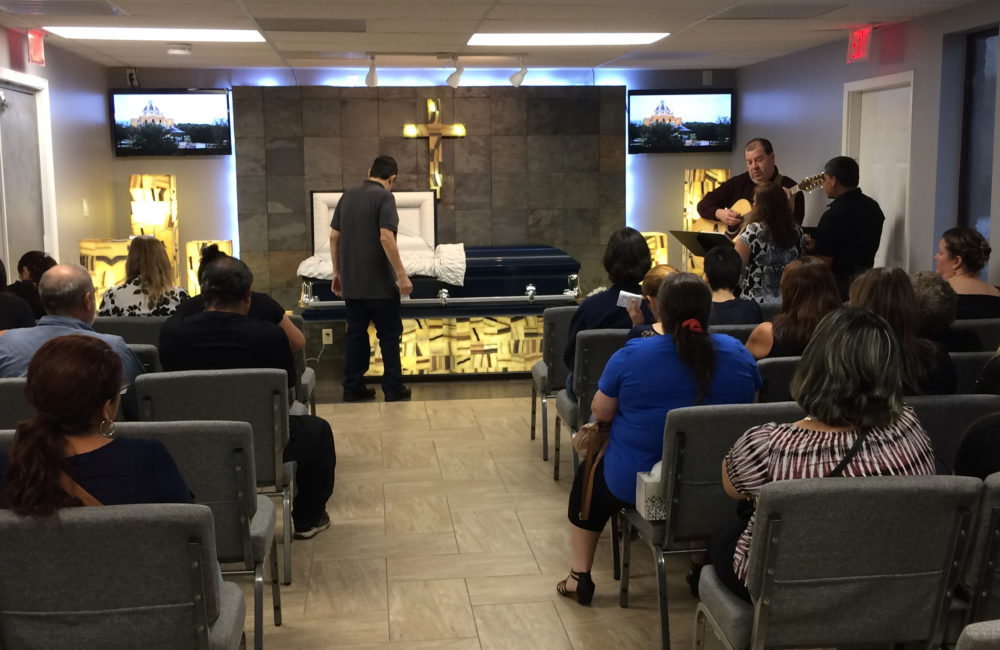 (From AP)
The death toll from the storm has reached 42. Families who lost loved ones are remembering the victims during funerals and memorial services.
In Houston, relatives of 42-year-old Benito Juarez Cavazos, who was swept away by floodwaters left by Harvey, recalled his happy-go-lucky nature and generosity. He had come to Texas illegally from Mexico on his own as a young teen and was scheduled for an appointment toward getting permanent residency the day after he apparently drowned.
The funeral of 82-year-old Ola Mae Winfrey-Crooks was scheduled for Saturday. She drowned when her car was swept off a farm-to-market road at the San Jacinto River near her home north of Houston.
A memorial also was planned Saturday for 58-year-old Ruben Jordan, a former high-school football and track coach, who disappeared while driving during the storm.
—————-
The Astros are playing the New York Mets in a double-header at Minute Maid Park on Saturday, down the street from the George R. Brown Convention Center, where center where thousands of people are being sheltered.
"Hopefully we'll bring some joy to people at the game. Hopefully we'll pack the place and win a ballgame." –@ABREG_1https://t.co/7BqLnT697l pic.twitter.com/XuZiSxrzAy

— Houston Astros (@astros) September 2, 2017
This is their first home game since Hurricane Harvey hit the Houston area after making landfall on the Texas Gulf Coast last week.
Houston Mayor Sylvester Turner said in a statement that the Astros should play this weekend to give the city a much-needed boost. The games, he said, would help families begin returning to a normal life.
On Friday, Astro players visited shelters. And the team donated 5,000 tickets to the mayor's office to give to evacuees and first responders.
————–
Downstream from the Barker and Addicks reservoirs, which began rising on August 25th according to the Harris County Flood Control District website, lies Buffalo Bayou Park. It's a green space surrounded by miles of hike and bike trails. But after Tropical Storm Harvey, the park is completely flooded, and resembles a lake more than a park. That's in part because of controlled releases of water from the Addicks and Barker dams.
Houston Public Media's Don Geraci took these photos from around Buffalo Bayou Park on Saturday morning.
"Hopefully we'll bring some joy to people at the game. Hopefully we'll pack the place and win a ballgame." –@ABREG_1https://t.co/7BqLnT697l pic.twitter.com/XuZiSxrzAy

— Houston Astros (@astros) September 2, 2017