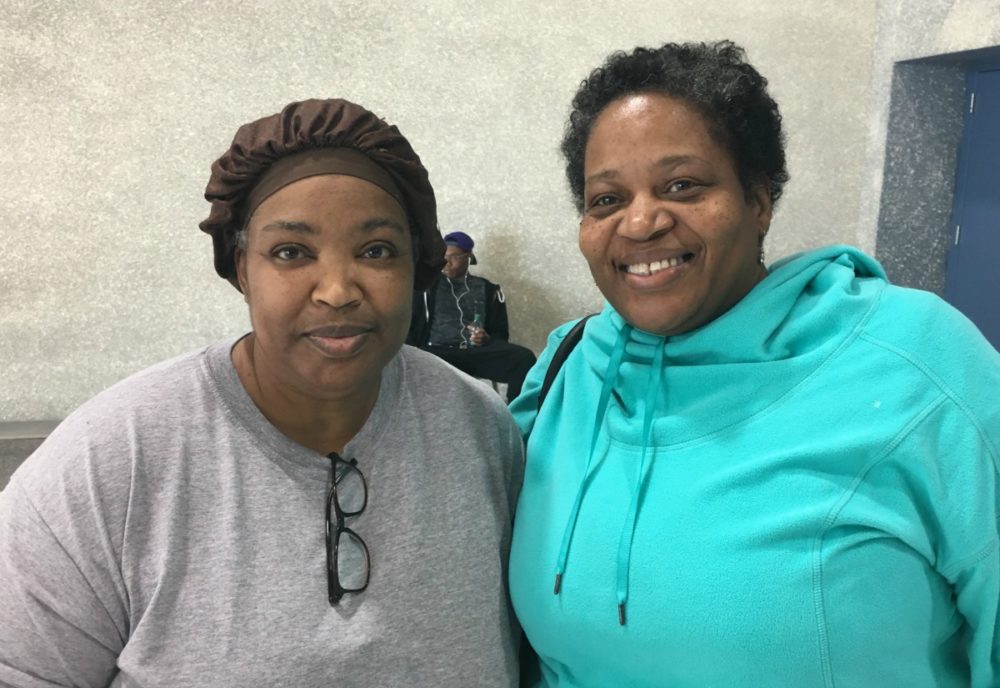 If you saw Gloria Tyler and Arleen Flint walking around the mass shelter at Houston's NRG Center on Thursday, you'd think they were old friends.
In the midst of all the hustle and bustle of people picking up supplies with their children and volunteers coming and going with loads of water and food, the two women were walking and talking like they'd known each other for quite some time. But that's not the case.
"No, we didn't know each other at all," Tyler said.
Despite both being evacuated from the same area of town — northeast Houston — the two hadn't met until they struck up a conversation at the shelter.
"I saw her walking across the room, and I just wanted to say good morning," Tyler said.
Ever since then, the two have been checking in on each other, talking and walking around the shelter's vast expanse. Tyler is staying at NRG Center with her family, but Flint is there alone. So, making a friend has helped the experience…
"You find out your situation is as bad as the other person," Flint said. "So, it makes you kind of bond together and say, "Ok let's help each other out. We're all in this together. I'm not alone.'"
They both said whatever's left of their homes, they're no longer inhabitable. They're not sure what they're going to do next in terms of housing and rebuilding their lives. But one thing they are sure of — they plan to stay in touch after things return to some semblance of normal.
"I'm sure we will," Tyler said. "I've gotten a lot of numbers so far, and everybody is reaching out saying, 'Make sure you call me.' I think I've made a lifelong friend here."