#Harvey soaks #Louisiana as #floods trigger explosion at #Texas #chemicals plant #storm #hurricane #OOTT #oil #gas https://t.co/LnslDwWlqO pic.twitter.com/qJ2grVh63i

— Christopher Johnson (@Eco_Vox) August 31, 2017
THE LATEST:
Houston firefighters are finishing the first of six areas where they went door-to-door checking for anyone left behind in the Harvey flooding.
Fire Chief Sam Pena says firefighters hope to complete the checks in all six areas on Friday. He did not say whether anyone was found dead or alive.
Deputy Police Chief Larry Satterwhite says police have received 30 reports of missing people since Harvey began and have found 11 of those. He says authorities believe most of the remaining 19 have lost the means to communicate and are either in shelters or otherwise safe. He cautioned not to assume they are dead: "It doesn't mean the worst." The death toll from Harvey so far is 32.
Mayor Sylvester Turner says areas on the east and west sides of the city are still dealing with flooding issues, but the rest of Houston is "drying out and drying out well" and traffic is returning to the streets.
Turner says Houston is "turning the corner," with the number of people decreasing in city emergency shelters. He expects to move people from the Toyota Center downtown to the nearby George R. Brown Convention Center on Friday. The convention center, which once housed 10,000 people at one point, sheltered about 8,000 late Thursday.
___
Officials say a 61-year-old Southeast Texas woman has become the 32nd person confirmed to have died in Texas because of Harvey.
Newton County Sheriff Billy Rowles says Clementine Thomas died Wednesday afternoon when the car she was driving was swept from Texas 87 south of Newton, about 60 miles northeast of Beaumont.
In a statement Thursday, Rowles said witnesses reported that several people risked their lives to rescue Thomas but were unsuccessful. Her body was recovered Thursday afternoon.
___
Law enforcement officials from the federal government and Texas and Louisiana have formed a working group to investigate and prosecute illegal activity related to Hurricane Harvey.
Houston-based Acting U.S. Attorney Abe Martinez says storm victims already have suffered devastation and "the last thing that victims of the damage need is to be victimized again."
Authorities say bringing about a dozen agencies together into a single focused group is an optimal way to address calls they're already getting about scams in the wake of Harvey. Those calls are going to relevant agencies.
He says they're also employing lessons learned from the aftermath of Hurricane Katrina and will bring "a comprehensive law enforcement focus" against illegal activities.
Securities and Exchange Commission Chairman Jay Clayton says there's no place for fraud or shady practices in rebuilding Texas and Louisiana.
___
Local officials in the southeast Texas city of Beaumont struggled to cope after flooding swamped the municipal water system.
The already swollen Neches River rose further as water from more northerly reaches made its way toward the Gulf of Mexico. It led to more rescues by helicopter and boat just like Houston had seen days before, but also to the water system failure. Beaumont's main water pumps are in the Neches, but by early Thursday morning they were underwater. The backups failed, too.
Kyle Hayes, manager of the city of about 120,000 people, said the flooding is making it hard to send in water and other needed resources. The city was still trying to amass enough water to open water distribution stations. Hayes said one truck had arrived Thursday morning.
Donald Marvels runs Beaumont's branch of the Salvation Army. He said he gave out at least 1,500 cases of water Thursday. Flooding was causing problems for his convoy of storm responders trying to get to Beaumont.
___
The head of the Texas agency that regulates the oil and gas industry is urging people to wait three or four days to fill their cars and trucks with gasoline if they can.
Railroad Commissioner Ryan Sitton said Thursday that people are panicking and that's causing a run on gas and empty fuel pumps.
He says there is plenty of gas in Houston and elsewhere, but there are logistical problems of making sure all of the stations are getting it.
He says he doesn't think it will be an issue a week from now as long as people stay calm and fill up their tanks as they normally would.
Fort Bend Independent School District will delay the reopening of schools until at least Monday, September 11. Fort Bend ISD Superintendent Charles Dupres says that if they determine further delays are necessary, they will share that information as far in advance as possible.
Many Fort Bend ISD staff members and students have been displaced, and Dupres says it will take some time to fully recover from the effects of Hurricane Harvey, but that they are dedicated to helping their students to get back to learning and the routine of school as quickly as possible.
He says it is likely some schools will take longer to clean and restore than others and so he believes it might not be possible to open all the schools at once. The most up-to-date information on the schools conditions can be found on their website www.fortbendisd.com.
___
A health expert warns standing water from Harvey could create a boom in the mosquito population and the potential transmission of mosquito-borne diseases
Joon Lee is a medical entomologist at the University of North Texas Health Science Center. He says Harvey's floodwaters will wash away immature mosquito populations from their breeding grounds, but they can be quickly re-established in stagnant water. Lee says mosquito populations will likely explode within the next two weeks and will stay for at least a month or two.
Lee says that could be mean increased transmission of potentially life-threatening, mosquito-borne diseases such as West Nile virus and St. Louis encephalitis. Lee says outbreaks of Zika, dengue fever and Chikungunya are also possible, but those diseases must originate from a person already infected.
___
The Trump administration is trying to assure victims of Harvey living in the country illegally that they will not be targeted as they try to access emergency services — as long as they haven't committed other crimes.
Trump's Homeland Security Adviser Tom Bossert says that: "in terms of immediate lifesaving, no individual human being should worry about their immigration status unless they've committed a crime on top of coming here illegally when it comes to getting food, water and shelter."
He also says that no routine sweeps will be conducted in emergency shelters.
Still, he said that people living in the country illegally should not expect long-term federal assistance reserved for citizens.
He says: "I don't think there's going to be a lot of benefits going out to illegal immigrants."
___
A Texas A&M University analysis of floodwater samples from the Houston area shows E. coli levels that are 125 times higher than is considered safe for swimming.
Terry Gentry, an associate professor in the university's Department of Soil and Crop Sciences, says even walking through floodwater could lead to infections and other problems.
Gentry says tests from a sample in Cypress, a suburb northwest of Houston, showed bacteria levels 15 times higher than acceptable for wading.
E. coli in water isn't what causes illnesses but is an "indicator bacteria" that signals the presence of fecal matter, which can make people sick.
___
Filling fuel tanks is becoming increasingly difficult in parts of Texas where some stations were out of gas and pump costs have risen steeply.
In Dallas, lines of cars a block long were common for the few gas stations that had gasoline to sell Thursday. The scene was reminiscent of the gas lines seen during the Arab oil embargo of the 1970s.
One Chevron station in downtown Dallas that sold regular gas for $2.29 a gallon just before the storm was charging $2.99 on Thursday. Others charged well over $3, and one downtown Shell station charged $3.97 for a regular gallon of gas. At three gas stations in north Dallas, yellow bags or caution tape was wrapped around pumps just after noon.
The Texas attorney general's office said anyone seeing gas prices of $4 or higher should take pictures and report the stations as price-gouging.
___
The U.S. Postal Service has posted a list of locations where Houston-area residents can pick up government benefit checks after Harvey forced the temporary closing of several post offices.
The list posted Thursday includes pickup site addresses by ZIP code. Government checks including Social Security payments, Department of Veterans Affairs disability benefits and checks from the Office of Personnel Management and the Railroad Retirement Board can be picked up starting Friday. The locations will be open from 10 a.m. to 6 p.m. Monday through Sunday.
The Postal Service says to pick up a check, customers must show proper identification. Customers can also complete a change of address request if they expect to be out of their homes for an extended period.
___
The first day of school for Houston Independent School District students will be Monday, Sept. 11, weather and facility conditions permitting.
First day of school for #HISD students will be 9/11/17, weather & facility conditions permitting #Harvey

— Houston ISD (@HoustonISD) August 31, 2017

"We are eager to get our students back into the classroom and learning. We want to provide the stability of a routine, as well as the three nutritious meals a day that so many of our families depend on," said HISD Superintendent Richard Carranza. "But we also need to be sure that our campuses are safe and that Houston's infrastructure and roads are ready to handle transporting our students safely to school. Our team is currently assessing any damages to our more than 280 schools from Hurricane Harvey, and I want to thank them for their efforts."
HISD's administrative buildings will reopen and employees will return to work starting on Tuesday Sept. 5. School principals and their administrative staffs will also return to work starting on Tuesday Sept. 5.
Teachers and all other staff members will report back on Friday, Sept. 8, to prepare to receive students before classes begin on Sep. 11.
HISD is relaxing the uniform guidelines until January 2018. Essential personnel should check with their supervisor on reporting back to work. (Essential personnel includes nutrition services, police, transportation, facilities, and construction services.)
For continuing updates, please visit www.HoustonISD.org, or call the HISD Inclement Weather Hotline at 713-556-9595. You can sign up for HISD text message alerts to receive updates on school weather conditions by texting YES to 68453. You also can follow the district on Twitter and Facebook: twitter.com/houstonisd and facebook.com/houstonisd
___
Texas Gov. Greg Abbott has declared Sunday a day of prayer for his waterlogged state.
The Republican governor and Vice President Mike Pence visited a church in the city of Rockport on Thursday that was damaged when Harvey came ashore last Friday as a Category 4 hurricane.
Abbott says Texans will pray on Sunday for those affected by the storm and for everyone who has helped them, including first-responders.
Harvey has caused record flooding in parts of the state and has been blamed for the deaths of more than 30 people.
___
The Houston Texan's pro football arena has been transformed into a pop-up city, as it becomes the main shelter for people displaced by Harvey's floodwaters. The nonprofit Baker Ripley is running the shelter for Harris County. Fred Goodall with the nonprofit says they can accommodate up to ten thousand people and have a special space for children with movies, theater and some teachers.
"Their parents really need some time to figure out what need to do, they need some time to get breather and take all this in, and sometimes having the kids there is not a way to think about things that they need to go through."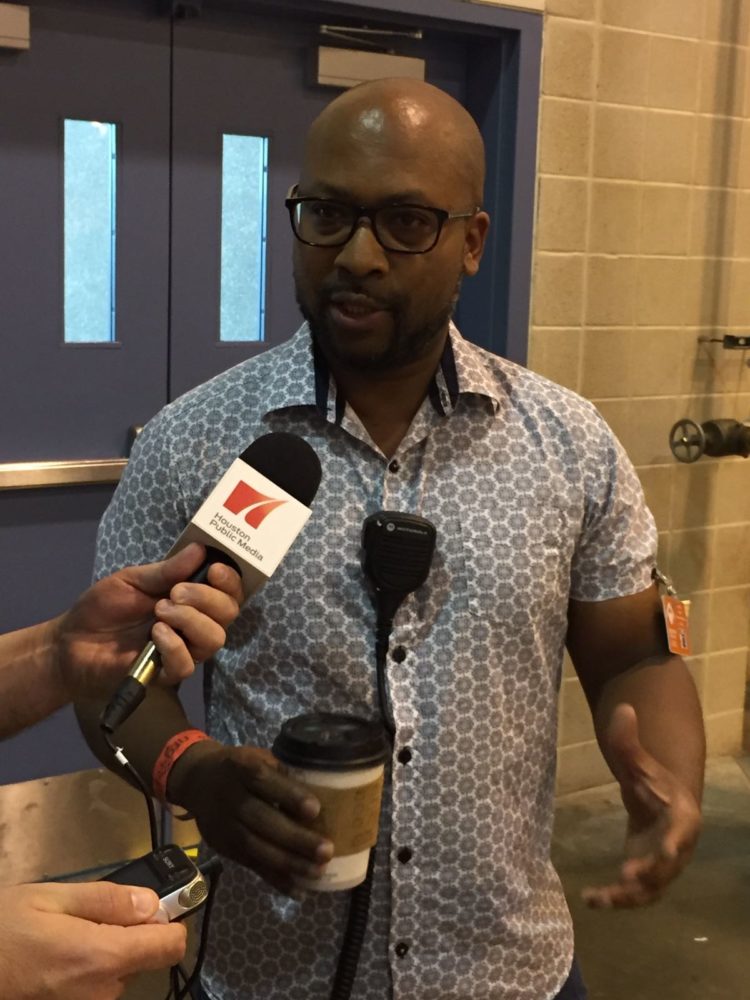 Goodall says the shelter also has a dining area, sleeping quarters, a pet area as well as medical and mental health facilities. He has seen so many volunteers arrive to help that they had to turn some Good Samaritans away.
"The message that we have is that we're here for the long haul, I know a lot of people come and volunteer early on during the crisis, but we're going to be here for a while because we don't know how long we're going to have to keep this shelter open, we're going to be open until we're not needed anymore."
And the city's mega shelter at the George R Brown Convention Center is no longer accepting new evacuees, but is sending them to the NRG stadium.
___
97,000 people have already received some type of assistance from the federal emergency management agency after Harvey.
That's according to FEMA's Harris County branch director Tom Fargione. He says 200,000 victims have so far registered. "And every survivor is not eligible for every part of our grant process but what we do is we encourage everyone in this county and in affected counties in the state to register with FEMA."
He says the best way to do that is by going online to disaster-assistance-dot-gov or on the FEMA smartphone app. You can also call 1-800-FEMA (3362).
___
Mental health professionals say many people affected by Harvey will experience psychological side effects in the weeks to come. Jana Tran is the staff psychologist for the Houston Fire Department.
She says there are common responses to trauma that people can be on the lookout for. "Anxiety, stress, depression, and possibly first signs and symptoms of post-traumatic stress disorder," says Tran. "And the ways that they'll be coping with that is likely through alcohol and substance abuse, so we'll be keeping an eye out for that as well."
Tran says irritable reactions, exhaustion or lethargy, and inability to focus are normal responses that should go away within a couple weeks.
___
Harvey dropped enough rain to cover 90 percent of Harris County in water.
There's no official estimate on the number of homes flooded, but it's expected to be much higher than during Tropical Storm Allison. Jeff Lindner with the Harris County Flood Control District says that storm flooded 73-thousand houses.
"We're very flat here," Lindner says, "so typically water doesn't get very deep, it spreads out over a large area. And so you may get a few inches or six inches of water in your house when we have flooding. Harvey was completely different. The water was very deep in a lot of homes, in some cases rooftop flooding, four, five, six feet. And that's almost just a complete loss."
The flood control district estimates more than one trillion gallons of water fell in Harris County alone. Lindner says in Fort Bend and Brazoria counties the Brazos river is an ongoing concern. "It is very close to the top of the many levees in Fort Bend County, so there's lots of evacuations there," Lindner explains, "and that river goes on down into Brazoria County and spills over into Oyster Creek. And then the San Bernard River on the western part of Fort Bend and Brazoria is at record levels too. So it's going to be a mess down there for a while."
Lindner says some areas in Brazoria County could be flooded for weeks.
___
Firefighters began a block-by-block search of tens of thousands of flooded Houston homes Thursday to look for anyone who might have been left behind in Harvey's fetid floodwaters, and the loss of power at a chemical plant set off explosions that prompted a public health warning.
Searchers will also be looking for any bodies that could add to the confirmed death toll of at least 31. They said it could take up to two weeks to check all neighborhoods that were submerged by more than 4 feet of rain.
As the water began to recede in the area, the threat of major damage from the storm shifted to a region near the Texas-Louisiana state line.
The fires and two explosions that rocked the Arkema Inc. plant in Crosby, ignited a 30- to 40-foot flame and sent up a plume of smoke that the head of the Federal Emergency Management Agency initially described as "incredibly dangerous." FEMA later backed away from that statement, saying that Administrator Brock Long issued the warning out of an abundance of caution.
An Environmental Protection Agency analysis of the smoke showed it posed no immediate threat to public health, the agency said.
The French operator of the plant feared that up to eight more chemical containers could burn and explode.
___
Richard Rennard, an executive from Arkema Chemical Plant said on Thursday that they fully expect "other 8 containers will do the same thing, water is still in our facility and preventing us to have access." At this point, he said, "the safest thing to do is let others degrade and burn."
Rennard said that they had generators in place and that there was not much that could have been done to provide more security: "We had backup generators, we bought back up, back up generators. I'm not sure what much we could have done to provide additional layers of security to provide power to the site."
People should respect this 1 ½ mile radius, he said. "It's not over. This is a very serious issue. And we know that."
Frances Breaux, a resident in Crosby, was worried about an elderly married couple who didn't evacuate their home, even though it's close to Arkema's plant. News88.7's Al Ortiz had the story.
___
In Houston, the rescues continued apace. The fire department planned to begin a block-by-block search Thursday of thousands of flooded homes to look for anyone left behind in the floodwaters, a process that was expected to take one to two weeks, Assistant Fire Chief Richard Mann said.
The latest surveys indicate that the storm and floodwaters have caused major damage to more than 37,000 homes and destroyed nearly 7,000, the Texas Department of Public Safety reported.
Farther east, Beaumont and Port Arthur struggled with rising water after being pounded with what remained of the weakening storm.
The confirmed death toll climbed to at least 31, including six family members — four of them children — whose bodies were pulled Wednesday from a van that had been swept off a Houston bridge into a bayou.
Beaumont and Port Arthur worked to evacuate residents. Port Arthur found itself increasingly isolated as floodwaters swamped most major roads out of the city. More than 500 people — along with dozens of dogs, cats, a lizard and a monkey — took shelter at the Max Bowl bowling alley, general manager Jeff Tolliver said.
"The monkey was a little surprising, but we're trying to help," he said.
Floodwaters also toppled two oil storage tanks in South Texas, spilling almost 30,000 gallons (114,000 liters) of crude. It was not immediately clear whether any of the spilled oil was recovered. More damage to the oil industry infrastructure is expected to emerge as floodwaters recede.
___
Officials are now calling the situation at the Arkema chemical plant in Crosby an "incident" and not an "explosion".
At a news conference Thursday, Rich Rennard, an Arkema executive, said the remaining chemicals are volatile and that more combustion is likely.
He said refrigerated containers were used to store organic peroxide after the flooding caused the plant's regular power and backup generators to fail. But those refrigerated containers also failed, causing the chemicals to degrade and eventually burn in one of the containers before dawn Thursday.
He said the company anticipates that the eight remaining containers "where products are starting to degrade will produce more explosions."
At an earlier news conference, Assistant Harris County Fire Chief Bob Royall said the different grades of organic peroxides in a semi-trailer caught fire not long after midnight. Royall said the fire emitted a 30- to 40-foot flames and black smoke.
Harris County Fire Marshal spokeswoman Rachel Moreno later put the quantity of burning organic peroxide at 2 tons.
All 15 Harris County Sheriff's deputies who had been hospitalized after inhaling smokes were released.
___
The smokes from explosions at the Arkema chemical plant in Crosby are not toxic, Harris County Sheriff Ed Gonzalez confirmed on Friday morning at a press conference. He compared the toxicity level of the smokes to those from a campfire's, based on experts opinions, he said.
Crosby's authorities stressed that the so-called explosions at the chemical plant, which happened at 2 a.m. on Friday, are not so and they explained that the pop sounds came from containers erupting.
Meanwhile, U.S. Vice President Mike Pence announced that he would travel to Corpus Christi to assess damages from Harvey and to meet with victims of the hurricane.
Our volunteer map editors are monitoring news out of #Crosby, TX at the #Arkema plant. We've closed roads into the evacuation zone. #Harvey pic.twitter.com/86McmYNXVP

— Waze USA (@Waze_USA) August 30, 2017
More #Crosby FF here. We've seen 12+fire trucks go to Arkema chemical plant. Confirmed 2 explosions, black smoke.1 deputy to hospital #abc13 pic.twitter.com/Ep33vtcx92

— Courtney Fischer (@CourtneyABC13) August 31, 2017
___
There is a mandatory evacuation order in effect for several communities near the Barker Reservoir in Fort Bend County. Officials there overnight upgraded the voluntary order to a mandatary one.
The order covers six subdivisions including: All sections of Canyon Gate and Grand Lakes, along with several parts of Cinco Ranch, Kelliwood, Ricefield Village, and Willow Fork.
Authorities are urging people to pack their essentials, including medication and important documents, but wait until daylight to leave
There is a 12 a.m. to 6 a.m. curfew for the unincorporated parts of Fort Bend that will be in effect through at least the middle of next week.
People who have extra vehicles that they are not using to evacuate may park them at Cinco Ranch High School. And people who can not evacuate on their own can call for help at 281-342-6185.
Despite the pre-emptive release of floodwaters, the level at Barker continues to rise and flooding is imminent.
___
The Arkema plant in Crosby that lost power after Harvey engulfed the area in extensive floods was rocked by two explosions early Thursday, the plant's operator said.
Arkema Inc. said in a statement on its website that the Harris County Emergency Operations Center reported two explosions and black smoke coming from the plant at about 2 a.m.
Authorities have not released information on how dangerous the explosions were or whether they sparked a fire at the Arkema plant.
Arkema says flooding overwhelmed its power sources... it lost critical refrigeration of organic peroxides—which are combustible if not stored at low temperature. There's a possibility for more events like this morning. Local officials had previously established a 1 and a half mile evacuation zone, around the plant.
The plant expects the chemicals to eventually burn out.
Harris County Sheriff Ed Gonzalez said it is not toxic, they don't feel it is a danger to the community. "It is not anything toxic. It is not anything we feel was a danger to the community at all.... Not an explosion", Gonzalez said.
He said the 15 deputies who inhaled fumes went to the hospital as a precautionary measure, and at least 8 have already been through evaluations and are clear.
Officials say the evacuation orders are still in place.
___
A Houston mother is warning people in the area to stay out of Harvey's floodwaters after her son was electrocuted while wading through the water to check on his sister's home.
Jodell Pasek says her 25-year-old son Andrew was unaware that a landscape light had electrified the water when he stepped into it Tuesday afternoon. She said he fell and grabbed a lamppost and told a friend who was with him to stay away because he was dying.
She says she's speaking out despite her grief to ensure her son didn't lose his life in vain.
Pasek lost her older son in a car accident in 1993. She tells KPRC-TV that she's pulling her strength from that experience.
___
Beaumont, Texas, has lost its water supply because of Harvey.
Officials there say the city has lost service from its main pump station due to rising waters of the Neches River caused by Harvey.
The pump station is along the river and draws water from it as a main source for the city's water system.
The officials added in their statement early Thursday that the city has also lost its secondary water source at the Loeb wells in Hardin County. They say there's no water supply for Beaumont's water system at this time.
They say they must wait until the water levels from Harvey recede before determining the extent of damage.