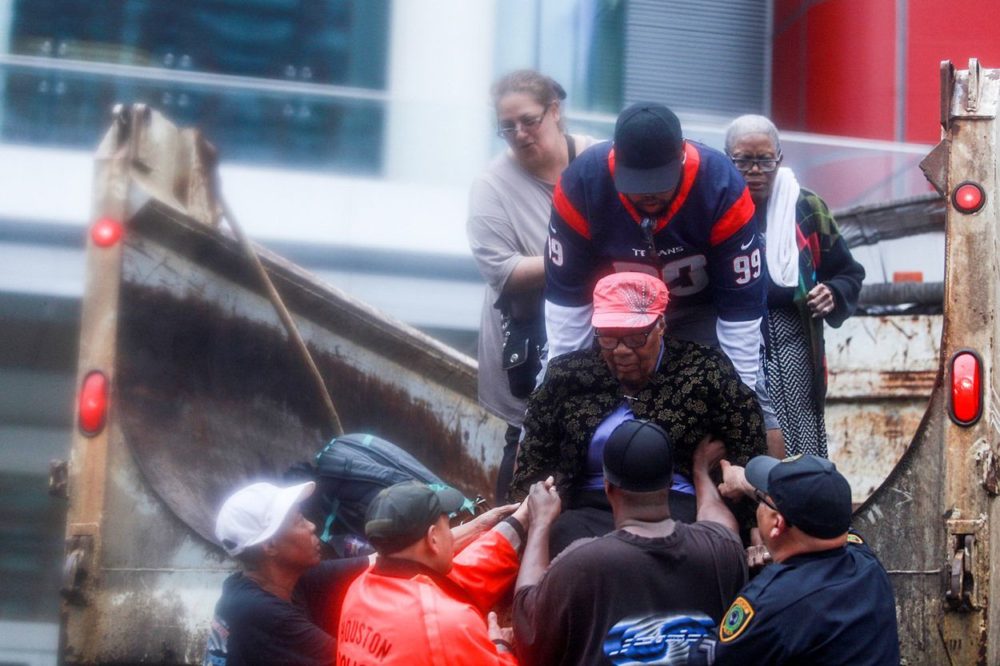 If you're a victim of Hurricane Harvey …
Rescue and evacuation
Find an open shelter near you by texting SHELTER and your zip code to 4FEMA (43362). You can also use the FEMA mobile app.
If you're considering evacuating your home, the Houston Chronicle is compiling a map of flooded streets.
Several counties have issued mandatory or voluntary evacuations over the past several days. Texas Gov. Greg Abbott is keeping a running list of those counties on his website. Keep in mind, the director of the federal Hurricane Harvey relief efforts has warned people in flooded regions not to get into their cars, which could put more lives at risk and drain resources that could be used to rescue citizens elsewhere.
Shelter and relief
The U.S. Department of Education activated its emergency response contact center Tuesday. Education stakeholders seeking informational resources and relief from Department-based administrative requirements are encouraged to email HarveyRelief@ed.gov.
Following reports that several Texans are missing in midst of the storm, the Red Cross is encouraging people to list themselves and their families as safe by clicking here. You can also receive disaster assistance from the Red Cross by calling 877-500-8645, or find a list of open shelters here.
Call the United Way Helpline at 211 for information on shelters and other forms of assistance.
The Texas Association of Business has established a hotline to provide resources to business owners affected by the storm. Call 512-637-7714 or see the website.
Call the State Bar of Texas legal hotline at 800-504-7030 for toll-free answers to basic legal questions in English, Spanish or Vietnamese. If you need a lawyer, call the State Bar's Lawyer Referral & Information Service at 800-252-9690.
If you lost your job because of the hurricane, you may be eligible for unemployment benefits. Apply here.
To report a missing child, call the National Center for Missing and Exploited Children at 1-866-908-9570.
For those looking for refuge, Texas State Park camping is free to hurricane evacuees.
Talk to a professional about emotional distress by calling the Disaster Distress Helpline at 1-800-985-5990 or texting "TalkWithUs" to 66746.
Harris County: Call 713-308-8580 to locate your towed car.
TekDry is headed to Houston shelters to help victims dry and recover their wet cellphones and other devices. Representatives plan to be at the George R. Brown Convention Center by

2 p.m.

Wednesday

afternoon. For location updates, follow them at @TekDry or call CEO Adam Cookson at 720-625-1984.
Victoria: Grocery store H-E-B has a host of emergency measures in place, including a mobile kitchen serving meals today in Victoria.
Dallas: Mayor Mike Rawlings announced Monday that the city will start receiving people flown out of the flooded region this afternoon. The city will also open three emergency evacuation shelters at Samuell Grand Recreation Center, Walnut Hill Recreation Center and Tommie Allen Recreation Center.
San Antonio: Several shelters are open for storm refugees, according to the governor's website. Both San Antonio Shelter Hub and San Antonio's American Red Cross Shelter are hosting those who have evacuated from the floods.
Austin: The Austin Disaster Relief Network also activated a call center to provide both resources and information to families impacted by the storm. You can reach that hotline at 512-806-0800.
Disaster recovery
The Texas Tribune thanks its sponsors. Become one.
Residents and business owners in counties who sustained disaster related damage due to Harvey can apply for assistance by registering online at www.DisasterAssistance.gov.
Lost Dogs of Texas is maintaining several active Facebook pages documenting pets they've found amid the storm. Here is some information (with photos included) on animals found along the Coast Bend area and those in the Houston area.
Also, the U.S. Department of Labor has approved a $10 million National Dislocated Worker Grant to assist with cleanup and recovery efforts in Texas.
If your home was ravaged by the floods or sustained any storm damage, you can register your damage with FEMA at 1-800-621-3362.
Check whether you're eligible for disaster relief.
You can also file a personal claim with the Texas Department of Insurance's consumer hotline at 1-800-252-3439.
Follow government guidelines on replacing important documents.
RoweDocs is offering online healthcare services to Harvey victims.
If you want to help victims of Hurricane Harvey ...
Help with rescue efforts
Provide shelter and supplies
Food banks are asking for nonperishable staples like canned meat and dry goods, as well as cleaning supplies; the Houston Food Bank, Southeast Texas Food Bankin Beaumont, Central Texas Food Bank, Galveston County Food Bank, Food Bank of the Golden Crescent and Corpus Christi Food Bank all accept online donations. See the Houston Press's list of names and contact information for more food banks here.
The Houston Food Bank announced Wednesday that is was open and ready to start distributing supplies to those affected by the flood. The food bank also emphasized the need for volunteers, who would be used to inspect and sort food and repack dry food, among other things.
Donate food or cash to food banks in your area. Or you can donate to Feeding Texas, a network of food banks across the state. Find your local food bank here.
You can also open your home to disaster victims through Airbnb.
Make a cash or diaper donation to the Texas Diaper Bank, which is providing emergency diaper kits to displaced families.
Donate cash or supplies for children with complex medical needs to Little Lobbyists.
In East Texas, Athens First Presbyterian Church is accepting donations — including bottled water, nonperishable food, tarps, trash bags and clean up supplies — for hurricane relief efforts. The church is also looking for volunteers to help accept donations.
Make a donation
Give blood
Several hospitals are reporting blood shortages and seeking donations in the wake of the storm. O negative and O positive donations are particularly helpful, but people of all blood types are encouraged to donate.
Carter BloodCare is sending donations to Southeast Texas; see where you can donate here. You can also give blood through the South Texas Blood & Tissue Center; find out more on their website or by calling 210-731-5590.
Driscoll Children's Hospital in Corpus Christi — which never lost power — is accepting blood donations as well as financial support.
Living outside of Texas? You can still donate blood through the Red Cross.
Volunteer your time
The Texas Tribune thanks its sponsors. Become one.
Experts expect it'll take some time before the floodwaters drain in Houston. In the meantime, several groups are seeking volunteers to help with recovery efforts.
Volunteers can sign up for trips to the affected area through organizations like Samaritan's Purse, Coastal Bend Disaster Recovery Group, Team Rubiconand Voluntary Organizations Active in Disaster.
Volunteer Houston has launched a virtual Volunteer Reception Center to aid nonprofit agencies in flood relief efforts. More information here.
If you're in the Dallas-Fort Worth area, you can register to help at shelters through the Mass Care Task Force.
Remote Area Medical is seeking medical personnel, as well as general support and supplies, to help with rescue efforts. Contact RAM at volunteers@ramusa.org or 865-579-1530.
The Red Cross is seeking musicians to play at Austin-area evacuation shelters.
The State Bar of Texas has a legal hotline to help people — specifically low-income Texans — with issues such as replacing lost documents and answering insurance questions. They also started a disaster relief volunteer form, which attorneys licensed in Texas can fill out here.
Are we missing anything? Let us know at eplatoff@texastribune.org and asamuels@texastribune.org.
Read related Tribune coverage:
The director of the federal Hurricane Harvey relief efforts offered guidance to Texans affected by the storm and urged citizens to help. [Full story]
As Harvey's waters strand thousands of folks in their homes and send some onto rooftops — a chorus of onlookers have asked: Why didn't more local officials order mandatory evacuations? [Full story]
Nowhere was Hurricane Harvey's devastation felt more than Aransas County, which has had one storm-related death and has had many buildings severely damaged. The region's difficult physical — and emotional — recovery is underway. [Full story]