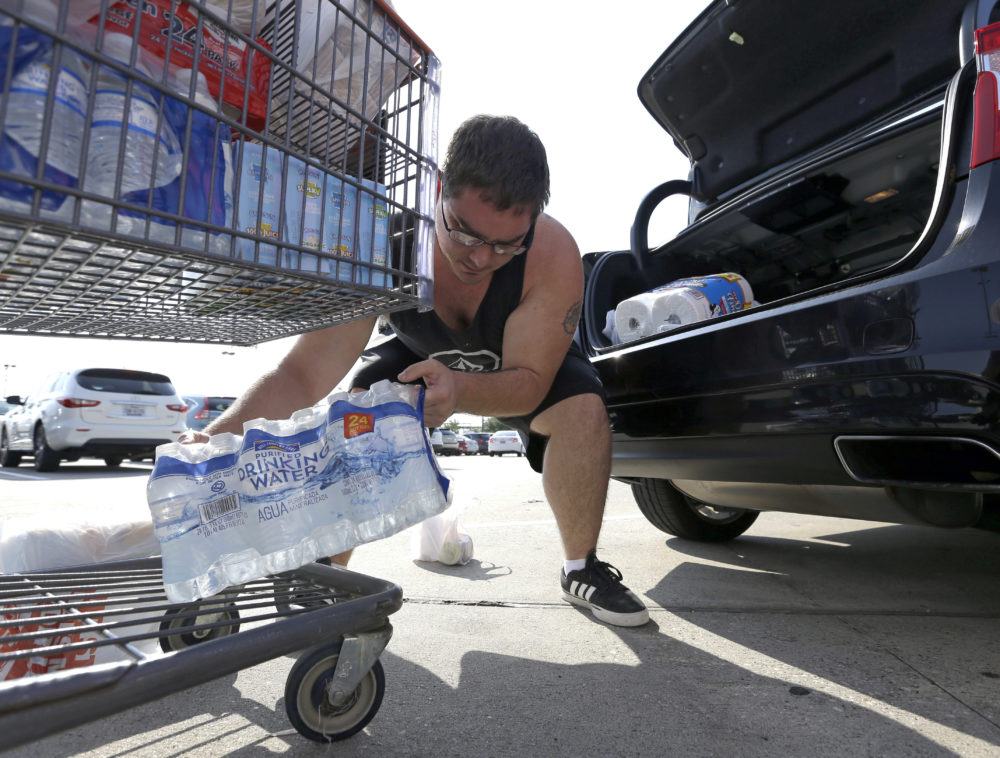 Harvey has been officially upgraded to a hurricane, the National Weather Service said on Thursday afternoon. According to the NWS, the hurricane will have 80-mph winds and will be a category 3 at landfall in the middle Texas coast by Friday night or Saturday morning.
Widespread evacuations have been ordered along Texas Gulf Coast. Mandatory evacuations are now in place for Matagorda, Sargent, Palacios and Matagorda counties.
Officials in Calhoun County and San Patricio County north of Corpus Christi issued orders on Thursday, along with the mayors of Rockport, Port Aransas, Aransas Pass, Ingleside and Robstown. The City of Corpus Christi has issued a voluntary evacuation.
The Texas Department of Transportation has released an evacuation guide with highlighted routes and important tips.
Right after harvey was declared a hurricane, Galveston and Jamaica Beach issued a voluntary evacuation for the West End of Galveston Island. That evacuation applies to areas west of 103rd Street, which is not behind the Galveston seawall, Galveston's Daily News said. Bolivar Peninsula also also issued a voluntary evacuation effective Friday at 8 a.m.
#Harvey is now a #hurricane w/80-mph winds. A special advisory is coming by 1p CDT to update the intensity forecast https://t.co/tW4KeGdBFb pic.twitter.com/8tSkzNziqV

— National Hurricane Center (@NHC_Atlantic) August 24, 2017
According to the NWS, storm surge inundation could be 6 to 10 feet above ground level for Matagorda County up to Sargeant, and 4 to 7 feet AGL Sargeant to San Luis Pass, 2 to 4 feet Galveston Bay.
The NWS said that steering flow will weaken considerably after landfall, and slow movement will mean heavy rainfall and potentially life threatening flooding, especially in coastal counties.
As Corpus Christi and South Padre Island get ready for Harvey's landfall, in Houston, officials are bracing for impact—and advising the public to be prepared.Emergency management officials have voiced concerns about complacency.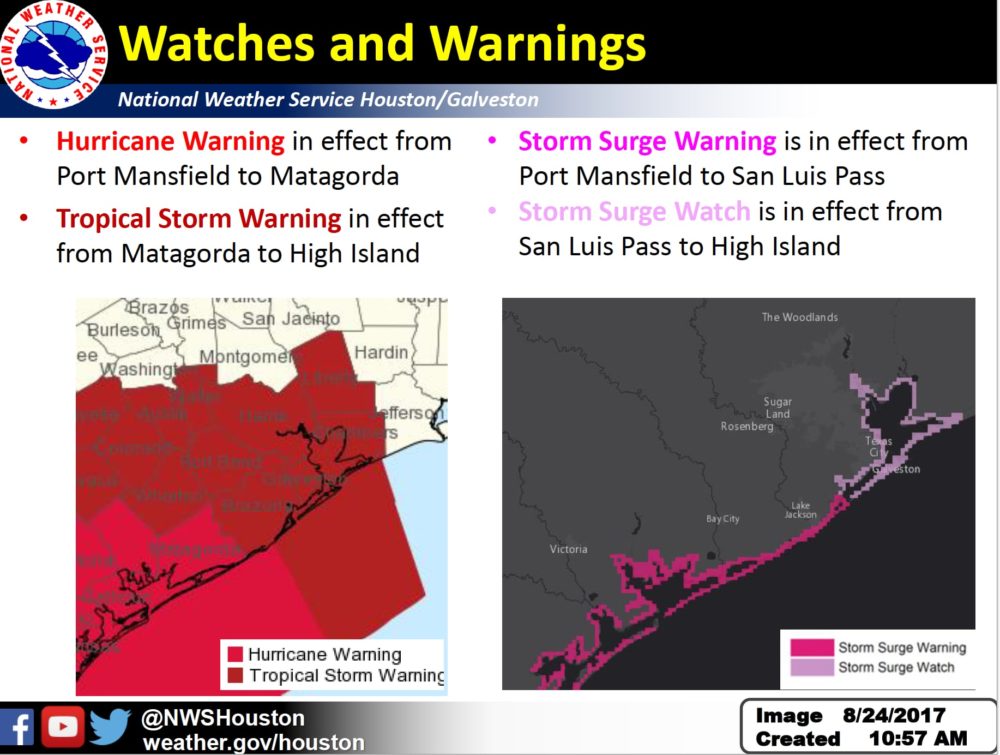 Jeff Lindner, with the Harris County Flood Control district, says for new residents this may be their first hurricane threat. "Since Hurricane Ike made landfall in 2008, about a million people have moved to the Houston Galveston region. Since 2008- we haven't really had a hurricane threat to the Texas coast. So for some people this will be the first."
Homeowner Jennifer Claridge, from Meyerland, said that her family home has flooded twice in the past two years. So they now have their own life vests in the hallway closet. And her community has been swapping ideas on how to beat the flooding, she explains: "People are trying all sorts of experimental things. I have one neighbor who hired people to put a sandbag barrier around her home. People are posting photos of putting their furniture up on paint cans and pots and pans that you cook with."
And she says along with long lines at the grocery store... home improvement stores in the area have been busy: "There have been just runs on things like generators and sand bags and anything that can prevent flooding, especially in our area because we have been through this so much.
Claridge says her family, along with a lot of her neighbors, are leaving their Meyerland homes to stay at hotels or with family in areas less-prone to flooding.
https://twitter.com/madkoogz/status/900729415704903680
School districts in the Greater Houston Area have already made decisions due to hazardous weather. The Houston Independent School District (HISD) canceled classes on Monday the 28th "due to the threat of inclement weather". Monday was scheduled to be the first day of school for the district.
Spring ISD announced that they were canceling after-school activities for Friday and Saturday because of Harvey. Fort Bend ISD also canceled classes Friday and Monday next week.
Texas Woman's University is closing the Houston campus at 12 p.m., Friday, August 25, through Sunday, August 27. Both the morning and afternoon sessions of new student orientations scheduled for Friday and Saturday and all other campus activities have been cancelled.
University of Houston-Clear Lake, including UHCL Pearland Campus and University of Texas Medical Center offices, will close at 1 p.m., Friday.
In addition to the above schools, the Houston Zoo's leadership team has been monitoring the path of Hurricane Harvey, and has made the decision to close the zoo Friday, through Sunday.
#HISD is canceling classes Monday (8/28/17) due to the threat of inclement weather. More details here: https://t.co/aiB1r9SwBi #Harvey

— Houston ISD (@HoustonISD) August 24, 2017
From the two major concerts scheduled to take place this weekend, Lady Antebellum's and Coldplay's, the first has been canceled already. Lady Antebellum was to play at the Cynthia Woods Mitchell Pavilion in The Woodlands on Sunday but they canceled "in the interest of fan, staff, and artist safety." The possibility that the Coldplay concert could be canceled was one of the main concerns of many Houstonians on social media on Wednesday, a day before Harvey was declared a hurricane.
Over the next few days you will see this image quite a bit. Be sure to take some time to make sure you know what it means! #txwx #stxwx pic.twitter.com/3d0Q13NMNI

— NWS Corpus Christi (@NWSCorpus) August 23, 2017