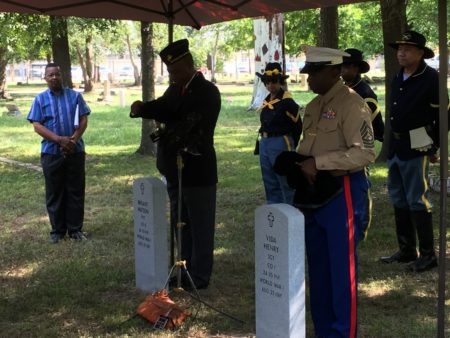 The racial atmosphere was toxic in 1917. James Hedge is with the VA office in Houston.
"They had a simple mission. They were stationed here to protect Camp Logan. Their welcome here was protested by white citizens, they were met with overt racism, and it was allowed because of the legalized segregation of the day."
A group of African-American soldiers left camp against orders on August 23rd, 1917, seeking revenge against people who didn't like black soldiers in their midst. In their rampage, 16 residents were killed. HCC professor Angela Holder acknowledges they disobeyed orders. But she says it was after weeks of humiliating and abusive treatment from white citizens and police officers.
"No one wants to live in a society of ongoing disrespect and humiliation, and these soldiers were no different. They took it upon themselves to fight for the basic dignity all of us as human beings are entitled to. But unfortunately, some innocent people died in that struggle."
Thirteen of the soldiers were court-martialled and sent to the gallows just two weeks later. Two were buried at College Memorial Park Cemetery on Dallas Street — without head stones. The Buffalo Soldiers National Museum has now placed head stones on their graves.