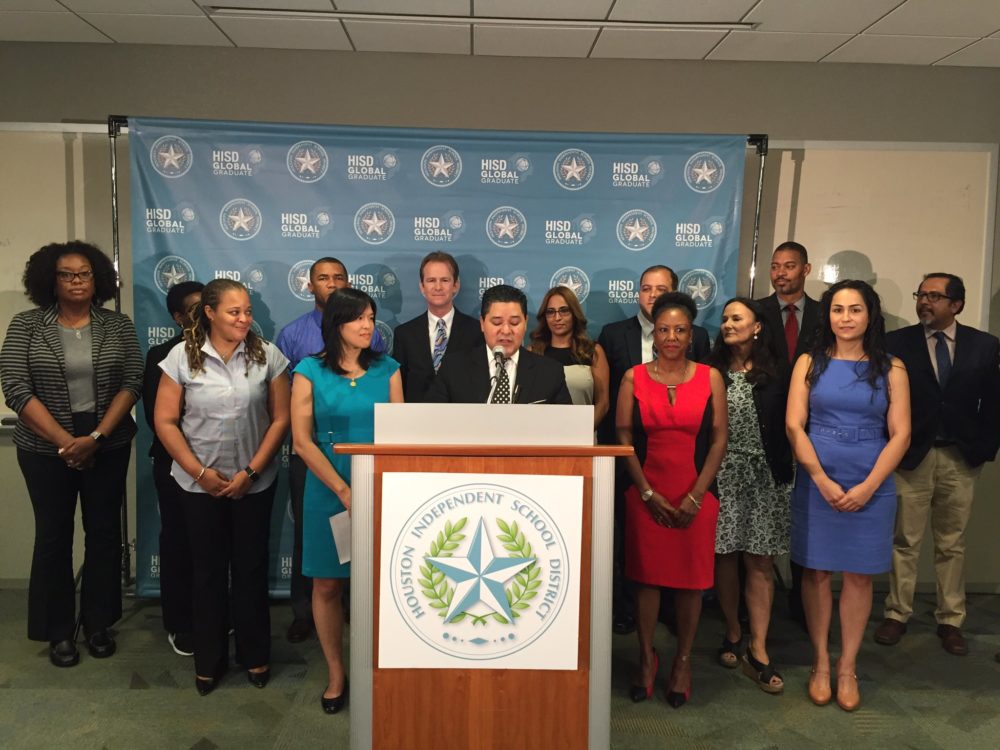 The Houston Independent School District still faces the threat of a state take-over or massive school closures, as some of its struggling schools continued to miss state standards in 2017.
That's according to the new ratings released Tuesday by the Texas Education Agency.
In total, ten HISD schools have missed state standards for four years or more. If they don't improve by next August, the Texas Education Commissioner could shut them all down — or replace the entire district's elected school trustees with a board of managers. State lawmakers created the strict timeline and tougher sanctions in 2015, under House Bill 1842.
"That is not lost on us. It's what we wake up thinking about, it's what we go to bed thinking about, if we actually sleep," said HISD Superintendent Richard Carranza at a press conference Tuesday. "Because we're very, very committed and concerned that those schools will have a shot at getting out."
The good news, Carranza said, is that some school already got out of that group of "improvement required" schools. They include Kashmere Gardens Elementary, as News 88.7 reported earlier this week.
"What we do every day is take it very serious, making sure that planning is the focus. We have to plan properly and accordingly for each and every child," said the school's principal Reggie Bush. "And last but not least, making sure that we eliminate every excuse and believe in the child."
Texas law triggers school closures or a state-appointed board of managers if a school misses state standards for five or more years. The ten HISD schools that must improve by next August are:
Blackshear Elementary
Dogan Elementary
Henry Middle
Highland Heights Elementary
Kashmere High School
Mading Elementary
Wesley Elementary
Wheatley High School
Woodson School
Worthing High School
Trustee Anne Sung said that she knows how hard it is to improve a low-performing school, because she taught at one in Gulfton — formerly Lee High School, now known as Wisdom High. But it's possible, Sung said.
"If we raise academic standards for our students, get really focused on delivering the best quality instruction to them, and also put the wrap around supports around our schools and families that they need to come to school ready to learn each day, when those ingredients are in place, we can work miracles," Sung said.
Overall, 90 percent of HISD's 278 schools met state standards. However, the TEA still considers 27 schools in HISD failing. Some of those schools were new on the watch-list, including: Fondren Elementary, Attucks Middle, Looscan Elementary and Sharpstown High School.
Carranza said that he's confident the district will meet its task — and pledged that he won't close schools to avoid a state take-over.
"I'm always a half-full kind of guy. I'm incredibly excited, I'm incredibly buoyed by the results that we have," he said. "I think the future looks very good. The future has some real trouble spots in front of it, not the least of which … is the ten schools that this year must academically accelerate to get out of the 'improvement required' status."