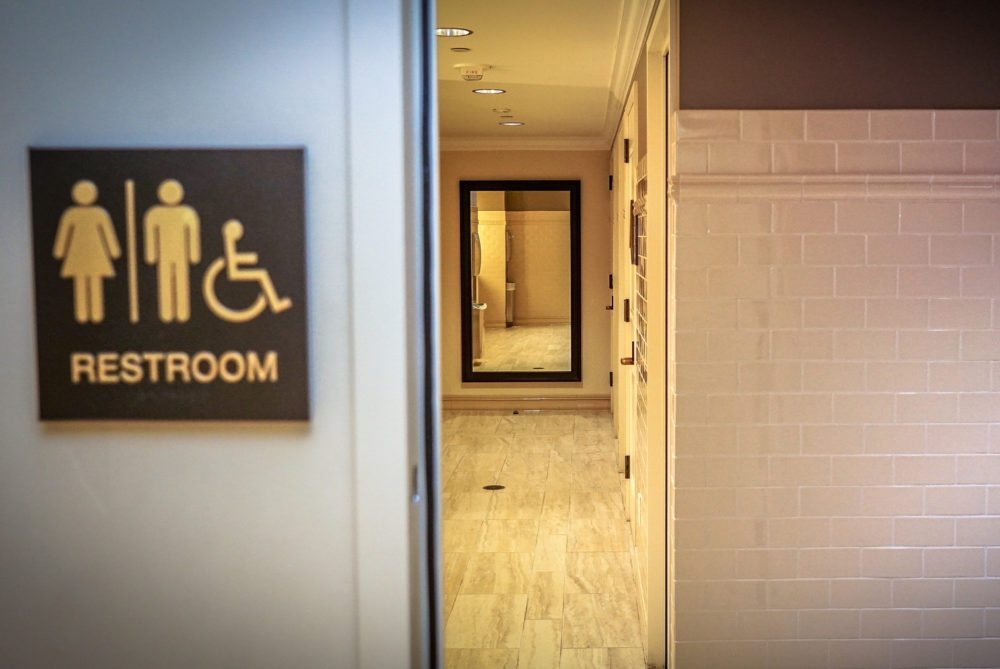 Transgender bathroom access has been one of the most divisive issues facing the Texas Legislature, now in the fourth week of its special session. Few moments better illustrated that division than an exchange between John Whitmire, dean of the Senate, and Lois Kolkhorst, author of Senate Bill 3, also known as the "bathroom bill."
Whitmire: "I'm a little concerned if, that you would use that as your argument that if 400 ministers say something, that's the direction we should go."
Kolkhorst: "I think it was an argument, Dean, to the argument that there were maybe 100 CEOs that have filed a letter against this..."
Religious leaders say the bill is needed to protect the privacy of women and girls. Business leaders counter that the bill is discriminatory and will hurt the state's economy. But the divisions aren't always as clean as they might appear.
"We do feel like this is something we need for safety and for privacy of our kids, my daughters, my wife, and this is a commonsense bill," said Gary Rodenbaugh, during his testimony in favor of the bill before the Senate State Affairs Committee.
Rodenbaugh is co-owner of Rodenbaugh Flooring America and Appliance, based in a Dallas suburb. He's not convinced SB 3 will hurt Texas business. But he does worry about the government telling him how to run his company. That includes local government efforts such as the Houston Equal Rights Ordinance, or HERO, which would have banned private employers from discriminating on the basis of gender identity but which voters repealed.
"After hearing it in Houston and what they tried to pass down there, which would have forced mandates on businesses, you know, from a business standpoint, I appreciate what SB 3 is doing, and it doesn't mandate businesses. We are free to do and make our own decisions," says Rodenbaugh.
SB 3 would strike down rules similar to HERO that other Texas cities have adopted. Supporters of the bill note that HERO's repeal didn't trigger boycotts against Houston.
"The Super Bowl could have pulled out," says Nicole Hudgens, a policy analyst with Texas Values, a conservative Christian organization. "The NCAA Final Four could have pulled out. Businesses could have left, but they didn't." Hudgens says that suggests fears of a statewide boycott – such as North Carolina experienced, after passing its own bathroom legislation – are overblown.
"At the end of the day," Hudgens says, "there are business owners in Texas that believe we should not put dollars before our daughters."
"Daughters before dollars" has become a mantra for the bill's advocates. And it's one that sets opponents' teeth on edge.
One such opponent is Kimberly Shappley of Pearland.
"I am still a registered Republican, I am a born again believer in Jesus Christ, and I am the mom of a transgender child," said Shappley, who testified against SB 3 with her daughter by her side. "I find it appalling that so many of you supporting segregation profess to be Christians. Jesus the Christ always defended [the] marginalized against the religious politicians of his day, and he's doing it still."
Spectators at the hearing included several clergy members opposed to the bill, among them the Reverend Lisa Hunt, rector of Saint Stephen's Episcopal Church in Montrose.
"The thing that was very poignant as I attended those sessions was the pain and the discrimination that Texans who are transgender experience and the fear that they have that their human dignity won't be respected," says Rev. Hunt.
Episcopal Church leaders have threatened to pull their 2018 general convention out of Austin if the bathroom bill passes. The last time the church took such an action was in 1955, when it moved its convention from Houston to protect African-American members.
"As a matter of consistency with our faith," says Rev. Hunt, "we didn't want to support economically Jim Crow discrimination in the '50s, and now in the 21st century discrimination against transgendered [sic.] persons"
According to the interfaith organization Texas Impact, clergy opposed to the bill range from Lutheran bishops and Presbyterian ministers to rabbis and imams.