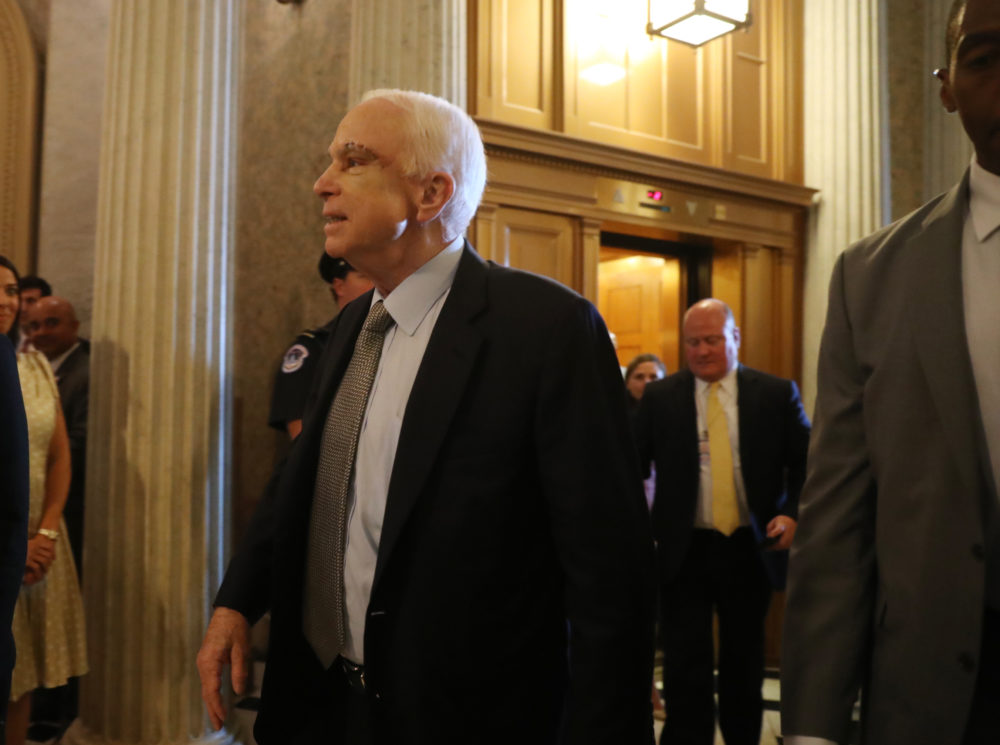 The Latest on the effort by congressional Republicans to pass a health care bill (all times local):
3:35 p.m.
President Donald Trump is praising the Senate for moving forward on health care repeal.
He says a vote Tuesday to take up the Republican health care bill "was a big step."
Trump is speaking at a joint press conference with Lebanese Prime Minister Saad Hariri.
Trump is also thanking Arizona Sen. John McCain, who returned to Washington after his brain cancer diagnosis to cast a vote.
Trump adds that he wants "to congratulate the American people" because better health care is on the way.
__
3:10 p.m.
The Senate has voted to move ahead on health care legislation aimed at dismantling the Obama health law.
The vote was 51-50 on Tuesday, a victory for Majority Leader Mitch McConnell and President Donald Trump. Last week, McConnell was forced to postpone the vote, lacking the support of conservatives and moderates.
Vice President Mike Pence cast the tie-breaking vote.
In a dramatic turn, Sen. John McCain returned from Arizona where he is battling brain cancer to cast a crucial vote on proceeding on health care.
The vote sets up days of debate and votes on repealing and replacing Barack Obama's health care law. Whatever the Senate approves still requires a vote in the House.
__
2:35 p.m.
Protesters temporarily disrupted the Senate proceedings on the health care bill.
Shouting "Kill the bill" and "shame," the demonstrators stood in the visitors' gallery and chanted. They were led out of the chamber by police but could still be heard.
The vote got underway on moving head on health care with the goal of erasing much of Barack Obama's law. The Senate chamber was packed, with lawmakers standing to cast their votes.
__
2:30 p.m.
Senate Majority Leader Mitch McConnell is urging his colleagues to move ahead on health care legislation with the goal of erasing much of the Obama health law.
McConnell told senators seated in the Senate chamber: "We cannot let this moment slip by." He made the remarks ahead of a make-or-break vote to take up the bill. The Kentucky Republican said many GOP senators waited for years for the opportunity to scuttle the 2010 law.
Democratic leader Chuck Schumer urged lawmakers to reject it, saying, "Turn back now before it's too late."
A vote to move ahead would set up days of debate and votes. Republicans have promised for seven years to repeal and replace the law.
As McConnell set up the vote, protests erupted, chanting, "Kill the bill."
__
2:30 p.m.
West Virginia Sen. Shelley Moore Capito has become the latest wavering Republican to say they will back beginning debate on legislation rolling back much of President Barack Obama's health care law.
Capito has been among several moderate Republicans concerned about the GOP bill's cuts in the Medicaid health care program for the poor, disabled and nursing home residents. She's also pushed for added funding for programs that help combat the abuse of drugs including opioids.
West Virginia is one of the nation's poorest states and has an unusually serious drug abuse problem.
Capito says as the Senate debates the bill, she'll push for policies "that result in affordable health care coverage for West Virginians."
__
2:15 p.m.
A Senate Republican who hadn't declared how he'd vote on repealing much of the Obama health care law says he'll vote Tuesday to begin debate.
Nevada Sen. Dean Heller's statement was crucial because GOP leaders can only lose two of the 52 Republican senators and keep the bill alive. Around a dozen declared opposition or lambasted the legislation, but many seemed to be falling into line.
Heller faces perhaps the toughest re-election race next year of any Senate Republican. He and his state's popular Republican governor, Brian Sandoval, have opposed the GOP bill because of its Medicaid cuts.
Heller said in a statement that doing nothing to solve problems with President Barack Obama's law wasn't tenable. He said he'd oppose the final bill if it's not improved for Nevada.
__
11:30 a.m.
Sen. Rand Paul says he will vote "yes" on a pivotal health care vote Tuesday afternoon after receiving assurances from Majority Leader Mitch McConnell.
Paul had been a holdout against McConnell's plans for legislation to repeal and replace "Obamacare." He argued it did not go far enough in getting rid of the Obama law.
But Paul says McConnell has informed him the Senate will take up a straight-forward repeal bill as he has been urging. And if that's the case he will vote "yes" to open debate on the legislation. Tuesday's vote is make-or-break because if the Senate does not vote to open debate the bill will die.
But if debate starts there will be numerous amendments — and repeal-only is not likely to be the final product.
__
11:15 a.m.
Republicans are showing signs of optimism that they'll be able to take up the health care bill. Senators and aides said talks were continuing that might win over enough Republicans to start debate Tuesday.
The discussions involved holding an early vote on a plan scuttling much of the Obama health law and giving Congress two years to enact a replacement. That plan, embraced by conservative Sen. Rand Paul, R-Ky., seems likely to lose. But Paul has said that he will vote to bring up the GOP health bill if he is guaranteed that early vote.
Moderates are seeking additional money for states that would be hurt by cuts in Medicaid, the health insurance program for the poor, the disabled and nursing home patients. Conservatives want a vote on a proposal by Ted Cruz, R-Texas, letting insurers offer bare-bones policies with low premiums, which would be illegal under Obama's law.
__
7:20 a.m.
President Donald Trump says "we will soon see whether or not Republicans are willing to step up to the plate!" on health care.
Trump has been pressuring Senate Republicans to vote on a health care bill "after 7 years of talking." A procedural vote is planned for Tuesday.
Trump says on Twitter Tuesday morning that Obamacare is "torturing" Americans. He says "I have pen in hand" to sign a bill and is urging a vote either to repeal, or to repeal and replace the Obama law.
Trump says it's "so great" that ailing Republican Arizona Sen. John McCain is returning to Washington to vote for the first time since being diagnosed with brain cancer.
Trump's describes McCain's move as "brave" and the senator as an "American hero." During the 2016 campaign, Trump questioned McCain's status as a war hero, saying, "He was a war hero because he was captured. I like people who weren't captured."
__
4:58 a.m.
Republican leaders are steering the Senate toward a crucial vote on their health care bill with a fresh burst of drama and optimism, thanks to Sen. John McCain's declaration that he'll return to the Capitol for the roll call.
Before the announcement by the cancer-stricken McCain, Senate Majority Leader Mitch McConnell had already planned an initial vote for Tuesday on simply beginning debate on the Republican effort. A victory seemed unlikely because of opposition and criticism from GOP senators toward McConnell's bill, which would erase much of President Barack Obama's law.
McCain's office announced his decision to return late Monday, improving McConnell's odds. In fact, McCain's announcement suggested Republican leaders had a good chance of prevailing since it seemed unlikely they'd bring him back if the measure was doomed.