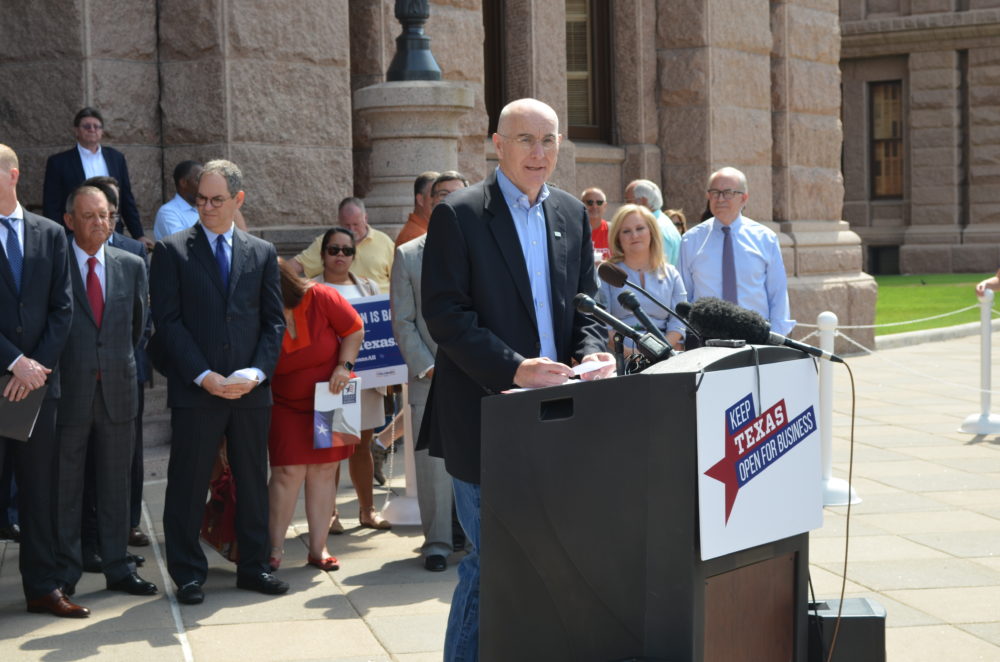 Business leaders are ramping up their opposition to a new "bathroom bill" in the special session, starting today. More than a dozen Dallas-based CEOs sent a letter to Governor Greg Abbott, saying a bill to regulate transgender bathroom access would hurt the state's economy. Signers included the CEOs of American and Southwest Airlines, as well as the heads of AT&T, Fluor, Kimberly-Clark, and Tenet Healthcare.
Several dozen other business and trade group leaders protested on Monday on the steps of the State Capitol.
Phil Gilbert is global head of design for IBM, which employs more than 10,000 people in Texas. Gilbert said high-tech jobs can literally be done anywhere, and businesses have to locate those jobs where people feel safe. "A bathroom bill, or any discriminatory legislation that targets the LGBT community, hurts our ability to recruit and retain talent in Texas," he said.
Gilbert and other speakers focused on how a bathroom bill would affect travel and hospitality. Several cited a recent economic impact study, prepared by Angelou Economics on behalf of the Texas Association of Business. According to the study, 54 organizations have served notice that they will relocate conventions, sporting events, and investments outside Texas if the Legislature passes a bathroom bill. The study puts the total economic impact of those losses at more than $1 billion.
Scott Joslove, president and CEO of the Texas Hotel & Lodging Association, said the damage has already started. "I will tell you that a week does not go by where I don't get a call from a major hotel or a convention and visitors bureau indicating that they've had another large convention loss," he said. "Not because the bathroom law has passed, because it hasn't passed yet. Just the threat of a bathroom bill has made folks too nervous, too uncomfortable to bring their business to Texas."
Governor Abbott released a statement, expressing confidence that passing a bathroom bill would not hurt the state's economy. He said companies are more likely to focus on Texas's economic climate and low taxes when deciding whether to do business here.