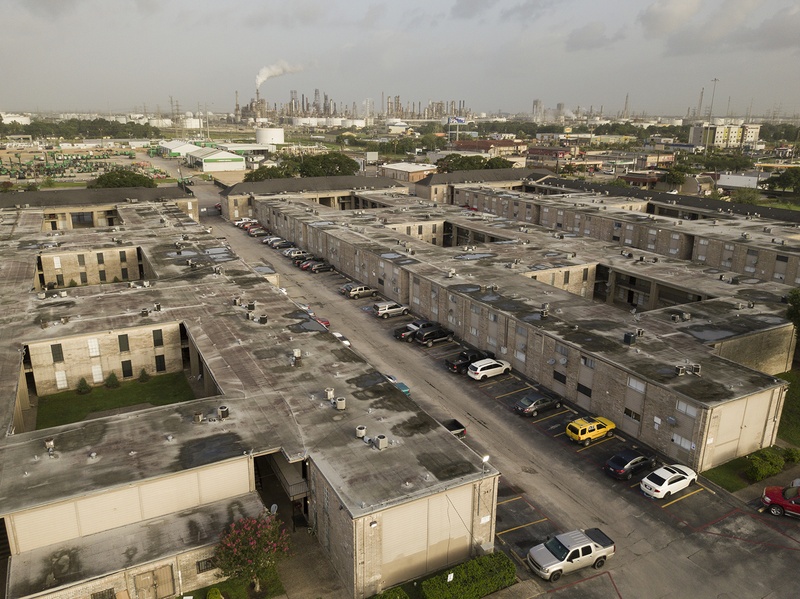 Cody Ray Wheeler has a cowboy's name.
It's a product, he says, of being born the son of a North Texas refinery worker. In some ways it's emblematic of a changing Texas: Wheeler, who is Hispanic, represents a city council district with a majority-white voting constituency in this Houston suburb.
It's also a name that has put him at the center of a voting rights battle over whether city leaders here pushed changes to the council map to undercut the electoral power of a booming Hispanic majority.
"A Hispanic wasn't supposed to win that seat," Wheeler said over barbecue on a recent steamy afternoon. He's convinced his non-Hispanic last name made the difference in his narrow 33-vote margin of victory in 2013.
"I could not run as a Hispanic candidate," he said. "I would've lost."
His victory marked a milestone for a city with a racially acrimonious past. Though most Pasadenans are Hispanic, it was the first time two Hispanics served together on the eight-member council.
Wheeler's election also brought longtime Mayor Johnny Isbell's majority on the council down to one vote. Joined by two white city council members who represented majority-Hispanic districts on the north side of town, the two Hispanic members fell into a voting bloc that often pitted them against Isbell and the four council members who represented the southern, mostly white side of Pasadena.
After the 2013 elections, many Pasadenans believed the balance of power was about to shift, with hopes hinging on one of the districts represented by an Isbell ally that was predominantly made up of Hispanic voters. But that summer, the U.S. Supreme Court gutted the portion of the federal Voting Rights Act that had prevented dozens of jurisdictions with a history of discrimination against voters of color — including Texas and its municipalities — from changing their election laws without federal approval.
Texas had been subject to those federal controls for decades. About a month after the state was freed from that electoral guardianship, Isbell introduced a proposal to redraw the city council map — and replace two of the districts with at-large seats elected by the entire city.
A group of Hispanic voters challenged the new map in court, setting into motion a case that could have implications across Texas — and could even become a test of whether the federal Voting Rights Act can still serve as a safeguard for minority voters nationwide.
But that's only if parties on both side of the case keep it alive in court.
Pasadena's voting rights fight is largely a result of changing demographic winds and the political tide that comes with them.
Lined by refineries to its north, the city of nearly 154,000 residents is a sprawling stretch of suburbia southeast of Houston in Harris County. Decades ago, the city charter imposed segregation and banned Spanish-language instruction. In the 1980s, it was home to the Ku Klux Klan's Texas headquarters.
But by the time the 2010 census rolled around, white residents were in the minority and almost two out of every three residents were Hispanic. Carnicerias, panaderias and quinceañera party stores followed; in one pocket of town, two dozen businesses catering mostly to Hispanics filled an entire shopping center.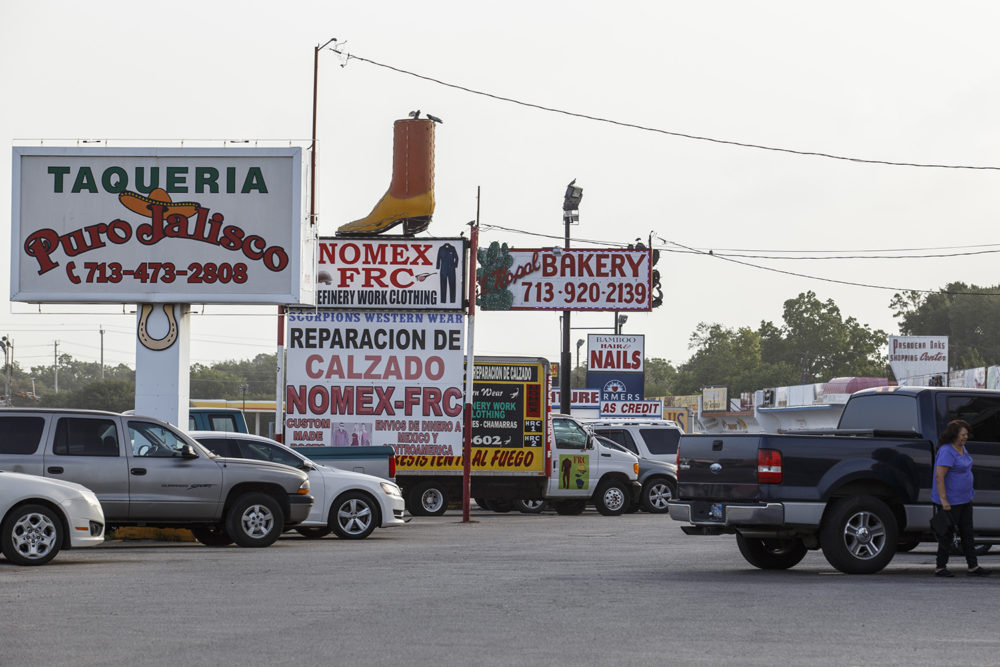 An old strip mall that now caters mostly to Hispanics on the north side of Pasadena. Michael Stravato
This population boom among Hispanics was largely confined to the older north end of town where many residents have long pointed to deteriorating streets and shoddy drainage systems as evidence that the city neglects their neighborhoods in favor of the newer neighborhoods south of Spencer Highway where wealthier, white residents predominantly reside. "Seventy percent of the (city's) money is spent south of Spencer," Wheeler says.
As older, white voters die off and young Hispanics reach voting age, Pasadena's electorate has been changing even faster than Harris County as a whole, said Bob Stein, a Rice University political scientist who monitors elections in Harris County.
Hispanics' growth was translating to political clout on the city council, and their representatives saw the 2015 city election as their best chance to achieve a majority on the council that could help push for improved conditions on the north side.
Then came the Supreme Court decision that wiped clean the list of states and localities needing federal "preclearance" to change election laws and Isbell's "6-2 map" proposal. In addition to turning two council seats into at-large seats, it merged two council districts with Hispanic majorities into one.
Isbell, who did not respond to the Tribune's request for comment, told voters at the time that the proposal was meant to make the council more representative and responsive to the concerns of all residents. In late 2013, Isbell told SCOTUSblog he pushed for the change "because the Justice Department can no longer tell us what to do."
Wheeler and the other Hispanic-backed council members fiercely opposed Isbell's proposal, which required voter approval. Historically, turnout among Pasadena's Hispanic residents has been lower than white residents, particularly in local elections. Because voting blocs are often aligned along racial lines, Pasadena Hispanics would likely be outvoted by whites when it came to electing the new at-large council members.
When the map proposal went before the council, Isbell cast the deciding vote to break a 4-4 tie, and the issue was placed on the November ballot. Pasadena voters approved the new map by a 79-vote margin out of 6,500 votes cast.
Then came the lawsuit. Civil rights attorneys representing Hispanic voters sued the city, claiming the new council districts unlawfully diluted the voting strength of Hispanics and intentionally discriminated against them.
After a seven-day trial in Houston, a federal judge earlier this year found that Pasadena had violated the Voting Rights Act and ordered the city back under federal supervision under a different section of the law — the first ruling of its kind since the Supreme Court's 2013 decision.
"In Pasadena, Texas, Latino voters under the current 6-2 map and plan do not have the same right to vote as their Anglo neighbors," Judge Lee H. Rosenthal wrote in a scathing opinion, which reinstated the city's eight single-member districts.
Rosenthal invoked Texas' dark, discriminatory legacy against voters of color — poll taxes, all-white primaries, eliminating interpreters at the polls — and outlined how it has endured through modern day-elections in a town where voters told a Hispanic candidate campaigning for a council seat that they "weren't going to vote for a wetback."
The judge also wrote there was credible evidence that Pasadena changed its map "precisely because Pasadena Latinos were successfully mobilizing and recently electing more of their candidates of choice."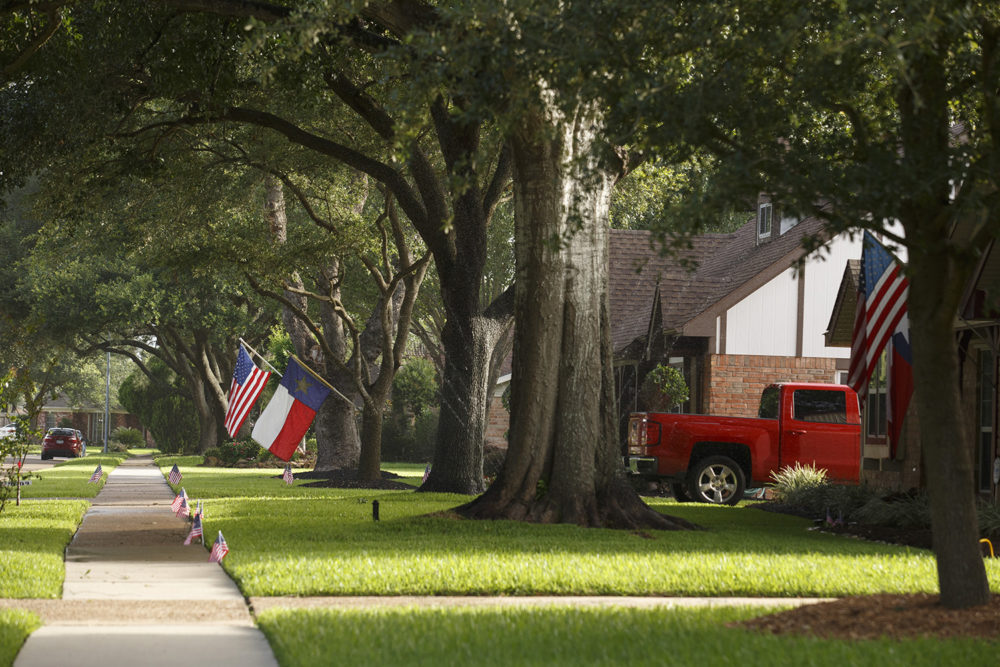 Residents display flags for the Fourth of July in a neighborhood on the south side of Pasadena. Michael Stravato
The city has since appealed the case to the U.S. 5th Circuit Court of Appeals, contending that the city had no intent to dilute Hispanic votes and that the 6-2 map had no discriminatory effect.
Bob Heath, the city's lead lawyer in the case, contends that Rosenthal's consideration of the number of majority-minority districts in Pasadena and whether that's proportional to the city's voting age Hispanic population runs contrary to two recent opinions by the U.S. Supreme Court.
And that's where the case comes back to Wheeler's name.
Heath points out that four candidates preferred by Hispanic voters prevailed in the 2015 elections — the only contests held under the 6-2 map. Among them was Wheeler, who was re-elected in a district that's not majority-minority but is still "effective for Hispanics," Heath said.
"That's 50 percent (of the council seats) and Hispanics made up about 50 percent of the citizen voting-age population, so that was proportional representation," Heath added.
But Nina Perales of the Mexican American Legal Defense and Educational Fund — the attorney representing the Hispanic plaintiffs against the city — has repeatedly pointed out in court that Wheeler was assisted in his 2015 victory by "special circumstances" — his incumbency and his last name. Meanwhile, the number of Hispanic-majority districts was reduced to three under the 6-2 map.
The case could reverberate beyond Pasadena's city limits. Legal experts contend that a decision by the 5th Circuit could guide other courts around the country that are considering similar voting rights cases.
The Pasadena ruling also has the potential to help build a case against the state, which faces its own voting rights challenges in court, said Richard Murray, a political science professor at the University of Houston who has studied voting rights cases for decades.
In lifting federal electoral oversight for Texas and other jurisdictions in 2013, the U.S. Supreme Court noted that conditions for minority voters had "dramatically improved," but the justices left open the possibility that political jurisdictions could be placed back under preclearance if they committed new discriminatory actions.
Earlier this year, Texas faced a barrage of federal court rulings that found the 2011 Legislature intentionally discriminated against voters of colors by passing a stringent voter ID law and re-drawing the state's political maps. Those cases are still making their way through federal courts in Corpus Christi and San Antonio.
The Pasadena ruling — "particularly because it was so thoroughly stated and so strong and by a judge that has no history of favoring blacks or Latinos in redistricting cases" — could serve as "another brick in building this case that Texas has a recent history of discriminatory action," Murray said.
In a sign that Texas leaders also see Pasadena as a potential problem for its own cases, state attorneys filed an amicus brief in support of the city's appeal, arguing that preclearance "must be sparingly and cautiously applied" to avoid reimposing "unwarranted federal intrusion."
Judge Rosenthal's preclearance ruling in the Pasadena case was improper, the state contends, because it was imposed for a single incident of discrimination instead of pervasive and rampant discrimination.
If the results of the May election are any proof, the city's voters seem unwilling to upend the status quo in Pasadena.
Even with court-ordered single-member districts back in place, Pasadena voters elected a city council that's expected to generally break the same way it did before the redistricting fight.
The Hispanic-voter backed voting bloc lost their coveted fifth city council seat by just seven votes. With Isbell stepping down because of term limits, voters elected council member Jeff Wagner — considered an Isbell ally on the council — as the new mayor.
With the city's new slate of leaders sworn in last week, the future of the city's appeal of Rosenthal's order remains unclear.
Wagner was the only mayoral candidate who would not vow to drop the city's appeal, Wheeler pointed out over lunch.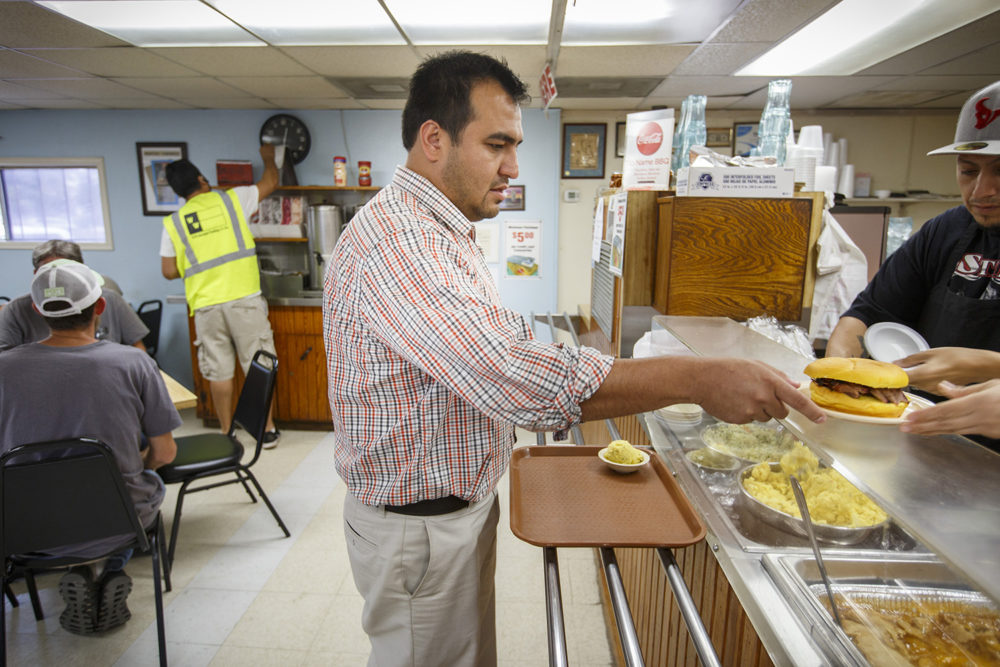 Pasadena Councilman Cody Ray Wheeler getting lunch at a local barbecue joint near the refineries on the north side of Pasadena on June 28, 2017. Michael Stravato
Wagner, who did not respond to a request for an interview, previously told the Tribune he would consult with council members about the appeal and make a decision based on whatever consensus emerged.
Dropping the appeal and letting the lower court ruling stand would prevent an appeals court ruling that could set a precedent for the state — and eliminate the chance that it could reach the Supreme Court and become a test of the strength of the Voting Rights Act.
Perales, the MALDEF lawyer, said the plaintiffs are focused on eliminating voting discrimination in Pasadena. "That's what this case is about, and that's what we care about," she said.
Pasadena's Hispanic leaders also know that higher courts could rule against them and wipe out their victory that overturned the 6-2 map and put the city back under federal preclearance. Wheeler also points out that the city has already spent more than $2 million defending the case.
He will have a few more years on the council before term limits require him to step aside, but he wonders what the power balance will look like when someone else represents his district.
Wheeler wants to make sure his time on city council helps ensure that the system won't be rigged against Hispanic voters in the future — and pursuing the appeal puts that at risk.
"Why take the chance?" he says.
Disclosure: Rice University and the University of Houston have been a financial supporters of The Texas Tribune. A complete list of Tribune donors and sponsors is available here.
This article originally appeared in The Texas Tribune at https://www.texastribune.org/2017/07/11/voting-rights-battle-pasadena-could-come-wide-legal-ramifications/.
The Texas Tribune is a nonprofit, nonpartisan media organization that informs Texans — and engages with them — about public policy, politics, government and statewide issues.