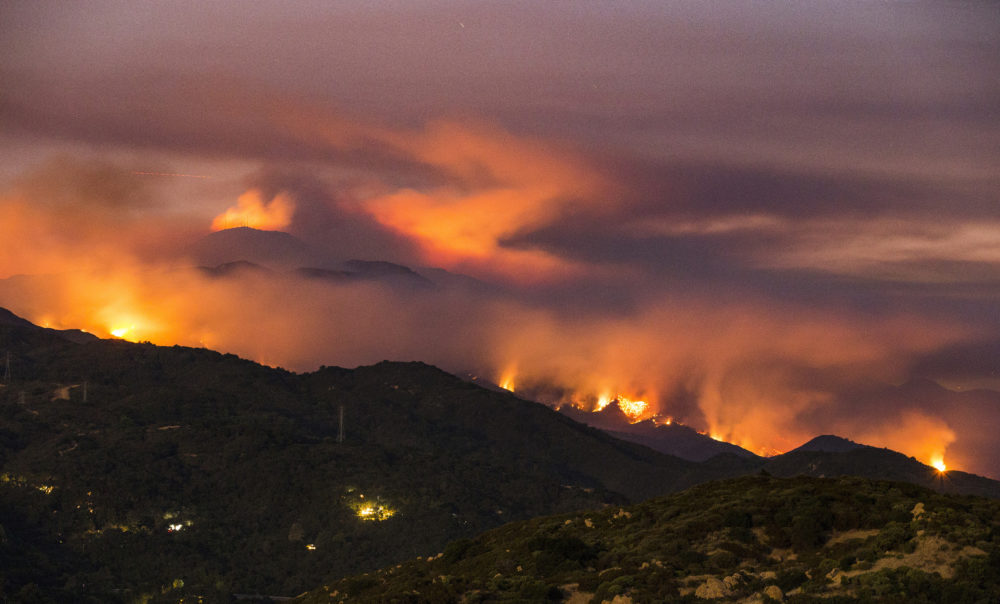 Wildfires driving people from their homes in California and throughout the west have had help from an unlikely source: the rain. Major winter downpours that pulled the state out of years of drought also brought a layer of grass that early-summer fires are greedily feeding on.
"What the heavy rains have done is created a grass crop that we haven't seen in forever," said Santa Barbara County fire Capt. Dave Zaniboni, whose department was battling two large wildfires Monday. "That creates faster moving fires, hotter fires, it carries fire much more readily."
Older, dried out trees and vegetation are especially dangerous for wildland blazes, but enough new and drying grass can provide links between such tinderboxes.
Bennet Milloy of the California Department of Forestry and Fire Protection says that diseased and damaged trees and dead vegetation from during the drought "can be ignited by the lighter fuels that come from the wet winter," making for better-fed fires.
Despite a hot and dry weekend, crews were making progress against dozens of fires across California, Colorado, Arizona and New Mexico.
In Northern California, evacuees were starting to return home from a wildfire in the grassy foothills of the Sierra Nevada, about 60 miles (97 kilometers) north of Sacramento, but thousands still remained away from their homes.
Chuck Wilsey returned to his ranch home in Oroville on Monday after evacuating over the weekend, relieved to learn it had been spared by the wildfire, just as he had stayed clear of troubles brought on by a damaged spillway at a nearby dam five months ago.
"I don't know what's worse — fire, or water — it's a toss-up," Wilsey, 53, said after returning to his home Monday afternoon.
The blaze burned nearly 9 square miles (23 square kilometers) of grass, injured four firefighters and destroyed at least 37 structures. Officials couldn't immediately say how many were homes. It was 45 percent contained.
The area burning is southeast of Oroville, near where 200,000 residents downstream from the 770-foot-high Oroville Dam were briefly evacuated in February when the structure's spillways began crumbling. Wilsey's home was far enough away that he didn't have to evacuate from the floods.
His daughter, Krystle Chambers, who lives on the same property, said the one-two punch of floods and fires was taking its toll.
"It's hard, it's rough," she said. "Way too many hits. First it's this side of town, then the other side of town. It almost makes you want to move."
Wilsey was already making new plans in case the fire makes another run at them. He said he was leaving his trailer attached to his truck and telling his daughters to keep prized possessions they couldn't take the first time close at hand.
In Santa Barbara County, at least 3,500 people remained out of their homes due to a pair of fires. The larger of the two charred more than 45 square miles (116 square kilometers) of dry brush and has burned 20 structures since it broke out. It was 45 percent contained. To the south a 17-square-mile (44-square-kilometer) wildfire is 25 percent contained. Crews were getting a break from rising humidity and light winds.
In Colorado, crews were winding down the fight against a wildfire that temporarily forced the evacuation of hundreds of people near the resort town of Breckenridge. Firefighters built containment lines around at least 85 percent of the blaze.
___
Associated Press writer Christopher Weber contributed from Los Angeles.