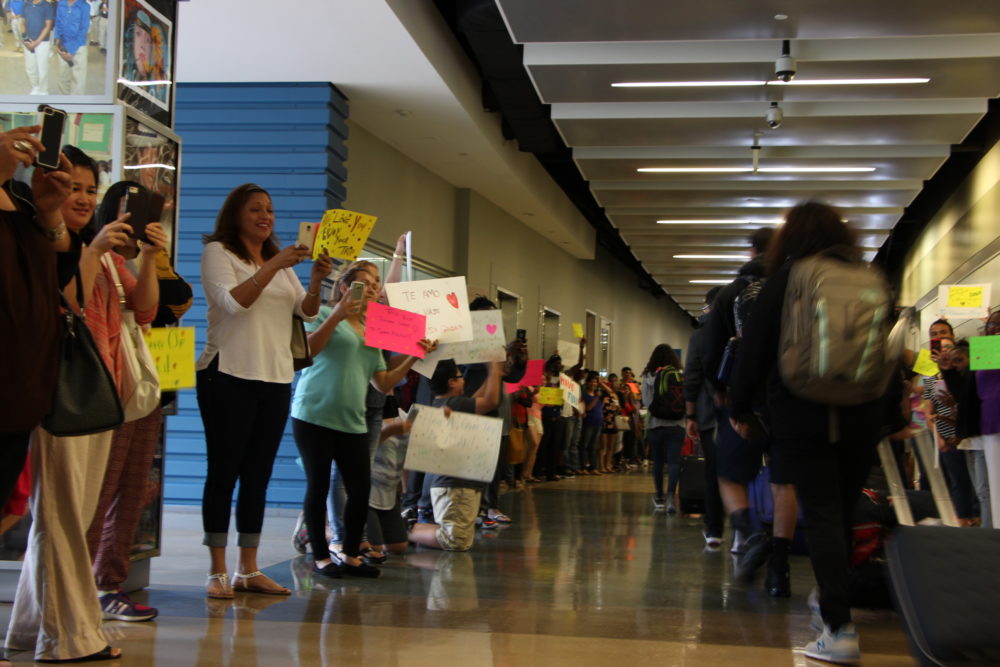 Before she left home, Hera'emperatrize "Trize" Gipson gave her three younger siblings a big hug goodbye. Then her dad took her to HISD headquarters to meet up with dozens more Houston teenagers headed on a five-day college tour in New England.
"This is my first time going on an airplane, so I'm, like, really nervous," Trize said, as she clutched a fuzzy blue stuffed dolphin – her pillow pet – and her Tweety Bird blanket. "I kissed all of them and let them know I love them and everything, like, 'Ok guys! I'm really nervous but I'll let you know about the trip once I get off!'"
At HISD headquarters, Trize, her dad and all the other families had a second goodbye. It's called a despedida in Spanish.
"Despedida, it means send-off, congratulations," said Trisha Cornwell, director of EMERGE, a college advising nonprofit that connects high achieving students from low-income communities to top tier colleges. Research shows that these students are often overlooked in the admissions process.
Cornwell said that they want to include parents in their kids' college journey way before graduation and also create a community among parents going through the same experience. For many of the students, a summer college tour is their first time away from their families, outside the state or on a plane. In some ways, it's practice for what's coming.
"We know that if we're going to convince more students to test out schools outside the city, we have to think of this as a family decision and not a student decision," Cornwell said.
That's why EMERGE started holding despedidas for teenagers headed on college tours last summer.
This past Sunday, dozens of parents and family members lined the hallway of HISD's headquarters.
They cheered and held up handmade signs with messages like 'We Love You' and 'Good Luck' as their kids rolled their suitcases down the hallway to the white bus waiting in the parking lot to take them to the airport.
Trize's dad Broger Gipson gave her one more hug. He said that he' glad she's getting this experience, but had mixed feelings, just like his 16-year-old daughter.
"I'm a bit nervous because she's going far from me and anytime she goes far from me I'm always worried," Gipson said. "I'm hoping that she gets a chance to learn something, that's not only just educational for herself, but for schools and different other things … Of course, when she comes back she's going to tell me every full detail, from day one to day last."
Maybe in two years, Trize, who's a junior at Kashmere High School, will go to college in New England, instead of her current top choice of Texas A&M University.