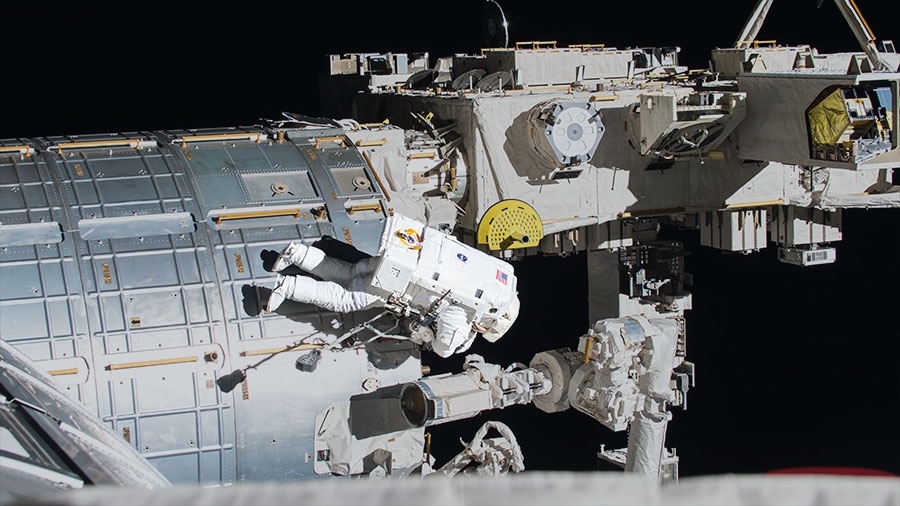 (Above: NASA astronaut Jack Fischer worked to install wireless antennas outside the Destiny lab of the International Space Station. Photo Courtesy: NASA)
Just a few weeks ago, astronauts aboard the International Space Station made
an emergency spacewalk
to make urgent repairs to a critical component that failed. NASA said the crew was never in any danger. On this edition of
Houston Matters
, Dr. Ellen Ochoa, former astronaut and director of the Johnson Space Center, joins us to talk about the spacewalk, as well as other developments at NASA.
Also this hour…
The Good, the Bad, and the Ugly of Houston News
A lot can happen in a week. Some of it good. Some of it bad. Some of it downright ugly. When faced with intriguing developments in the week's news, we turn to our rotating panel of "non-experts" to parse The Good, The Bad and The Ugly of it all. This week, our panel weighs in on the Texas Supreme Court pondering whether to step in on a challenge to term limits for Houston city officials, and Texas wildlife officials being sent to rescue a lizard from local residents.
Our panel of non-experts this week includes: Mary Flood, blogger, legal consultant with Androvett Legal Media and Marketing; Marco Roberts, president of the Log Cabin Republicans of Houston; and Charles Kuffner, who writes the Off the Kuff political blog.
Journalism Under Attack
A journalist was assaulted by a Congressional candidate in Montana. Texas Governor Greg Abbott joked about shooting reporters after signing gun bill. President Donald Trump disparages any negative reports about him as "fake news." It seems these days like journalism is under attack – so much so that the National Press Club is organizing a freedom of the press summit in Washington.
What is the climate out there lately for working journalists and has the public's perception of the role of the media as the so-called "fourth estate" changed dramatically in recent years? To discuss this, we talk with Kathy Kiely, who's a Press Freedom Fellow at the National Press Club's Journalism Institute. She's also a former Washington-based writer for the now-defunct Houston Post. And we talk with Doug Miller, a longtime television reporter here in Houston and now a member of the Houston Chronicle editorial board.
'Summer Melt' Among Houston Students
In the summer between high school and college, some graduates enroll in a college or university but never show up in the fall. In higher education circles, the phenomenon is called "summer melt." The U.S. Department of Education estimates as many as 10 to 20 percent of students nationwide plan to go to college and then don't. But why? For some the reasons are financial. Others just aren't ready for that next step.We discuss the prevalence of summer melt in Houston with Yolanda Norman, founder and CEO of First Gen Consulting, and get her advice on how to help the student in your life not fall victim to it.
Audio from today's show will available after 3 p.m. CT. We also offer a free daily, downloadable podcast here, on iTunes, Stitcher and various other podcasting apps.