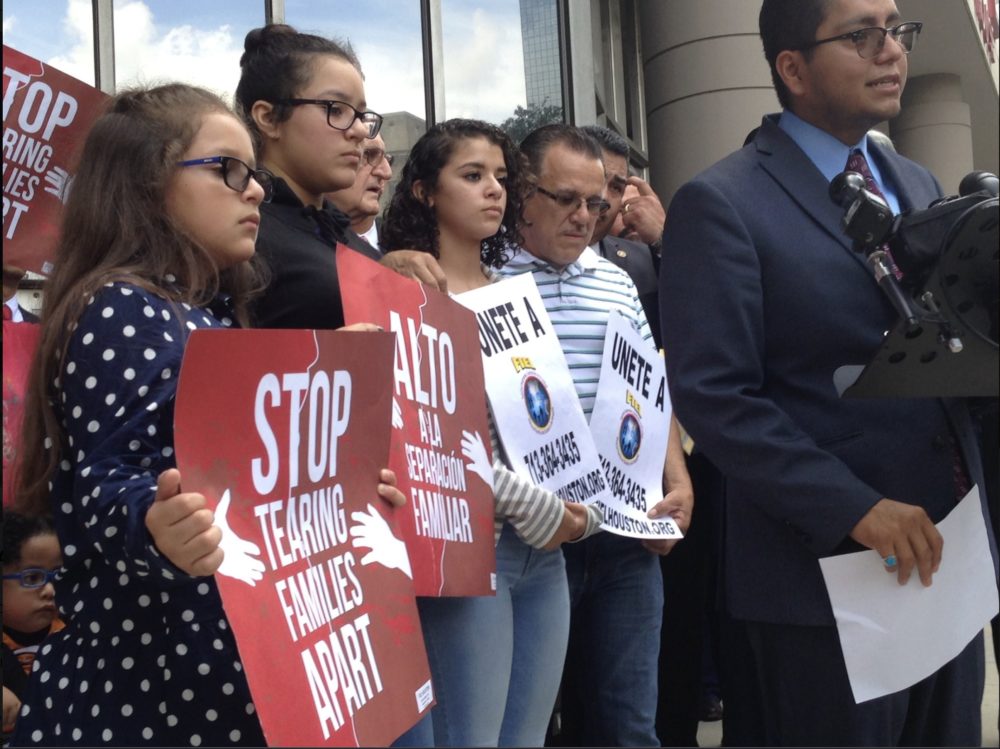 (Updates with Rodríguez's temporary reprieve from deportation)
The family of a Houston-based undocumented immigrant from El Salvador is trying to stop his imminent deportation on religious grounds and they contend their constitutional rights are at risk.
Juan Rodríguez's wife and daughters, all of whom are United States citizens, filed a federal lawsuit on Monday arguing that the deportation would violate their religious rights.
Specifically, the family's lawyers contended that Rodríguez's removal would be unconstitutional because it would violate the Religious Freedom Restoration Act, as well as the Free Exercise Clause of the First Amendment to the U.S. Constitution and the Due Process Clause of the Fifth Amendment.
The Rodríguez are Adventists and one of their core principles is the unity of the family.
The lawsuit they filed in Houston's Federal Courthouse was seeking that a judge stopped Rodríguez's deportation.
On Friday evening, U.S. immigration authorities granted Rodríguez a reprieve from deportation while he pursues his case for asylum, the Houston Chronicle reported. He will have 60 additional days from the original date for his deportation, which was June 29th.
Former Texas Supreme Court Justice David Medina is one of the family's lawyers.
"We think we have a very strong case, we have a petition here that we filed, along with a Memorandum of Law, that has case after case after case supporting religious freedoms, including cases that go back to the 1920 up to the present," noted Medina, who now works for the Chamberlain Hrdlicka law firm, during a press conference held at the entrance to the U.S. Federal Courthouse, located in downtown Houston.
"We barely sleep, it's, it's very hard, but we are gonna push through, we are gonna fight to the last second cause we all want dad to stay," added Karen, Rodríguez's eldest of three daughters.
Rodríguez's wife, Celia, and the three daughters, Karen, Rebecca and Kimberly, say they will move to El Salvador if he is ultimately deported to keep the family together and preserve their beliefs.
Their lawyers argue that would constitute the "de facto" deportation of four U.S. citizens.
Rodríguez was scheduled to turn himself in on June 29th and his lawyer, Raed González, had also filed a motion to re-open his case, which is related to a mistake on his application for Temporary Protected Status (TPS), according to the Houston-based organization Families and Students in the Struggle, better known as FIEL by its acronym in Spanish.