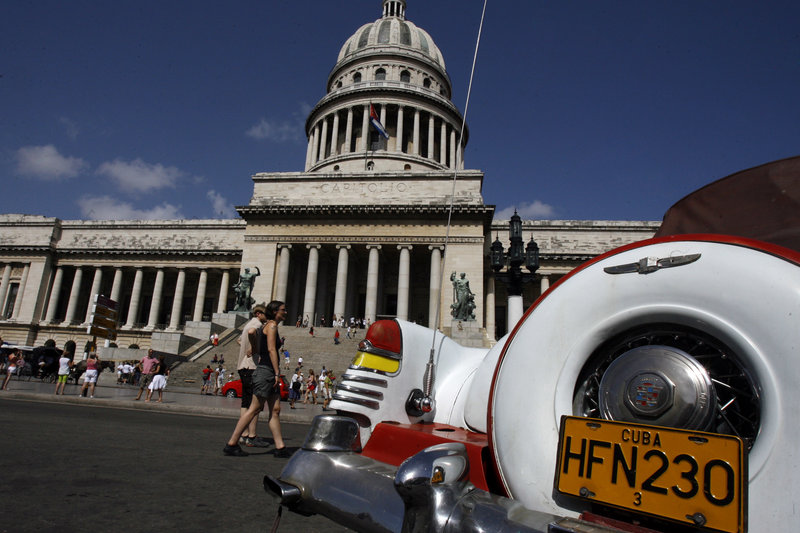 (Above: An American classic car is seen parked in front of the capitol building in Havana. President Trump's expected changes in policy toward Cuba could make it more difficult for Americans to visit the island and for U.S. companies to do business there. Photo: Javier Galeano/AP)
Later today (Friday, June 16, 2017), President Trump is expected to announce
changes to the nation's policies towards Cuba
. Back in 2014, President Obama announced the normalization of U.S. relations with Cuba. On today's
Houston Matters
, we explore what the last three years of that move towards normalization have meant for Greater Houston's Cuban-American population — as well as our region's economy.
Also this hour…
Recalling The Anita Bryant Protests 40 Years Later
New York City had the Stonewall Riots and Houston had the Anita Bryant Protests. While members of the LGBT community in New York rioted in 1969 in opposition to a violent police raid, Houston's LGBT community had its major uprising 40 years ago this week when activists united to protest a performance by a country musician.
Why protest a country musician? Well, singer Anita Bryant was very outspoken in her opposition to gay rights — and even started a campaign called Save Our Children, which fought against an anti-discrimination ordinance in Florida. So, when the Texas State Bar Association invited Bryant to perform at a meeting in Houston, thousands marched through the city in opposition on June 16, 1977. The political momentum from the march eventually became what we know now as the Houston Gay Pride Parade.
On this 40th anniversary of the Anita Bryant Protests, we look back at the events and their significance to the LGBT community in Houston — and the nation –with three guests: Ray Hill, a longtime LGBT activist in Houston; Judge Phyllis Frye, the nation's first openly transgender judge; and former Houston Mayor Annise Parker.
Battle Over the Texas State Music Museum
Since 2005, the establishment of an official Texas State Music Museum has been a tumultuous road. An allotment of funds had been set aside for it but then had to be used to aid victims of Hurricane Katrina. Then, once the funds were reacquired, a competitive vetting process between Houston and Austin saw Houston as the designated city to receive the funds for the museum. However, then-Gov. Rick Perry would not allow TxDOT to deliver those funds to the Houston group that would establish it, which was led by Stephen Williams.
And just this year, the Texas Legislature was considering bills in both houses that would establish the museum in Austin and would have Gov. Greg Abbott on the nonprofit board that would oversee its development. Williams and a coalition of music museums around the state banded together to try to keep the bills from passing, and they didn't. Now, we catch up with Williams about his coalition's efforts, their plans for the museum and accompanying tourism trail, and what's to come in the future.
The Good, the Bad, and the Ugly of the News
A lot can happen in a week. Some of it good. Some of it bad. Some of it downright ugly. When faced with intriguing developments in the week's news, we turn to our rotating panel of "non-experts" to parse The Good, the Bad, and the Ugly of it all.
This week, our panel weighs in on Mayor Sylvester Turner leading a delegation for a week-long trip to Israel, and Texas Rangers manager Jeff Bannister and Houston Astros pitcher Lance McCullers, Jr. trading social media barbs in the Dallas/Houston rivalry.
On this week's panel: Paul Pendergraft, happy retiree; Marcus Davis, owner of The Breakfast Klub and host of Sunday Morning Live on Majic 102.1; and Natalie Arceneaux. host of Your Business with C+A on KNTH 1070 AM.
Venezuela Musician Abraham Martin
Music offers an escape for musician Abraham Martin. He plays the viola, and rehearsing and performing helps him escape a little from the ongoing turmoil in his home country of Venezuela.
Lately, he's been escaping a little bit more during the intense four weeks of training and rehearsing for the Texas Music Festival at the University of Houston's Moores School of Music. Each year, the festival brings in young musicians from around the country and the world to prepare them to step into their professional careers. This is Martin's first time to participate, and Houston Matters producer Joshua Zinn talks with him about the experience and how he copes with the situation back home. Plus we hear some excerpts of him playing in Houston Public Media's Geary Performance Studio. Also, the Texas Music Festival's artistic and general director Alan Austin tells us more about what's in store at this year's event.
Houston Matters offers a free daily, downloadable podcast here, on iTunes, Stitcher and various other podcasting apps.