More than 50 percent of registered voters in Texas don't believe President Donald Trump is honest and trustworthy, while 35 percent think otherwise, according to the latest University of Texas/Texas Tribune poll. That's a slight decline from February's UT/TT Poll, where 38 percent said he was trustworthy and half said he wasn't. Here's what you need to know:
• The theme: Republican voters in Texas still back Trump. Among Republicans in the state, 80 percent approve of the job the president is doing. "Texas Republicans are holding steady," said Jim Henson, co-director of the poll and head of the Texas Politics Project at the University of Texas at Austin. "They continue to embrace him." And among Democrats, 90 percent disapprove. But overall, around 40 percent of Texans approve of Trump's work, while 51 percent disapprove.
• But some are torn over Trump's competency. Forty-six percent of Texans said the president is competent, while 47 percent said he isn't. When broken down along party lines, just 9 percent of Democrats said Trump is competent compared to 80 percent of Republicans.
• What about Russia? Two in five Texas voters — predominantly Democrats — believe Russia influenced the 2016 election and in a way that benefitted Trump. A little less than 50 percent of Texans said they have a favorable opinion of the FBI, the federal agency carrying out much of the investigation surrounding Russia's attempts to meddle in the election, while 26 percent view the agency unfavorably and 29 percent have no opinion.
Now, your take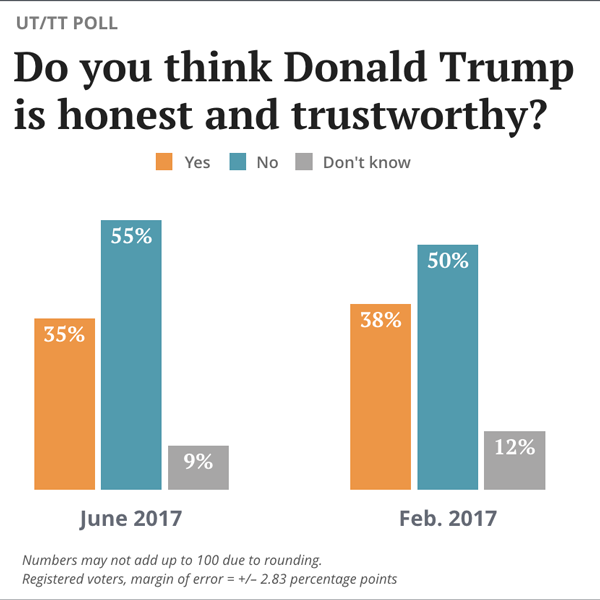 What do you think of President Trump's performance and the FBI's handling of the Russia investigation?
Subscribe to Today in Houston
Fill out the form below to subscribe our new daily editorial newsletter from the HPM Newsroom.