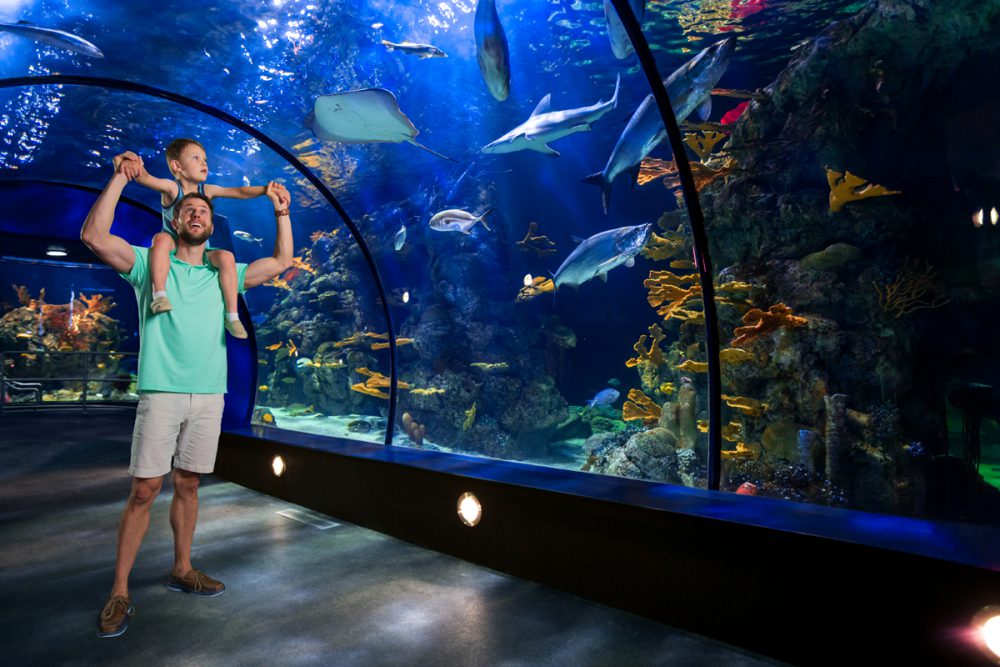 The aquarium at Moody Gardens in Galveston recently (May 27, 2017) opened the doors on its $37 million, multi-year renovation. Michael Hagerty recently toured the new exhibits and tells us that visitors will see plenty of new things and plenty of familiar things — with the biggest of them being a little of both.
Extending all the way up to the top of the pyramid structure that houses the aquarium is a brand new replica of an off-shore oil rig – a site very familiar to many Gulf Coast residents. But a less familiar sight for just about anyone is the sea life that clings to the pillars that support a platform underneath the water. That's what the centerpiece exhibit of the renovation aims to reveal, according to Greg Whittaker, the aquarium's animal husbandry manager.
"And that [sea life] has in turn supported a tremendous amount of biodiversity and an entire ecosystem," Whittaker said. "In particular, the commercial red snapper fishery would not exist the way that it does today if there was not this bio-accumulation of resources that supports that very large food web out there."
What else is new? Well, there's a lot more opportunities for visitors – and especially kids – to interact with sea life. For one, there's an area where they can touch jellyfish – the non-stinging kind, of course. And another that's modeled on a mangrove lagoon with artificial, tangled roots winding down into about a foot of water. There visitors can reach into the water and touch cownose rays, bonnethead sharks and even lobsters.
And, of course, no aquarium is complete without a tunnel where you can walk underneath the water and see a shark gently glide over your head (thankfully separated by glass). While that feature itself isn't new, one element is: a loose replica of a wooden ship called The Pride, which was owned by a very real pirate, Jean Lafitte. But now it's claimed with squatters' rights by all kinds of sea life, according to Ashley Tompkins, a public relations coordinator for Moody Gardens.
"By adding the shipwreck we have given them a new ecosystem, which is what they would find out in the wild as well," Tompkins said. "Shipwrecks provide amazing homes for the fish out in the ocean. And so by adding this we're kind of bringing that ecosystem in for guests as well."
And, last but not least, there are some additions to the aquarium's already robust penguin exhibits. Humboldt penguins, which live in warmer climates have been added to an exhibit not too far from where a variety of cold-weather penguins have been housed for some time.