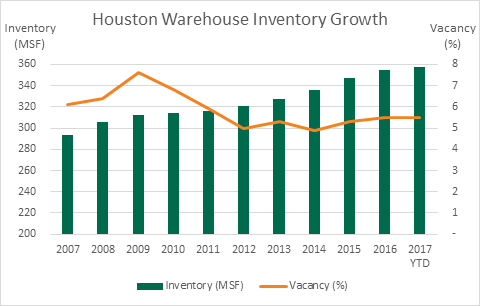 Houston warehouses have been in the news lately.
In March, Amazon announced it will add a distribution center to one currently under construction.
And last week, it was reported that Kellogg will close its Houston warehouse and instead ship directly to those of retailers.
Kellogg will be laying off 220 Houston employees, according to documents released by the Texas Workforce Commission.
But they won't face a shortage of potential work places.
"The market will continue to grow," Margaret Kidd, an assistant professor for supply chain and logistics at the University of Houston, said.
She said Kellogg is an anomaly, even in the food sector.
"Kroger has a million square-foot facility that distributes from Houston all the way to East Texas and to parts of Louisiana," Kidd said. "We have HEB that's come in that has certainly created multiple distribution centers."
Faron Wiley, first vice president at commercial real estate services firm CBRE, agrees.
He said the biggest driver for Houston as a warehouse location is population growth.
"Whereas in the past we may have been served by a warehouse that was in Dallas," he said, "and now with Houston's large population base, those companies are looking to get closer to customers and locate in the Houston area."
Wiley said warehouse space in Houston is increasing every year and vacancy is just above 5 percent, which is considered low.
A growing number of occupants are in e-commerce and plastics, he said.
Correction: A previous version of this story said warehouse occupancy is 5 percent. In fact, vacancy is 5 percent. We regret the error.
Worker Adjustment and Retraining Notification (WARN) letter from Kellogg to the Texas Workforce Commission: