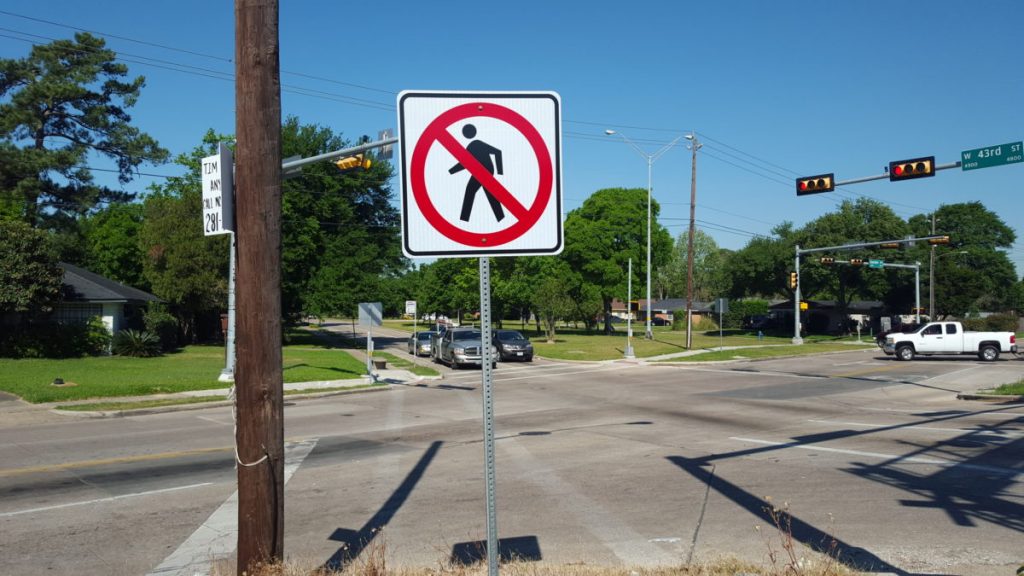 (Above: A warning sign at a missing crosswalk in northwest Houston tells pedestrians not to cross. Photo: Gail Delaughter | Houston Public Media)
A man in northwest Houston recently reached out to News 88.7 wanting to know why he has to go all the way around an intersection just to get across the street. The City of Houston says it may now have a fix for his crosswalk conundrum. Gail Delaughter reports on the "mystery of the missing crosswalk."
Thomas Jackson lives in northwest Houston near West 43rd Street, where it meets Randon Road and Mangum Road.
"It's kind of a split intersection," says Jackson. "Because of the railroad track that runs between the two."
The intersection has a Metro bus stop on the southwest corner. But if you're walking to that stop from the southeast side, and you want to do it the right way, you can't go straight across.
"The city has done a wonderful job of putting in new crosswalks at all the intersections except for one," adds Jackson.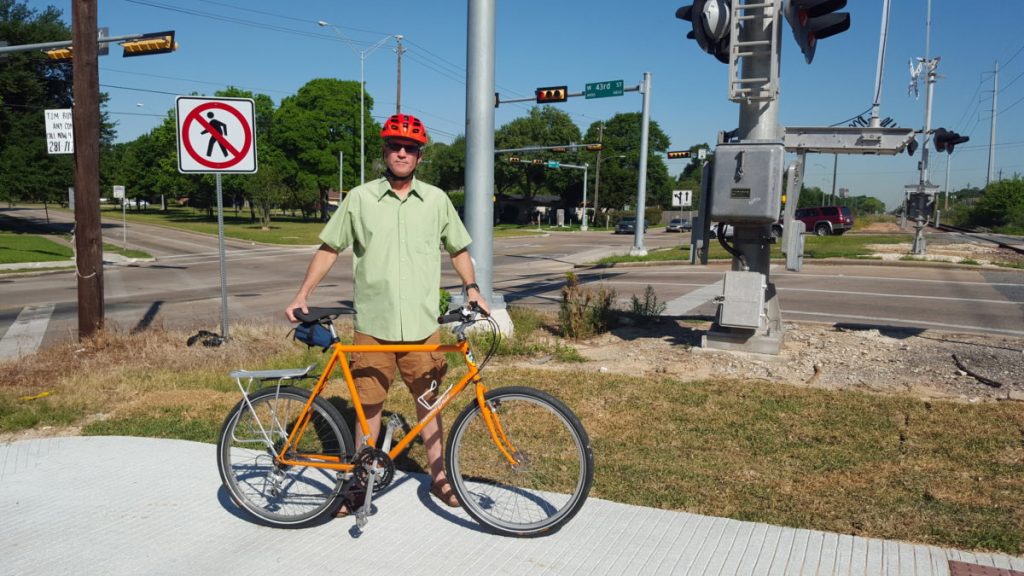 (Above: Thomas Jackson has been dealing with the city for over a year concerning the missing crosswalk in northwest Houston. Photo: Gail Delaughter | Houston Public Media)
That means if you want to get to the bus stop legally you have to circle around the entire intersection. So we go in search of that missing crosswalk.
We get our first walk signal and safely cross over four lanes of West 43rd. And that's only the first leg of our trip. Then we push another button to wait for the signal to cross over Mangum. We go up a small incline and a jagged path takes us over the railroad tracks.
We make it across but we still haven't reached our destination. We use another crosswalk to get across Randon. Two more crosswalks take us back over West 43rd. And then we come to a dead stop.
We're greeted by a warning sign showing a pedestrian with a big red slash. That means if we wanted to cross back over Randon to complete the trip to where we started, we couldn't do it legally.
"To get from one side of the street to the other, to cross the railroad track, you either wait for six crosswalk signals or make one illegal crossing at this intersection," says Jackson.
So what's behind this mystery of the missing crosswalk?
To get some answers, we spoke with Carol Ellinger Haddock. She's Deputy Director of Houston's Public Works Department. And she gave us a little background.
"What happened out there is we had a neighborhood that requested that we install a quiet zone," explains Haddock. "So that the trains that that are going through the neighborhood wouldn't have to blow their horns, especially at night."
As part of that project they decided to upgrade the entire intersection. But during that work, Haddock says they came across some issues with that one particular crosswalk between the street and the railroad track.
Haddock says the slope was too steep to comply with the Americans with Disabilities Act. So they decided to close it.
"If we put them in too steep an area and we don't comply with it then people that are used to using these facilities may get themselves literally put into a traffic situation that they shouldn't of, if the slopes are too steep," says Haddock.
So if you're designing a crosswalk it's not just about lines on the street. Research engineer Marcus Brewer works on pedestrian projects at the Texas A&M Transportation Institute.
"Each of those grades has to have a level landing at either end," explains Brewer.
And Haddock says that's exactly what they're hoping to do. After giving West 43rd and Randon a second look she says they've come up with a fix for that crosswalk conundrum.
"Instead of bringing people down off the track and straight into the intersection, we're going to bring them a little ways up the road and then bring them back at an angle," says Haddock. "Where they will have a nice safe stopping spot and a good place to stage and cross the intersection."
And that's good news to Thomas Jackson, the homeowner who's been corresponding with Public Works for over a year now. He says he always believed the problem could be solved with a bit of creativity.
Now as for when Jackson and his neighbors can use that new crosswalk, the city says it hopes to have it in place sometime in the next few months.