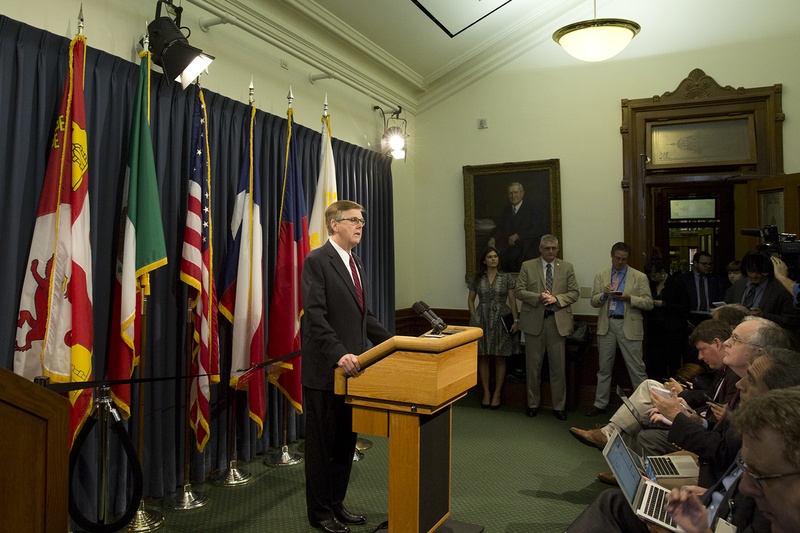 With deadlines looming, Lt. Gov. Dan Patrick on Wednesday threatened to push for a special session of the Legislature to pass a bill to regulate bathroom use for transgender Texans and legislation to set new thresholds for when cities and counties must get voter approval for their tax rates.
Patrick deemed Senate Bill 2, a property tax bill from state Sen. Paul Bettencourt, and either Senate Bill 6, the "bathroom bill" from state Sen. Lois Kolkhorst, or similar language amended to another bill, as must-pass measures to avoid a special session. Both bills have passed the Senate and are currently in the House.
The last day of the legislative session is May 29.
"If we must go to a special session, I will respectfully ask the governor to add both of these bills — plus other legislation he has voiced support for — in that special session call," Patrick said during a press conference at the Capitol. "If the bills don't pass in the special and they're blocked again, I will ask the governor to call us back again and again and again."
Only the governor can call a special session, but Patrick's key source of leverage is a measure known as the "sunset safety net bill," which lawmakers have to pass each session to keep a long list of state agencies from shutting down. All state agencies must undergo periodic "sunset" reviews by the Legislature or be forced to shut down if reforms aren't passed.
The conservative House Freedom Caucus managed to delay consideration of bills in the House long enough to keep it from passing its version of the "safety net" bill last week, leaving the Senate version as a critical measure.
Patrick on Wednesday said the Senate had less than 48 hours to pass its version of the legislation and avoid the need for a special session.
But he added that he "must see action in the House to pass several key" pieces of legislation before moving on the Senate's sunset legislation.
Patrick's threat came a day after a letter from House Speaker Joe Straus to the lieutenant governor was leaked to press. Straus wrote that the Legislature could avoid a special session if it finished its work on the budget and passed the sunset safety net bill.
A spokesman for Straus did not immediately respond to a request for comment.
Responding to Patrick's ultimatum to the House, an Abbott spokesman echoed the governor's past aversions to calling special sessions.
"The Governor made clear yesterday that property tax reform and maintaining privacy in restrooms and locker rooms are legislative priorities that must be passed, and he believes both items can be achieved before the end of the regular session." Abbott spokesman John Wittman said in a statement. "The governor is grateful that the House has set the property tax bill to be heard on the floor tomorrow, and is making progress on privacy legislation."
The bathroom legislation has stalled in the House. Straus, who said he opposes such legislation, has not referred SB 6 to committee — the first step in the legislative process — since it was received from the Senate in March.
SB 6 would regulate bathroom use in government buildings, public schools and universities based on "biological sex," keeping transgender Texans from using bathrooms that match their gender identities. The measure would also prohibit local governments from adopting or enforcing local bathroom regulations.
A separate measure by state Rep. Ron Simmons, R-Carrollton — House Bill 2899 — takes a different approach to the bathroom regulations and would gut cities' and school districts' trans-inclusive bathroom policies. It did not advance out of a House committee ahead of a crucial deadline.
Patrick on Wednesday said that legislation was "acceptable" to him and pressed the House to move on SB 6 or attach the language from Simmons' bill onto other legislation as an amendment.
With bathroom regulations drawing fierce opposition from the business community, Straus has reiterated that the legislation is not a priority.
The House is scheduled to take its first vote on this session's major property tax legislation Thursday. The controversial SB 2 has split Texans and the local officials they elect over provisions that dictate when voters would have to approve property tax rates.
The bill's author has said the new election thresholds are were meant to give landowners a stronger mechanism to curb rising property tax bills, but the lower chamber last week stripped proposed new election requirements from the version the Senate passed.
City leaders, county officials and first responders have argued for months that even with lower election thresholds, Texans would not see meaningful drops in their individual tax bills. They also argued that new voter approval requirements could hamstring city budgets and were another example of the state trying to control local governments.
Other legislation Patrick mentioned as key issues he wants lawmakers deal with include several anti-abortion bills, a bill to make tweaks to the state's voter ID law amid legal challenges and House Bill 21, intended to reform a complex school finance system and inject about $1.5 billion into public schools.
The Senate's version of HB 21 tacked on a controversial provision: state subsidies for parents who want to send their children with disabilities to private schools. The House has vehemently opposed proposals that would send public money to private schools. But in exchange for a vote, Patrick promised an additional $500 million in school funding and to concur with part of the House's proposal for the school accountability system that would delay implementation of a controversial grading system for schools until 2019.
Patrick Svitek, Brandon Formby and Aliyya Swaby contributed to this report.
This is a developing story and will be updated.
This article originally appeared in The Texas Tribune at https://www.texastribune.org/2017/05/17/dan-patrick-threatens-force-special-session-if-key-bills-dont-move/.
Texas Tribune mission statement
The Texas Tribune is a nonprofit, nonpartisan media organization that informs Texans — and engages with them — about public policy, politics, government and statewide issues.