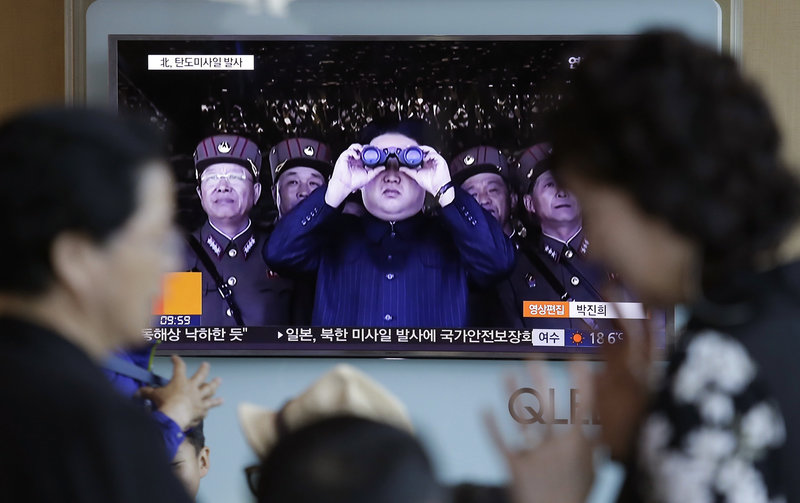 (Above:Â North Korean leader Kim Jong Un is shown on a TV at the Seoul Railway Station in South Korea on Sunday, May 14, 2017. Photo: Ahn Young-joon |AP)
North Korea and the U.S. have been antagonistic since the 1950s and the Korean War — and it's never really seemed to cool down in the past several decades. As posturing and rhetoric between North Korea and the West heats up — and the communist nation
continues to test missiles
potentially capable of reaching the US — we learn more about how we got here from
Robert Buzzanco
, a history professor at the University of Houston, on this edition of
Houston Matters
.
Also this hour…
Sandy Phan-Gillis Update
Houstonian Sandy Phan-Gillis is back in the United States after spending more than two years detained in China. Last month (April 2017), Phan-Gillis was sentenced to 3.5 years in prison but was deported after having already served nearly that much time awaiting trial. She was arrested in 2015 while visiting China with a business delegation from Texas and was accused of visiting twice to spy on the communist nation. Her husband, Jeff Gillis, has called the allegations "beyond ridiculous." John Kamm is the founder of the Dui Hua Foundation, a non-profit who campaigned for Phan-Gillis' release. Kamm has been in touch with Sandy's husband Jeff Gillis since her release and updates us on her return and the lessons learned from this case.
Houston Summer Activities
Summer is just around the corner, and while some of you may have big vacations planned to far off destinations, others might prefer to keep things a little closer to home. So, with the latter in mind, we learn about upcoming summer activities in Greater Houston from Marianella Orlando of Houstonia Magazine, and, of course, we welcome any suggestions you might have too!
Motherhood Out Loud
Motherhood Out Loud at the MATCH through May 21 features 15 scenes and monologues performed by area actors, designed to subvert notions about parenthood. We talk with the director and some performers about the play, and hear one of the monologues.
Houston Matters offers a free daily, downloadable podcast here, on iTunes, Stitcher and various other podcasting apps.