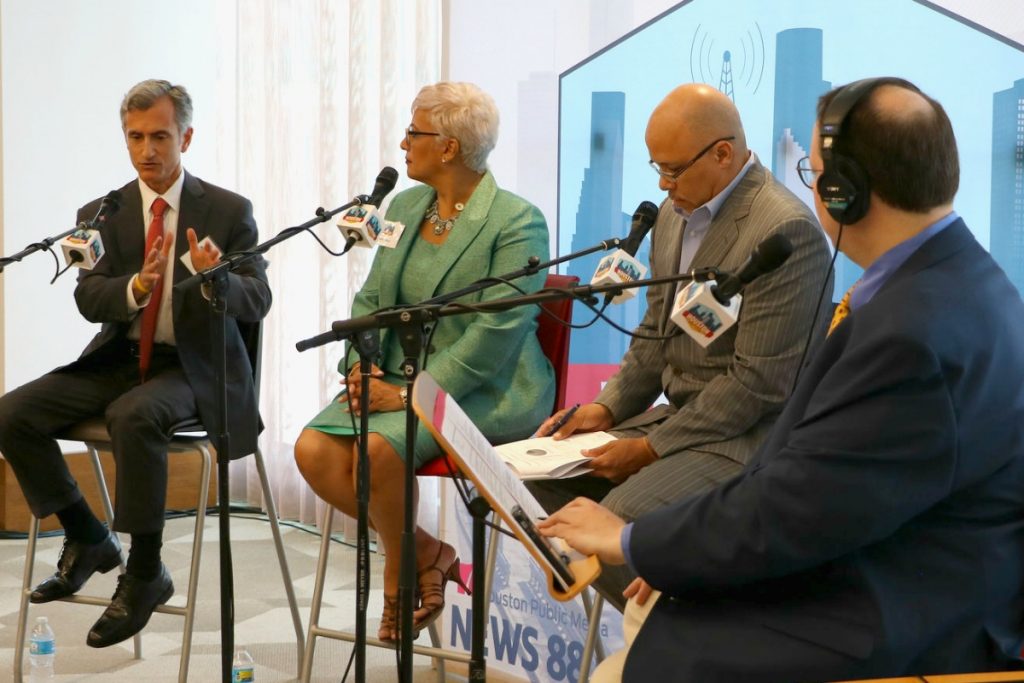 (Above: Panelists discuss diversity in the workforce (L-R): Bruce Ruzinsky, partner and chair of the diversity committee at the Jackson Walker law firm; Ivette Mayo, president of Yo Soy I Am, LLC; and Dennis Kennedy, founder of the National Diversity Council. Photo: Derek Stokely | Houston Public Media)
Houston Matters
is broadcasting live today from downtown Houston. In many ways it'll be our normal show — just from a different location. We'll be broadcasting from the new headquarters of the
Greater Houston Partnership
— the new Partnership Tower.
Host Craig Cohen will spend the hour talking with panelists from Greater Houston's business community about spurring innovation, diversity in the workforce, and the business of baseball (since we'll be coming to you from right next door to Minute Maid Park).
Making Houston a Hub for Innovation
Since today's Houston Matters is broadcasting from the headquarters of the Greater Houston Partnership, an organization whose goal is to promote business in the region, we wanted to discuss what Houston can do to better spur innovation here. How can Houston's business climate improve to better spur new businesses and ideas? We talk it over with Lori Vetters, president and CEO of the Houston Technology Center, Ed Egan, director of the McNair Center for Entrepreneurship and Innovation at Rice University's Baker Institute for Public Policy, and Gina Luna, chair of the Greater Houston Partnership's Houston Innovation Roundtable.
Diversity in the Workplace
The Greater Houston region is well-known for its diversity. Do our workplaces reflect that diversity? How do we define diversity in the workplace? What are ways in which companies could be more diverse? Why is diversity in the workplace important? We examine this question with three panelists: Dennis Kennedy, founder of the National Diversity Council; Bruce Ruzinsky, partner and chair of the diversity committee at the Jackson Walker law firm; and Ivette Mayo, president of Yo Soy I Am, LLC.
Reid Ryan, President of Houston Astros
Just across the street from Partnership Tower is Minute Maid Park, home — of course — to the Houston Astros. And while baseball is ultimately a game, it is very much a business too. The more successful the business, the more likely the team is to be successful on the field. And so far this season, the Astros have been very successful on the field. But, today, we focus on the business aspects of running a successful Major League Baseball franchise with Reid Ryan, president of the Houston Astros.
Sports Monday
As we do every Monday, we look at the big stories in Houston sports with Jeff Balke of Houstonia Magazine and Houston Press. We discuss what went wrong for the Rockets in their playoff series against the Spurs and talk about the first-place Astros.
Houston Matters offers a free daily, downloadable podcast here, on iTunes, Stitcher and various other podcasting apps.