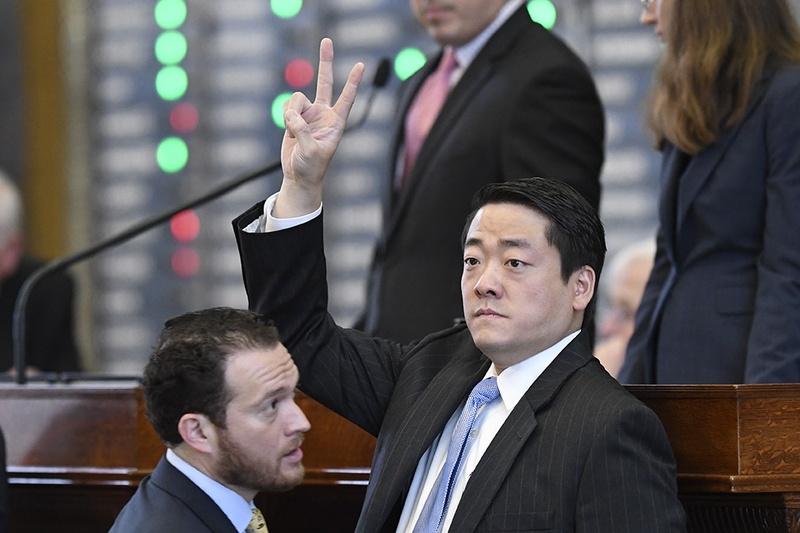 What started as Texas House members discussing a bill that would improve the state's Child Protective Services agency turned into a heated debate over vaccines — and whether they should be required for children placed in foster care.
And when the debate over House Bill 39 was over Wednesday, members passed a bill that would prevent new foster children from being vaccinated.
HB 39, by state Rep. Gene Wu, D-Houston, requires the Department of Family Protective Services to perform medical exams on children who have been in CPS custody for more than three business days. For children in rural areas, the exam would have to come within seven business days of being put in protective custody.
State Rep. Bill Zedler, R-Arlington, proposed an amendment that would prohibit those examinations from including vaccinations. He was joined by several Republican members of the Freedom Caucus who insisted that vaccines were invasive and unnecessary.
"Immunizations do not qualify as emergency care. No vaccine cures a disease," Zedler said.
His amendment was adopted in a 74-58 vote, something Wu said would set a "dangerous precedent." Under current law, biological parents have the final say as to whether their child gets vaccinated. HB 39 tentatively passed the House in a 120-15 vote.
There was bipartisan pushback against the amendment, most notably from state Rep. Sarah Davis, R-West University Place, who proposed an amendment to Zedler's amendment that would require foster children to get vaccines proven to prevent cancer, such as the HPV vaccine.
"I know that in 2014, 429 deaths from cervical cancer occurred in Texas and that accounts for nearly 10 percent of the 4,200 deaths from cervical cancer nationally," Davis said. "As I have said many times today, the HPV vaccine will eliminate cervical cancer."
Her measure, however, was tabled in a 74-64 vote.
"Who in this body does not believe in the science of vaccines and want to risk their children and others?" Davis asked House members Wednesday afternoon.
To push back against Zedler's amendment, Wu offered up a motion that would allow vaccinations in the case of tetanus. It was adopted in a 74-58 vote.
Later Wednesday, Zedler told The Texas Tribune that most parents he's spoken to are often not anti-vaccine but instead don't like the regimented schedule. He said the group Texans for Vaccine Choice asked him to carry the amendment.
He said doing "cookie cutter medicine" by requiring every one follow a certain vaccine schedule is not a good approach to use. "No vaccine is an emergency," he said. "The only one that might possibly be is a tetanus shot."
Several members of the Freedom Caucus — including state Reps. Tony Tinderholt, R-Arlington, and Valoree Swanson, R-Spring — pushed back against Davis' amendment, saying that sometimes children are wrongfully removed from their homes and if subjected to get vaccinated, the shot would be irreversible.
Marissa Evans contributed to this report.
Read related Tribune coverage:
This article originally appeared in The Texas Tribune at https://www.texastribune.org/2017/05/10/house-backs-measure-barring-mandatory-vaccines-foster-children/.
Texas Tribune mission statement
The Texas Tribune is a nonprofit, nonpartisan media organization that informs Texans — and engages with them — about public policy, politics, government and statewide issues.