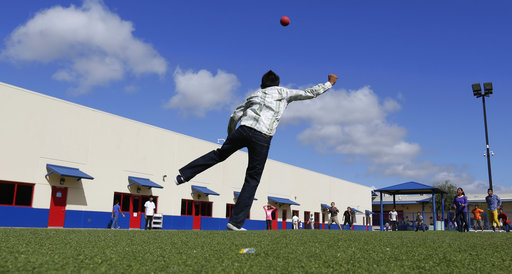 Texas lawmakers are advancing a proposal to license family immigrant detention centers as child care providers.
The state Senate voted 20-11 Tuesday to give preliminary approval to a bill that would allow Texas to license two family lockdowns, despite a past state court ruling that such facilities do not meet minimum requirements to care for kids. The measure would enable detention facilities to hold families for prolonged stays, which advocates say could physically and psychologically harm children.
The bill needs a final Senate vote that could come as early as Wednesday before heading to the state House. Texas' legislative session ends May 29, so time is running short.
The private prison company GEO Group, which operates an 830-bed family facility south of San Antonio, lobbied Texas politicians to introduce the licensing bill, which could help its Karnes Residential Center remain open. That lockup, which mainly holds women and children seeking asylum from Central America, earns GEO $55 million annually.
A lobbyist from GEO was "where the legislation came from," State Rep. John Raney, a Republican from Bryan, previously told the Associated Press. A GEO Group spokesman said the company "supports any effort to provide appropriate levels of government oversight" and that Karnes "provides high-quality care in a safe, humane, family-friendly environment."
Senators opposed to the proposal Tuesday called it a "vendor bill" that could seriously harm children seeking asylum.
"We're doing something in favor of one company instead of in the interests of the children," said Sen. Sylvia Garcia, a Democrat from Houston. "They're not coming here for fun…They're coming because they've been abused, neglected, and now to add insult to injury we're putting them in baby jails."
Democratic Sen. Jose Menendez noted on the Senate floor that a slew of children's and immigrant's rights groups testified in opposition to the bill and that the only supporter was the private prison operator that stands to benefit. Sen. Jose Rodriguez, an El Paso Democrat, cited concerns about sexual assaults, lengthy wait times for medical care and children being held "in prison-like" conditions.
But sponsor Bryan Hughes said the measure "is about keeping these folks safe and in place until their hearing."
Hughes, a Mineola Republican, said that the alternative is they can be released and end up "maybe in some other state" or "the feds can choose to separate parents from their children."
The Trump administration pledged in April not to separate immigrant families arriving at the border, after Homeland Security Secretary John Kelly suggested he was considering doing so.
But Karnes and Texas' other family detention center — the 2,400-bed South Texas Residential Facility operated by the U.S.'s largest private prison company CoreCivic — are both operating far below capacity.
That's because the flow of women and children fleeing gangs and violence in Central America to seek asylum in the U.S. has slowed dramatically.
Immigrant advocates attribute the drop to more frequent turnarounds at the border by customs agents and immigrants' fears of enforcement under the Trump administration.
Karnes opened as a family detention center in 2014 and used to hold detainees for months, until a federal judge ruled that children held longer than 20 days must be housed in "non-secure" facilities with child care licenses. After the Texas Department of Family Protective Services granted Karnes a license, advocates sued.
A state judge ruled last year that family detention centers did not qualify for licenses — prompting the Texas bill.