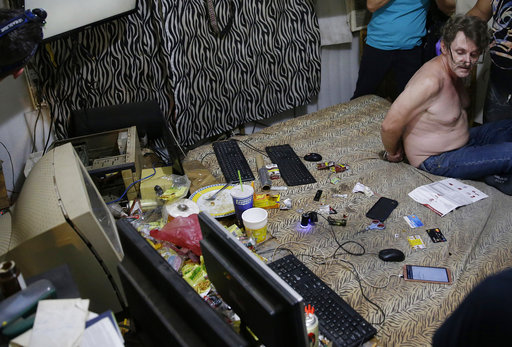 1. POST-PARK ERA UNFOLDING IN SOUTH KOREA
Exit polls in South Korea are forecasting a win by liberal candidate Moon Jae-in in an election to succeed ousted President Park Geun-hye.
2. CHILD WEBCAM SEX BUST REVEALS RISING ABUSE
Pedophiles in the U.S., Canada, Europe and Australia pay facilitators in the Philippines to sexually abuse children, directing their moves through online livestreaming services, The AP finds.
3. US SEEKS EVIDENCE OF HAITIAN CRIMES AS IT WEIGHS THEIR STAY
The Trump administration would then decide whether to allow them to continue participating in a humanitarian program that's shielded tens of thousands from deportation since a devastating earthquake in 2010, The AP learns.
4. WHERE NEW FRENCH LEADER IS UNTESTED
Emmanuel Macron will quickly discover that foreign policy — an area not yet in his comfort zone — will eat up buckets of his time.
5. HOW SERIAL STREET SHOOTER CASE WAS CRACKED
Phoenix police are crediting the tips they received as a former city bus driver is arrested, but not before nine people were slain.
6. COURT SKEPTICAL OF TRUMP TRAVEL BAN ARGUMENT
The 4th U.S. Circuit Court of Appeals in Richmond, Virginia, appears unconvinced that it should ignore the Republican's promises on the campaign trail to bar Muslims from entering the country.
7. OBAMA STARTS DEFINING NEW ROLE IN AGE OF TRUMP
The former U.S. president is emerging for a series of paid and unpaid speeches, drawing sharp contrasts with the Republican even as he avoids saying the new president's name.
8. FUNDS DRY UP FOR OREGON TIMBER COUNTRY
Voters in some counties will have to decide whether to approve more taxes to keep libraries open and sheriff's deputies on the streets.
In his return to late-night TV, the comedian argued again that all Americans deserve the level of health care given his infant son.
10. WHAT LA LEADERS ARE AIMING TO DO
Los Angeles is trying to sell their plan to host the Olympic Games to visiting members of the International Olympic Committee, as the 2024 and 2028 Olympics are both in play.