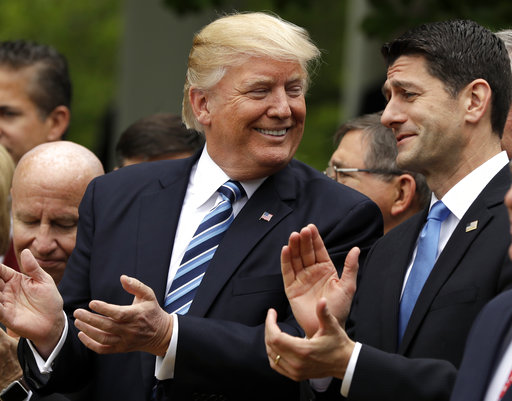 1. HOUSE REPUBLICANS REPEAL REVILED 'OBAMACARE'
The 217-213 vote is a narrow victory, and ultimate success is far from assured since the measure must still make its way through a highly skeptical Senate.
2. HEALTH-CARE REPEAL VOTE SERVES AS GOP CONFIDENCE-BUILDER
The party shows the first sign that it may be able to find consensus within its divided ranks.
3. TRUMP VISITS NYC FOR FIRST TIME AS PRESIDENT
He meets with the Australian prime minister and gives a speech marking the anniversary of a famed World War II battle.
4. FRENCH PRESIDENTIAL RACE GETS TENSE
Paris prosecutors launch a preliminary investigation into whether fake news is being used to influence voting just days before this weekend's high-stakes runoff.
5. PRINCE PHILIP KEEPS CALM BUT WON'T CARRY ON ROYAL DUTY
His retirement announcement follows a night of frenzied speculation caused by news reports about an "emergency" palace meeting.
6. WHY CINCO DE MAYO MET WITH MORE AMBIVALENCE
Trump's immigration policies are leaving some Mexican Americans and immigrants feeling at odds with a holiday they already thought was appropriated by beer and liquor companies.
7. WHAT HURTS U.S. TRACKING OF VISA HOLDERS
A government report says American immigration agents cannot effectively detect who overstays visas because of inefficient computer systems and a lack of exit screening.
8. VENEZUELANS AGAIN TAKE TO STREETS
Students hold demonstrations across the country's capital as a two-month-old protest movement that shows no signs of letting up claims 37 lives.
9. WHO SUES FACEBOOK, TWITTER, GOOGLE
Family members of San Bernardino terror attack victims accuse the companies of providing platforms that help the Islamic State group spread propaganda, recruit followers and raise money.
10. NATURAL SOUNDS GETTING HARDER TO HEAR IN THE U.S.
Scientists who listened to about 500 American parks and wilderness areas say that nearly two-thirds at times have noise levels twice the natural background levels because of airplanes and cars.