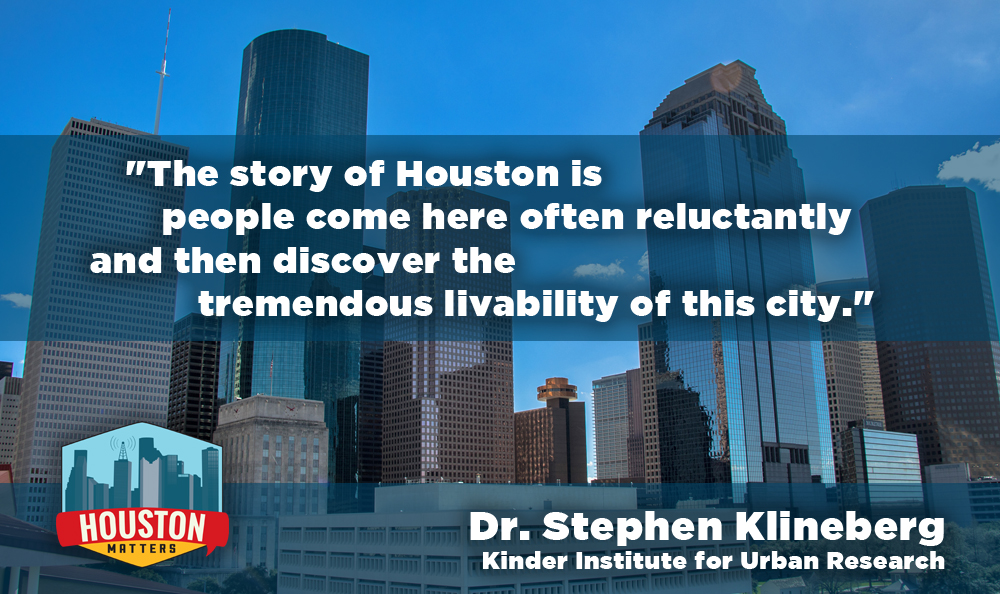 Fear of crime is declining in Houston. More people want to live in walkable neighborhoods with a mix of residences, workplaces and shopping. And there's continued growth in support for LGBT rights. Those are just a few takeaways from the 36th annual Houston Area Survey from Rice University's Kinder Institute for Urban Research.
The survey is the nation's longest-running study of any metropolitan area's economy, population, life experiences, beliefs and attitudes. The results of this year's study are being unveiled at a luncheon today (May 1, 2017), and its author, Dr. Stephen Klineberg, joins us to unveil the results.
LGBT Rights
According to the survey, 56 percent of Houstonians think homosexuality is "morally acceptable," compared to just 21 percent in 1997.
"It looks as if there the big force is not people changing their minds," Klineberg said, "but each new generation coming in with a much more comfortable feeling about the diversity — much more of a sense that this is who we are."
Houston's Biggest Problem
Each year, respondents are asked what they see as the biggest problem in the Houston area, and, each year, the response that leads the pack is — not surprisingly — traffic. This year, 24 percent of respondents cited that as the region's biggest concern.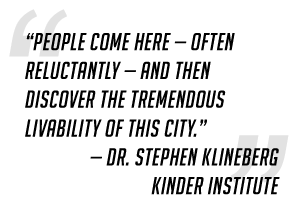 Meanwhile, some 16 percent of respondents said the economy was their biggest concern, and 15 percent said crime, which was the lowest figure that response has had since 2003. Respondents were also asked about their fear of crime. Only 18 percent said they were very worried they or a family member would become a crime victim. That's the lowest figure on that question since 1995, when it was 43 percent.
Tremendous Livability of This City
Despite citing concerns about traffic, the economy and crime, more than two thirds of all respondents said if they had the chance to move away from Greater Houston they wouldn't.
"Well, that's been one of the stories of Houston," Klineberg said. "People complain in our surveys — because we invite them to — about traffic, pollution, crime, the weather…and then we say 'Well how would you rate the Houston area as a place to live?' 'It's a wonderful place to live.' The story of Houston is people come here often reluctantly. 'Yuck, the job is here. We'll come for a couple of years' and then discover the tremendous livability of this city."
Job Opportunities
This year, 64 percent of survey participants said job opportunities in Houston were excellent or good, which was typical of previous years but down from 2015's high of 69 percent. Dr. Klineberg said he's not surprised Houstonians feel so strongly about the opportunities here, despite the last couple of years of low oil prices and a rise in local unemployment.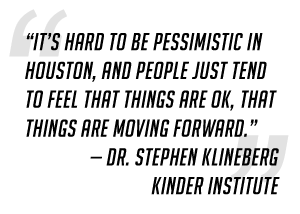 "It's hard to be pessimistic in Houston, and people just tend to feel that things are ok, that things are moving forward."
The survey is based on landline and cellphone interviews conducted between late January and early March with 827 people from Harris County, 400 from Fort Bend County, and 402 from Montgomery County. Responses are weighted so that the data reflect the actual populations of area residents.