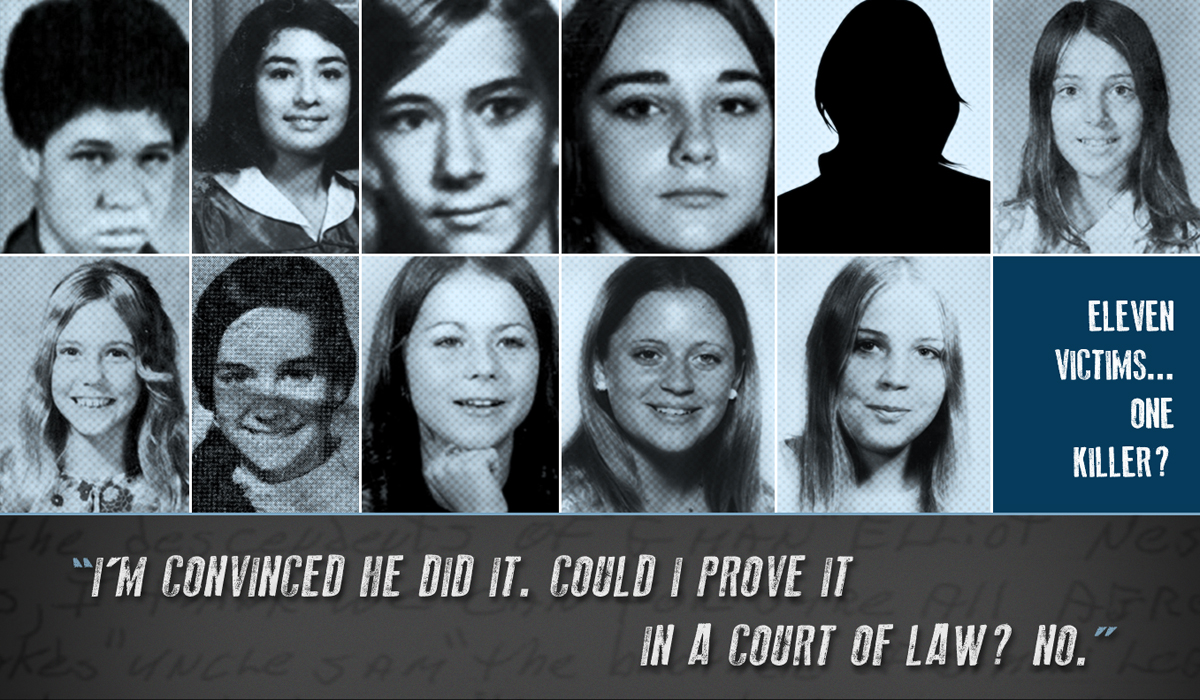 In the 1970s, in and around Galveston, teenage girls started going missing – sometimes in pairs. Many of their bodies would turn up in swamps, marshes and bodies of water in places like Clear Lake and Texas City.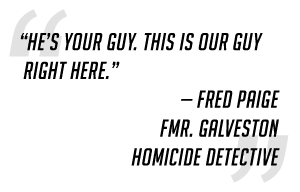 Those murders — along with a cluster of others over the years along Interstate 45 between Houston and Galveston — have led to the area being dubbed "The Texas Killing Fields."
Now, more than 45 years later, two local investigators are focusing on nearly a dozen of those cases, most of which happened in the 1970s. Of those eleven murders, there's only been a conviction in one case, but a federal court ruling cast serious doubt on whether the right man went to jail.
Lise Olsen and Fred Paige agree. Olsen is an investigative reporter for the Houston Chronicle, and Paige is a former homicide detective from Galveston. Working together, they think one man may be responsible for those crimes, and they're asking for the public's help in solving the case.
How You Can Help
They've established an email address and tip line for anyone with information to contact them at: theeleventipline@gmail.com or 832-387-5382.
In the audio above, Michael Hagerty walks us through their investigation, who they suspect and why. Their work will be featured in an upcoming documentary series still in production.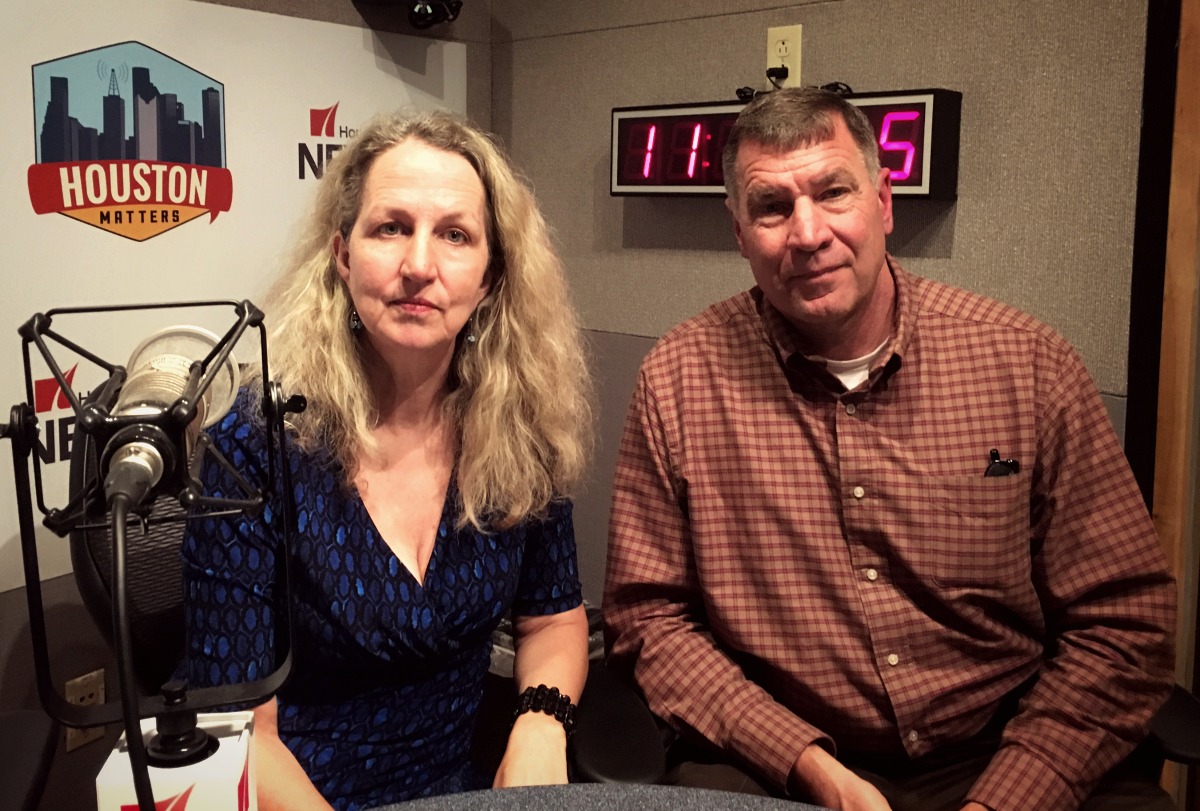 (Above: Lise Olsen, investigative reporter for the Houston Chronicle, and Fred Paige, a former Galveston homicide detective, think they know who committed 11 unsolved murders in and around Galveston during the 1970s. Photo: Michael Hagerty | Houston Public Media)
Who Are The Eleven?
1. Collette Wilson, who disappeared from Alvin, Texas in June of 1971.
2. Brenda Jones, who disappeared from Galveston in 1971.
3. Rhonda "Renee" Johnson and...
4. Sharon Shaw, who both disappeared from Galveston on Aug. 4, 1971.
5. Debbie Ackerman and...
6. Maria Johnson, who both disappeared from Galveston on Nov. 15, 1971.
7. Gloria Gonzales, who disappeared in October of 1971 (her body was found near Wilson's).
8. Kim Pitchford, who disappeared in January of 1973.
9. Georgia Geer and...
10. Brooks Bracewell (aka "the Dickenson girls," who both disappeared in September of 1974)
11. Jane Doe, (perhaps), whose bones were found off FM 2004 in Brazoria County in 1980 (she was likely killed in 1975).
12. Suzie Bowers, who disappeared from Galveston in 1977.
MORE: Examining a String of Murders From Houston to Galveston (Houston Matters, March 17, 2015)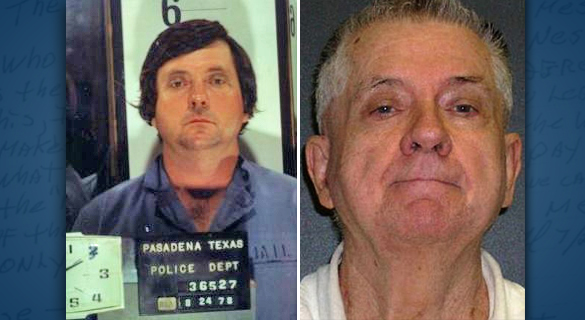 (Above: Edward Harold Bell in a 1978 booking photo and a more recent TDCJ mugshot.)
A Suspect Under Their Noses
The first clue as to who might be responsible for these crimes can when Paige was digging through some old documents related to one of the cases. He was in Texas City, where one set of bodies was found. And he stumbled across a confession letter that had been written in the late 1990s by a Texas prison inmate. It had never been publicized.
"The first time I saw that letter," Paige said, "I basically said, 'He's your guy. This is our guy right here.'"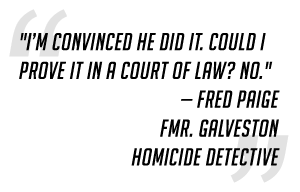 That guy was Edward Harold Bell, who was (and still is) serving a prison sentence for killing a man in the 1970s. To verify the confession letter, Paige went digging through old newspaper archives from the Chronicle and the Houston Post.
It turns out the letter contained details related to the cases that were never made public. Plus, other evidence seems to point circumstantially — but not yet definitively — to Bell, such as witnesses saying the saw two of the missing girls getting into a van matching the description of one Bell owned. Also Ed Bell lived fairly close to where many of these bodies had been found.
"I'm convinced he did it," Paige said. "Could I prove it in a court of law? No."
'Eleven Went to Heaven'
As for Ed Bell himself, does he stand by that confession letter? Bell granted Lise Olsen an interview from prison and wrote her some letters where he talked about the women he said he killed.
AUDIO: Excerpts from Lise Olsen's Prison Interview with Edward Harold Bell (Houston Chronicle)
"We end up looking at eleven because he writes in a letter to me that there were 'eleven who went to heaven,'" Olsen said. "He provides the names of four of those girls, and he provides initials and hair color and years of most of the rest of the girls."
MAP: The Eleven 'Who Went to Heaven' (Houston Chronicle)
Looking for Witnesses
Now, the investigative work of Olsen and Paige is to determine if Bell is telling the truth about all this. They're trying to find witnesses who were never interviewed at the times of these murders, investigators who worked on the cases back in the 1970s or anyone who knew Bell or his wife at the time.
What about Bell himself? Does he stand by the things he wrote and told Lise Olsen? As of publication of this story, our request for a prison interview with him is still pending. However, he's told Olsen he was brainwashed into killing the women.
They Deserve Answers
Whether Edward Harold Bell is ever proven guilty or not, finding the answer is what continues to drive Fred Paige and Lise Olsen.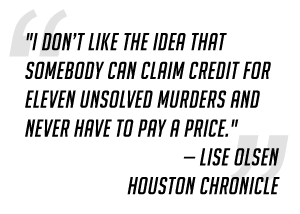 "Well, I guess it's in my DNA, but who doesn't want to solve a mystery?" Paige said. "Seems like we keep moving forward. We keep connecting some dots, but we still haven't found that one loaded gun or whatever that's going to put Bell away and say conclusively that this guy killed the girls that we believe he did kill."
Olsen wants to provide the victims' families some answers after all these years of waiting.
"I don't like the idea that somebody can claim credit for eleven unsolved murders and never have to pay a price," she said. "These are lost girls who never got a chance to grow up, who were robbed of their lives. And they deserve justice. All these people deserve answers, and so if it's in our power to give them answers, I'd really like to do that."