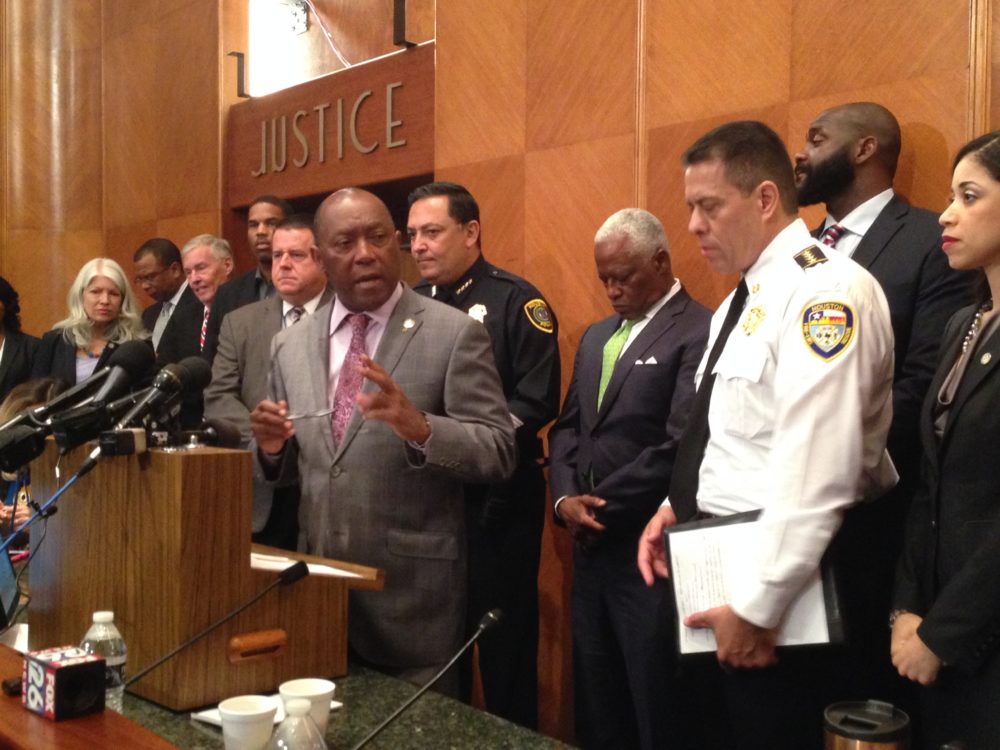 Houston Mayor Sylvester Turner is warning the City might have to lay off between 1,700 and 2,200 employees if the Texas Legislature doesn't approve the reform of the City's pension system this year and those layoffs could have a negative effect on public safety.
During the customary press conference held after the Wednesday City Council meeting, Turner noted that if the pension reform bill fails in Austin the Houston Police and Fire Departments will feel the pain because the City would face a deficit of approximately 240 million dollars for the Fiscal Year 2018 budget.
"We are probably talking about laying-off a few hundred more of the police officers, certainly talking about laying off, yeah, several hundred firefighters and you are talking about laying off a lot of municipal workers," the Mayor said.
Ray Hunt, president of the Police Officers Union, criticized State Senator Paul Bettencourt, who is trying to add other requirements to the pension deal.
"We cannot handle massive layoffs and when this city is jeopardized, when our officers' safety is jeopardized and when the citizens are jeopardized," Blunt stated at the press conference "I'm gonna lay it right at the feet of Paul Bettencourt if he continues to gum up this process."
Bettencourt told Houston Public Media he feels both surprised and saddened that the amendment he is proposing –which has to do to with retirement benefits for new hires— is causing such a reaction from City Hall.
Specifically, Bettencourt supports defined contribution plans for new hires.
Those plans mean the City and the worker put money in a pension account that fluctuates with the market, similar to how 401(k) plans work.
Bettencourt argues that, without defined contribution plans, public retirement systems make the debt of entities like the City of Houston unsustainable and also increase property taxes.
Out of the three City's pension funds, the one for the City's firefighters –the other two are the ones that represent police officers and municipal workers— is the only that doesn't agree with the reform the City has proposed and sent to the Legislature.
In a statement distributed on Wednesday, they insist the Mayor's plan reduces the firefighters' benefits excessively and unfairly because they have the best funded retirement system and are being asked to go along with ceding benefits that represent "40 percent" of the cuts the plan entails although "the city's liability to our system is only 18 percent of Houston's total."