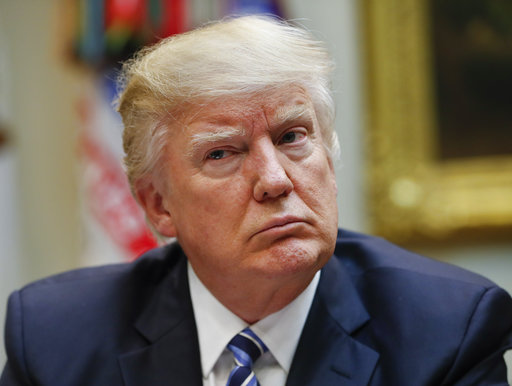 1. PROGRESS MADE TO AVERT GOVERNMENT SHUTDOWN
A major hurdle is overcome when Trump signals he would put off his demand that the measure include money to build his border wall with Mexico.
2. ARKANSAS PERFORMS DOUBLE EXECUTION
After going nearly 12 years without executing an inmate, the state now has executed three in a few days — including two in one night.
3. HOW GLOBE VIEWS TRUMP'S PRESIDENCY 100 DAYS IN
People from Pyongyang, Damascus, Tehran, Mogadishu, Moscow, Tel Aviv, the West Bank, Berlin and Mexico City weigh in as the U.S. president nears that initial milestone.
4. WHERE A COURT SERVES AS MODEL FOR TRUMP PLANS
While most immigrants entering the U.S. illegally are simply deported, a court in Del Rio, Texas, prosecutes them.
5. NORTH KOREA MARKS ARMY'S FOUNDING WITH TENSIONS HIGH
No nuclear tests or ballistic missiles have been fired yet, but Pyongyang holds major live-fire drills off its eastern coast on this important anniversary.
6. SPECIAL SCHOOLS HELP TEENS STAY CLEAN
Hope Academy in Indianapolis, a residential drug treatment program, is a tuition-free recovery school that is helping teens kick the opioid habit.
7. IVANKA POISED FOR WORLD STAGE DEBUT
The first daughter's advocacy for women and girls will take her to a conference in Berlin, aimed at building support for investment in women's economic empowerment programs.
8. WELLS FARGO TO FACE IRRITATED INVESTORS
It's the first big shareholder meeting since the scandal over the bank's sales practices led to an executive shake up, fines and a dented reputation.
9. 'I AM SAD THAT I'M NOT ON TELEVISION ANYMORE'
Five days after being fired from Fox News Channel, Bill O'Reilly uses a podcast to express his dismay and vows that "the truth will come out."
10. WARRIORS GET BREAK AFTER DRAMA-FILLED WEEK
Golden State welcomes back Kevin Durant, sweeps Portland, and now waits for word whether ailing coach Steve Kerr can rejoin team for its next series.