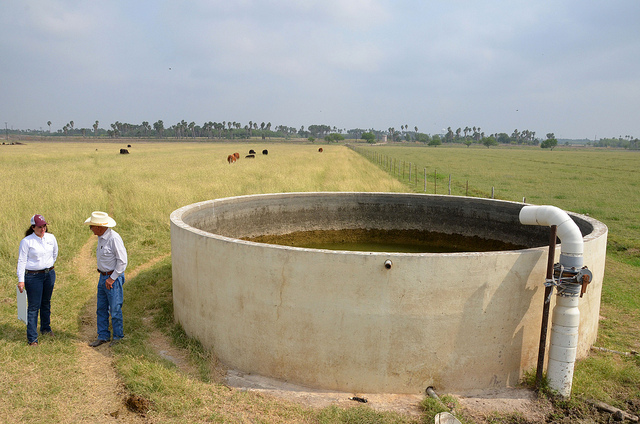 For decades, local water regulators across rural Texas have decided how to best conserve and use their underground aquifers.
Now, lawmakers are considering a bill that could change how Groundwater Conservation Districts operate. That's got many districts, including some on the outskirts of Houston, worried they'll have less power to decide how the water underneath their communities gets used.
At the state capitol recently, a senate committee heard testimony from water managers, farmers and landowners. Some supported Senate Bill 1392, but most opposed.
(SB 1392 is still undergoing revisions in committee. Here's an amended version that came out of that recent hearing.)
The bill's author, Lubbock Republican Charles Perry, wants neighboring districts to work together. The idea is that water doesn't care about political boundaries, and that the state needs a more uniform way of managing it.
"We've got all these little micro-managers running around on the same aquifer, that performs the same way, the same geology, recharges the same, uses the same, and we got different sets of rules," Perry said.
The bill would require districts tapping into the same aquifers to come up with similar rules. It would also ban them from trying to keep water all to themselves. Districts would be prevented from setting up more restrictive permit conditions on people looking to export water.
For growing Texas cities that in the future might want to pump in new water sources from rural areas, that's good news. For the rural areas, maybe not so much.
"Are we moving away from local control in all this process?" L.G. Raun asked lawmakers at that recent hearing. He's a Wharton County rice farmer and vice president of the Coastal Bend Groundwater Conservation district, and he told lawmakers the current system is working.
"If in each district, with their different rules, and they are achieving their individual desired future conditions, and at the same time we're protecting private property rights and groundwater, why should we change all of our rules?"
Some water districts do support the idea of more standardized rule-making across the state. But the Texas Alliance of Groundwater Districts says among its members, there's concern that urban areas would have more power.
Attorney Russell Johnson, who supports the bill, says there is an inevitable conflict here.
"As we move forward, with an ever-greater water demand, the easy sources – the readily-available sources, the low-impact sources, have been largely accounted for," he says.
Johnson has represented landowners who have access to water resources and want to tap that water to help meet demand. He says the changes would help those people.
"I think the really frustrating thing for landowners is to know that if their property were located 1,000 yards in another direction, they'd be authorized to produce substantially more groundwater than they are where they're currently located," he says.
"Groundwater in Texas is private property, but it's also a public good," says Gabriel Collins, a water policy researcher at Rice University. He says Senate Bill 1392 would help people in the water business.
"I think what it's trying to address is the concern on the part of potential water export project developers that they may get their wings clipped by an independent-minded groundwater district," he says.
Collins says Texas does need to find and develop new water sources, but he says that needs to be done carefully, with conservation in mind.
It's a tricky balance that all sides of the issue are aware of, as they continue negotiating over one piece of legislation that's part of a much broader, and perhaps inevitable, re-imagining of Texas water policy.