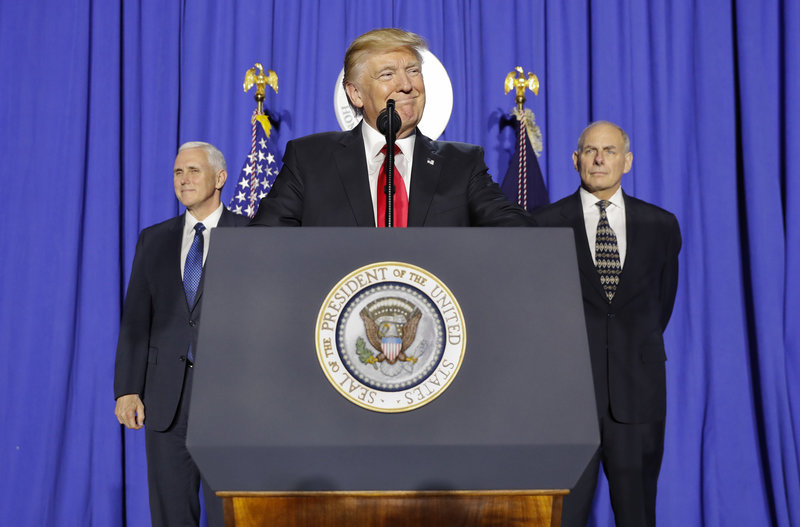 1. FRANCE SAYS ELECTION SECURITY MEASURES "FULLY MOBILIZED" AFTER SHOOTING
The Paris prosecutor's office leading the investigation of the Champs-Elysees attack on police officers says investigators found a pump-action shotgun and knives in the gunman's car.
2. ARKANSAS CARRIES OUT FIRST EXECUTION SINCE 2005
Ledell Lee's lethal injection capped a chaotic week of legal wrangling that left Arkansas scrambling to salvage any part of its attempt to execute eight men before one of its drugs expires at the end of April.
3. CHILDREN FATHERED BY RETREATING ISLAMIC STATE FOREIGN FIGHTERS ARE IN LIMBO
One young Tunisian orphan, 2-year-old Tamim Jaboudi, has been in a prison in Tripoli, Libya, for well over a year.
4. WHO WILL WORK TO SMOOTH OVER US RELATIONS WITH AUSTRALIA
Vice President Mike Pence will meet with Prime Minister Malcolm Turnbull on Saturday more than two months after President Donald Trump got into a spat with the Australian leader.
5. VENEZUELAN OPPOSITION AIMS TO BUILD MOMENTUM OF MASS PROTESTS
The anti-government movement is planning sit-ins on roads, silent marches a day after tens of thousands of protesters were met by curtains of tear gas and rubber bullets.
6. WHY A JAILED PALESTINIAN LEADER IS BACK IN THE SPOTLIGHT
By organizing a mass hunger strike by hundreds of Palestinian prisoners, Marwan Barghouti has solidified his standing as a likely successor to President Mahmoud Abbas.
7. WHERE PROGRESS OVERCOMING THE STIGMA OF DEPRESSION IS SLOW
China adopted its first mental health law five years ago but change is coming slowly within a society that traditionally viewed symptoms such as anxiety as isolated physical problems.
8. SOUTH KOREA ACCUSED OF TARGETING GAY SOLDIERS FOR PROSECUTION
A watchdog group said the army's effort began after a video of two male soldiers having sex was posted on the internet earlier this year.
9. SUSPECT IN FRESNO, CALIFORNIA, MASS SHOOTING TO MAKE COURT APPEARANCE
Kori Ali Muhammad is charged with killing unarmed security guard Carl Williams at a Motel 6 in Fresno.
10. HOW FANS WILL MARK ANNIVESARY OF PRINCE'S DEATH
At Paisley Park, a full four days of events are on tap, including concert performances by Prince's former bandmates. Fans who can't afford those high-priced tickets can head to a street party outside First Avenue.