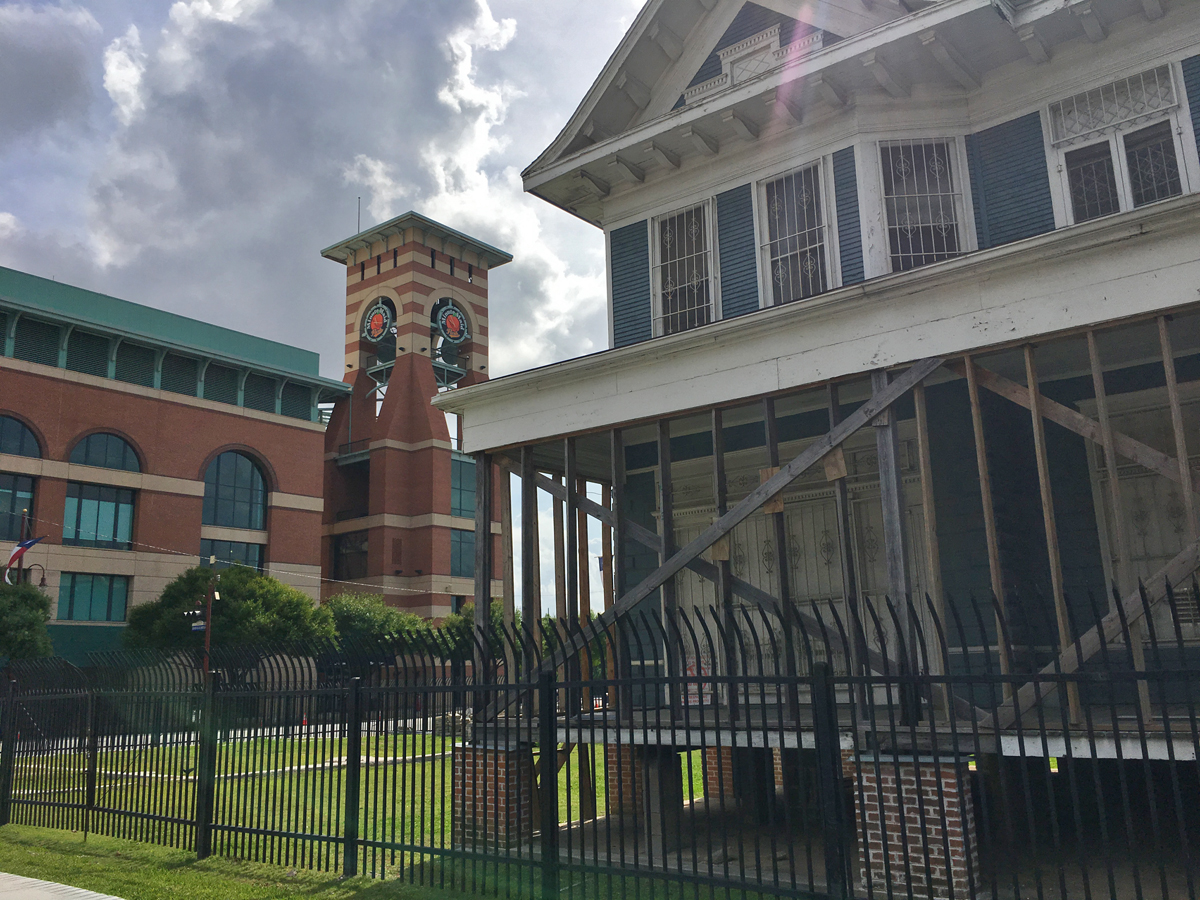 Perhaps on your way into Minute Maid Park you've noticed something that seems out of place: a blue-and-white Victorian Era home, behind a wrought iron fence just across the street from the ballpark to the south.
If you've ever wondered what the story is behind that house, Jim Parsons of Preservation Houston gave Michael Hagerty a tour of the area for an explanation.
It turns out the area around Minute Maid Park was once known as Quality Hill, and that was Houston's first upscale neighborhood. And while most of it is gone, there are still some unlikely remnants.
One of them is that blue house, called the Cohn House. It was built in 1905 and was originally owned by Arthur B. Cohn, who was an early business manager for Rice Institute (later to become Rice University).
In the century-plus since, the house has moved several times and changed hands. Now the City of Houston owns it. Parsons says there were once plans to turn it into a visitor's center near the George R. Brown Convention Center. But, right now, it sits idle and unused.
Just a block to the west is another remnant of Quality Hill: the William Foley House. It was owned by the original financial backer of the Foley's department stores.
(VIDEO: Foley House Relocation)
Now, Annunciation Catholic Church owns it and is renovating it to serve as a parsonage for the church. That means, someday soon, people will once again live in a home from Quality Hill – in Quality Hill. And, by the way, the church itself is a well-preserved remnant of Quality Hill too.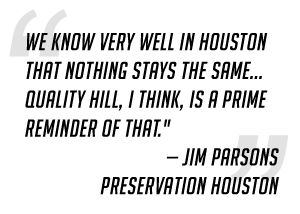 Also, if you're wondering about the "hill" in Quality Hill, it refers to the ever-so-slight rise in elevation around the area that Parsons says allowed residents to look down on Buffalo Bayou and Allen's Landing. For Houston, it passes as a hill.
"And in Houston, you know, you take your hills where you can find them," Parson said.
The "hill," the two houses and the church are the only remnants of Quality Hill still located in Quality Hill. However, some structures still exist that were moved elsewhere. Two of those now sit on the opposite side of downtown in Sam Houston Park. A third is a home that was purchased by an architect, disassembled and then put back together in a different style in Montrose. It's called the Waldo Mansion, and scenes from the Oscar-winning 1983 movie Terms of Endearment were shot there. (You can see before-and-after photos of the home's move in the slideshow above).
So what happened to Quality Hill? Jim Parsons says the building of Union Station (now part of Minute Maid Park) changed the face of the neighborhood, and, by the late 1800s, residents gradually moved elsewhere. But a few landmarks like the Cohn and Foley Houses still remain as testaments to an ever-changing Houston.
"We know very well in Houston that nothing stays the same," Parsons said. "But Quality Hill, I think, is a prime reminder of that."
MORE: Uncovering the Story of Quality Hill (Houston History Magazine, PDF)