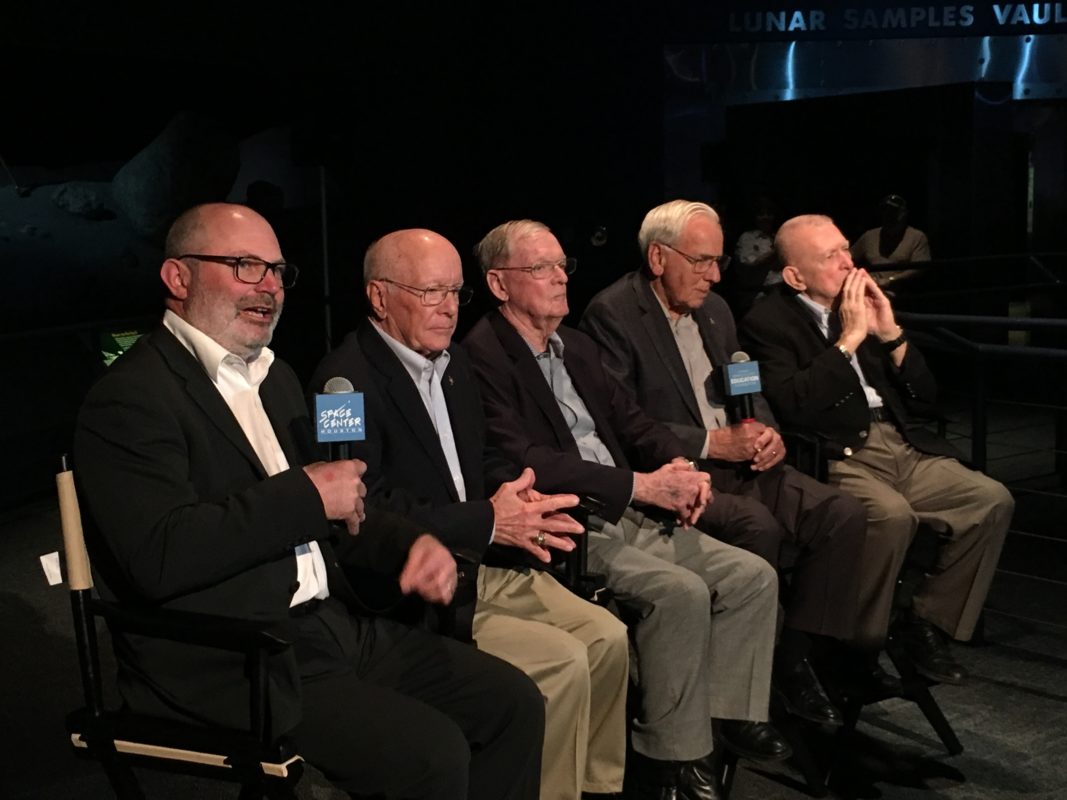 "Mission Control: The Unsung Heroes of Apollo" doesn't tell the story through the eyes of astronauts, as usual, but through the eyes of the flight controllers at Johnson Space Center. Apollo Flight Director Gerry Griffin says the moon landing happened because of the support they felt from leadership.
"We had people, starting with John F. Kennedy and then two other presidents during Apollo, and all the way down — both sides of the aisle at Congress — they backed us. They were committed. So with leadership and commitment you can do something like go to the moon. And frankly, we haven't had that."
Apollo Flight Director Gene Kranz:
"And this was at a time when our country had many of the same problems that we have right now. And our nation stepped up to accept the challenge — not only to go to the moon, but win the battle for space. And this was a group of unsung young people who sat at the consoles and made it happen."
Retired flight controllers were on hand for the premiere of the movie at Space Center Houston. Its release coincides with the launch of a fundraising campaign to help restore Mission Control to its original state during the Apollo program. A great deal of trust was placed on the work of these flight directors. One of them was Glynn Lunney, who says that trust helped form a team.
"Our leaders trusted us to do things. 'We trust you guys. You do what you have to do and we'll back you up.' And that's the way it was, and we worked hard for them. When you get trust like that, you work very hard to be sure you've earned it."
Director David Fairhead says decisions made in the political environment of the 60's ultimately made his film making job easier.
"The great thing about it, as well, is that NASA, in their incredible wisdom, decided that they would cover everything because the Soviet space system was closed. They didn't want to let people know what was going on, and I think NASA made a decision right from the very beginning that they were gonna open it to the world, so they could see what happened in the free world. A consequence of that is that they filmed everything."
And NASA has a treasure trove of footage.
"The moon landings lost their kind of magic appeal, and I think one of the reasons for that is that film that was being used and used and used got so scratchy and so faded and it just looked like it was something that happened a very long time ago, so it lost its magic. And then I was fortunate to work on a film that just coincided with NASA re-transferring all that 16mm film from the negative onto digital HD."
"Houston, Tranquility Base here. The Eagle has landed."
"Roger, Tranquility. We copy you on the ground. You got a bunch of guys about to turn blue. We're breathing again. Thanks a lot!"
Apollo Flight Director Milton Windler says at the time, he didn't really appreciate the historic aspect of what was being accomplished.
"I guess I feel bad because I didn't feel like that I was on the verge of doing historical things. I just had a job and it was a fun job and I (had) just gotten out of the Air Force and I was just ready to do things. Right place at the right time, I guess."
Gerry Griffin says "One of the keys of I think that helped us is that we were young. We didn't know (what) we couldn't do. And (it was) so fun to be on the end of the diving board where you had to make a decision."
"Mission Control: The Unsung Heroes of Apollo" is now in theaters, and available on digital platforms.