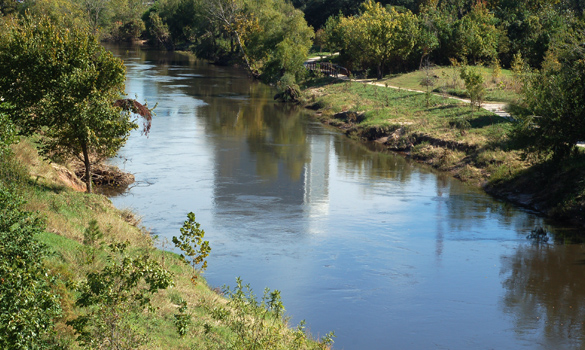 If you've been to the River Walk in San Antonio, you've seen — or even ridden — the barges that take tourists down the river. Well, last year, a Houston architecture and design company won a competition to design new boats, replacing the aging fleet.
Metalab Studio has created a new design for the river walk boats, and a few have already even gone into service. We talk Joe Meppelink of Metalab Studio about that project, but we also ask him to contemplate why Houston doesn't have a river walk. We have the bayous, of course, and there have been significant efforts to protect them. But could — or even should — we develop even a portion of them to be as touristy as San Antonio's River Walk?
Also this hour…
Is Everyone Messing With Texas?
Littering. Are we seeing tons more of it in H-town? Why? What the heck, people? We take a closer look at the problem here and talk about the psychology behind littering — both for people who litter/dump, and what we who witness it ascribe to them. We talk with John Nova Lomax, of Texas Monthly and behavioral psychologist Dr. Michael Winters.
The Good, the Bad, and the Ugly of Houston News
A lot can happen in a week. Some of it good. Some of it bad. Some of it downright ugly. When faced with intriguing developments in the week's news, we turn to our rotating panel of "non-experts" to parse The Good, The Bad and The Ugly of it all.
This week, our panel weighs in on new rules regarding homeless encampments and panhandling, and Gov. Abbott not telling Harris County about his new plan, plan to stop gangs here.
Our panel of non-experts this week includes: Frederick J. Goodall, author of parenting blog Mocha Dad dot com, one father's quest to be a better dad, Vladimir Davidiuk, conservative writer and political analyst , and Lisa Falkenberg, Columnist, Houston Chronicle.
Alley Theatre Takes Arts to School
The Alley Theatre has an in-school program that teaches STEM curriculum through the arts. Staging STEM aims to show teachers how to get their students to learn about core subjects through theatre practice. To learn more, we talk with Mary Sutton, the Alley's director of education and community engagement.
Houston Matters offers a free daily, downloadable podcast here, on iTunes, Stitcher and various other podcasting apps.