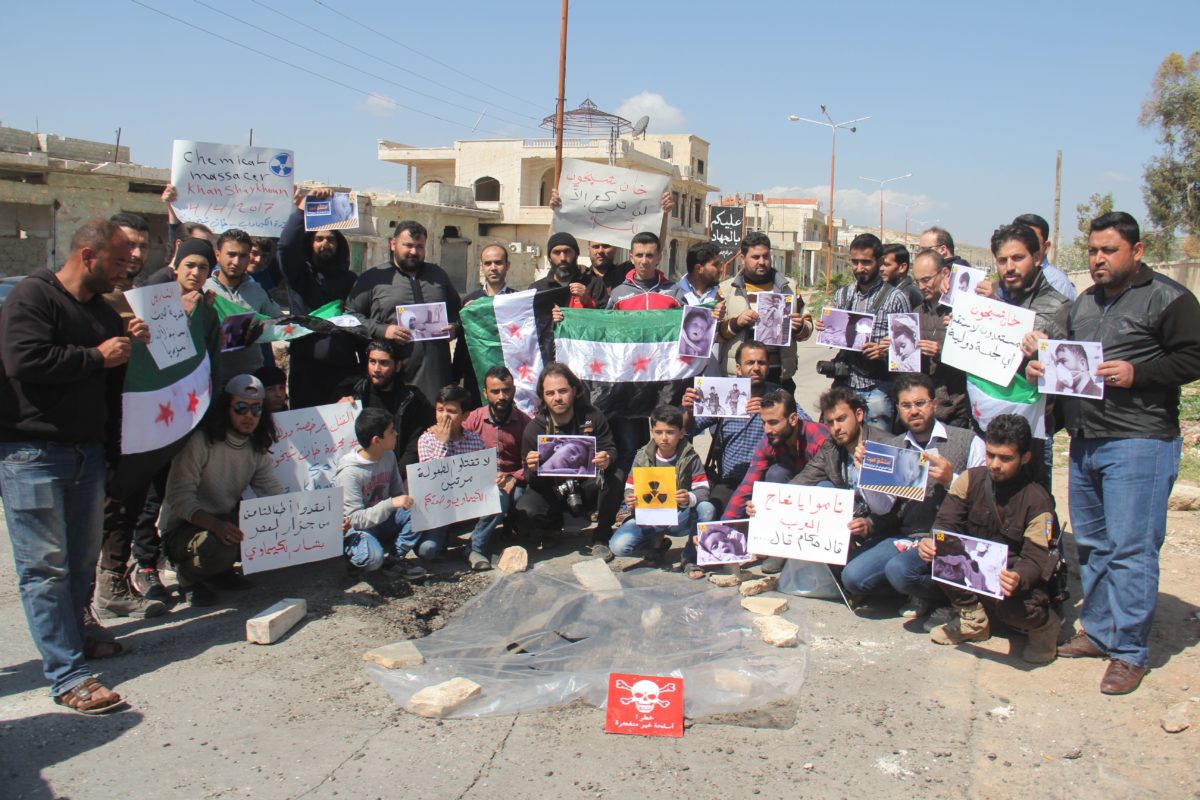 (Above: Syrian residents of Khan Shaykhun hold signs and pictures on Friday during a protest condemning a suspected chemical weapons attack on their town earlier this week. Photo: Getty Images)
Last week's chemical attack in Syria and the U.S. military response remind us of the violence Syrian people have lived with for years. It seems so disconnected to so many of us, but some of our friends and neighbors in Greater Houston have ties to Syria, and for them these violent geopolitical events hit all too personally.
On this edition of Houston Matters, we discuss what it's like to watch events like these play out from such a distance, knowing family or friends may be caught up in it, with Shireen Jasser, president of the Syrian American Council – Houston Chapter.
Also this hour…
Arab American Festival
The Arab American Cultural & Community Center is hosting its fourth annual festival celebrating Arab-American Heritage Month throughout April. The festival features events through the month, including a talk by installation artist Mona Hatoum, a screening of a film about the influence Arab immigrants have had on the US, and even a jazz concert on closing night.
Houston Matters producer Joshua Zinn spoke with festival organizer Hadia Mawlawi about the festival and the Arab-American experience in Houston.
The Present and Future of the WG Jones State Forest
There's been quite an epic battle brewing over the future use of W.G. Jones State Forest near The Woodlands. Travis Bubenik, News 88.7's energy and environment reporter, has been following the saga and reports on the dispute over the 1,700-acre public forest, which 100,000 people visit every year. He reports on what Texas A&M's board wants to do with it and then joins us to discuss how the land is currently used.
Camp Logan Riots
This week (April 10-12, 2017), Houston Public Media TV 8 is airing The Great War, a three-part documentary on World War I from the series American Experience. The film coincides with the 100th anniversary of America entering the war.
Featured in the series is the story of an infamous event that happened in Houston in 1917: the Camp Logan Riots. To learn more, Houston Matters producer Michael Hagerty talked with Dr. Adriane Lentz-Smith, an associate professor of history at Duke University. She told him about the riots and their legacy today.
Houston Matters offers a free daily, downloadable podcast here, on iTunes, Stitcher and various other podcasting apps.