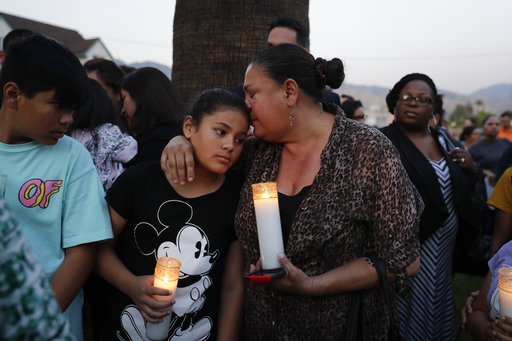 1. TILLERSON WARNS RUSSIA ON ASSAD ALLIANCE
The U.S. secretary of state tells Moscow to side with Washington and likeminded countries on Syria, or embrace Iran, militant group Hezbollah and embattled Syrian leader Assad.
2. BRIEF MARRIAGE PRECEDES SAN BERNARDINO SHOOTING
Cedric Anderson, 53, walked into his estranged wife's elementary school class and opened fire, killing her and an 8-year-old student before fatally shooting himself, authorities say.
3. BOMBARDMENT IN MOSUL TAKES HEAVY TOLL ON CIVILIANS
Iraqi government forces trying to wrest back the western half of the city from Islamic State group fighters are relying on heavier firepower.
4. ANOTHER SNIPPET OF VIDEO SHOWS TROUBLING SCENE
The Chicago passenger who had been dragged on his back to the front of a United Express plane later appeared dazed as he spoke through bloody lips.
5. DEMOCRATS FACE UPHILL CLIMB WITH ELECTORATE
Delivering a unifying message that resonates with anti-Trump protesters as well as white working-class voters in the Rust Belt and other presidential battlegrounds remains elusive.
Two months after South Sudan declared a famine, aid workers say the severe hunger has become more widespread than expected.
7. ATTORNEY GENERAL TO TOUR ARIZONA-MEXICO BORDER
Sessions has made immigration enforcement a key priority, saying he will speed up deportations of immigrants in the country illegally who were convicted of federal crimes.
8. TEXAS VOTER ID LAW AGAIN FOUND DISCRIMINATORY
The latest judicial ruling is significant because it raises the possibility of the state being stripped of the right to unilaterally change its election laws without federal approval.
9. PROSTATE CANCER TESTS NOW OK WITH FEDERAL PANEL
With their doctor's help, men have to decide whether to take an imperfect PSA test that has a small chance of detecting a deadly cancer.
10. US, CANADA, MEXICO FAST-TRACKING WORLD CUP BID PROCESS
The North American bid to host the 2026 World Cup has asked FIFA for a decision in June 2018, two years ahead of schedule, AP learns.