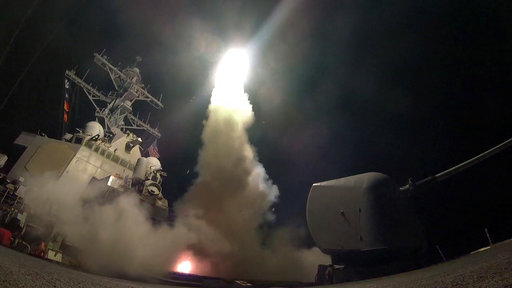 1. US HITS SYRIAN AIR BASE WITH TOMAHAWK MISSILES
The attack of some 60 missiles blasted an air base where U.S. officials say the Syrian military launched a deadly chemical attack earlier this week.
2. 'END THE SLAUGHTER AND BLOODSHED IN SYRIA'
President Trump calls on other nations to join the U.S. in seeking to halt the Syrian civil war that began six years ago.
3. GORSUCH ON VERGE OF HIGH COURT NOMINATION
If the Senate approves the Supreme Court nominee as expected, the new justice will likely be the decisive vote in upcoming cases including hot topics such as race and school choice.
4. TRUMP, XI MEET IN SHADOW OF MISSILE ATTACK
The White House downplays expectations for a breakthrough between the U.S. and China leaders on issues like trade and tariffs, insisting the summit is mostly an introductory meeting.
5. WHAT JOBS REPORT MIGHT REVEAL ABOUT ECONOMY
Economists forecast that employers added a decent if less-than-spectacular 180,000 jobs last month.
6. WHERE COLLEGES ENJOY A BOOM IN DEMAND
The number of creative writing bachelor's programs spikes from 161 in 2008 to 592 in 2013, according to the Association of Writers & Writing Programs.
7. NAZI-PLUNDERED ARTWORK RETURNS TO OWNER'S HEIR
Max Liebermann's "Basket Weavers" is being shipped back to the American descendants of its original Jewish owner.
8. SAMSUNG SEES BIG JUMP IN PROFIT DESPITE SCANDAL
Even as the scion of South Korea's Samsung business empire appears in court on bribery charges, the company sees its first-quarter profits rise 48 percent on strong smartphone sales.
9. WHY POSTAL WORKERS ARE SUFFERING MORE DOG BITES
Canine attacks on mail carriers rose last year to 6,755, up 206 from the previous year due to an increase in online package deliveries.
Augusta is rocked by the withdrawal of Dustin Johnson, the world's No. 1 golfer, after he tumbles down a staircase at his rental home, injuring his back.