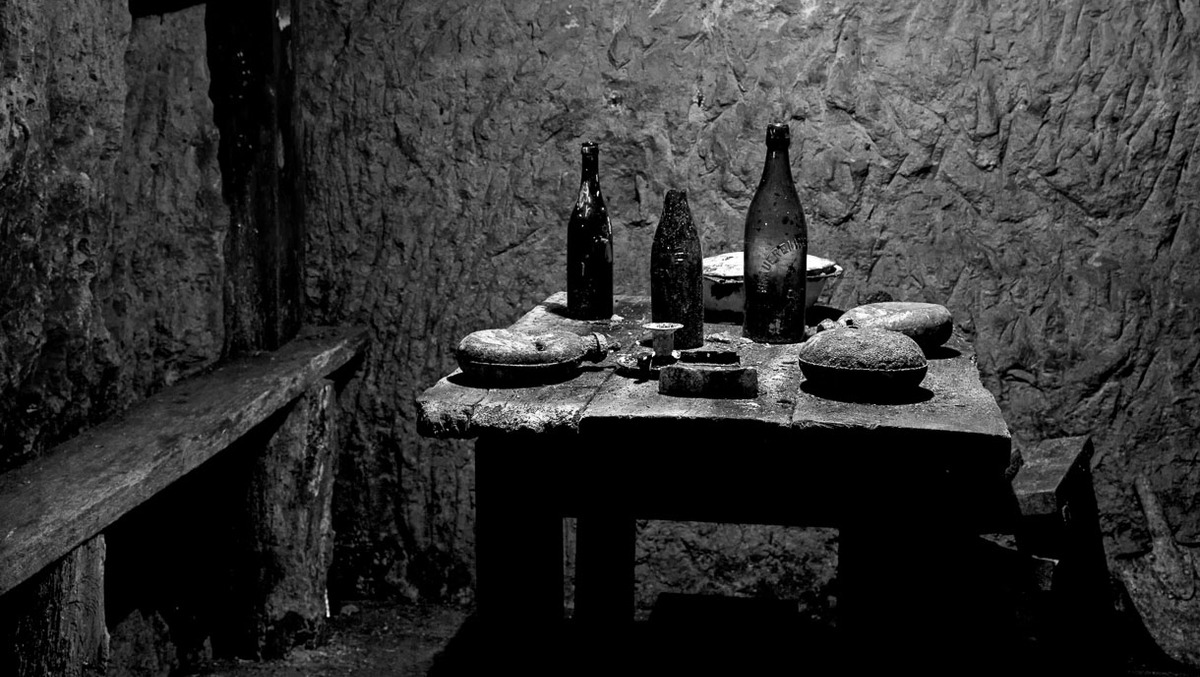 (Above: The underground dining area of a WWI French soldier, as photographed by Houston doctor Jeff Gusky. Image Courtesy: jeffgusky.com)
When we think of the brutal warfare of World War I, we tend to think of the 9 million soldiers and 7 million civilians dead, of infantrymen waging war with guns and grenades, hiding in muddy trenches above ground, of chemical weapons being used for the first time in warfare. But there were also cavernous stations where soldiers lived their lives between battles. And they left carvings – hundreds if not thousands of inscriptions, from names to detailed portraits and artwork. Many of these relics have been left untouched, making these stations feel like cathedrals dedicated to lost souls.
Dr. Jeff Gusky, who by day is an ER doctor with Altus Emergency Rooms here in Houston, is also a fine art photographer. He captures this Hidden World of World War I in a collection of photographs. Now, his photographs are part of a documentary on the Smithsonian Channel called Americans Underground: Secret City of WWI and a photo exhibit at the Smithsonian National Air and Space Museum.
On this edition of Houston Matters, we listen back to our 2015 interview Gusky did with our then-colleague Paige Phelps. He told her what it was like to visit these stations, how he found them and what the experience meant to him.
Also this hour…
Comedian Cheech Marin
Whatever you do, don't call Cheech Marin "Chong." The comedian is tired of being mistaken for his longtime comedy partner Tommy Chong, and he discusses his relationship with his former partner – and his career so far – in his new book, Cheech is Not My Real Name… But Don't Call Me Chong! Cheech Marin will be the Grand Marshal of the 30th annual Art Car Parade on Saturday (April 8, 2017), and he joins us in studio to talk about his book, comedy and how moving away from pot jokes helped his career.
Handbook of Houston
The Handbook of Houston is a free online guide to the people and stories that made Houston what it is today. We talk with editor Lindsay Scovil about it.
Houston Matters offers a free daily, downloadable podcast here, on iTunes, Stitcher and various other podcasting apps.