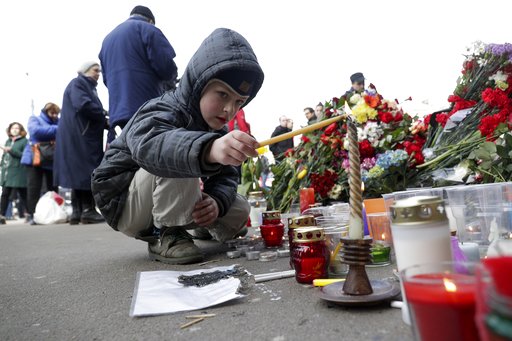 1. ST. PETERSBURG SUBWAY DEATH TOLL RISES TO 14
Russian investigators say a suicide bomber was behind the blast and Kyrgyzstan officials identify the suspect as Kyrgyz-born Russian citizen Akbarzhon Dzhalilov.
2. SUSPECTED CHEMICAL ATTACK STRIKES SYRIA
Dozens were killed in a town in northern Idlib province, Syrian opposition activists say, describing the attack as among the worst in the country's six-year civil war.
3. SENATE LEADER MAY INVOKE 'NUCLEAR OPTION'
If implemented by Mitch McConnell, it would lower Neil Gorsuch's Supreme Court confirmation threshold to a filibuster-proof simple majority of 51 votes.
4. WHAT HAS BORDER WALL CONTRACTORS CONCERNED
With bids due on the first design contracts, companies are expressing concerns about the security of their workers if they get the potentially lucrative but controversial job.
5. XI-TRUMP SUMMIT: TRADE, TAIWAN AND NORTH KOREA
The meeting later this week in Florida between the U.S. and Chinese leaders will be closely watched for signs of how relations between the world's top two economies will proceed.
6. JORDANIAN KING TO PUSH MIDEAST PEACE WITH TRUMP
King Abdullah II in a visit to the White House this week will relaunch an offer of regional recognition of Israel in exchange for Palestinian statehood.
7. PENCE OFFERS CHANGE TO HEALTH CARE BILL
A participant at the meeting says states would be allowed to apply for a waiver from an "Obamacare" provision that prohibits insurance companies from declining to write policies for people with serious diseases.
8. WHO IS PUSHING UNLIKELY TUITION PLAN FOR IMMIGRANTS
A proposal by Republican lawmakers in Tennessee would allow public colleges to offer in-state tuition rates to students whose parents brought them into the country illegally.
9. VA DEFENDING WORK TO FIX TROUBLED SUICIDE HOTLINE
The VA inspector general had found that nearly a third of calls to the Veterans Crisis Line as recently as November were bounced to backup centers run by an outside contractor.
Justin Jackson delivers the go-ahead three-point play and North Carolina secures its sixth national championship with a 71-65 win over Gonzaga.