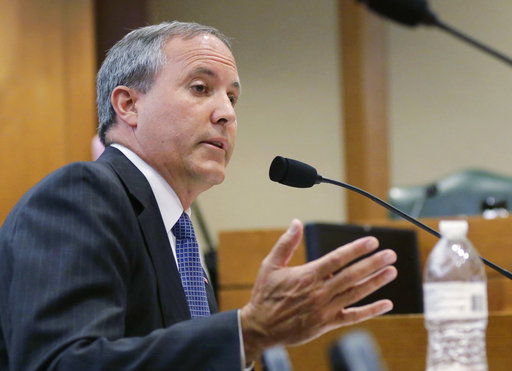 On the brink of Texas Attorney General Ken Paxton facing a jury on criminal securities fraud charges, a judge Thursday ordered a delay until the trial can be moved from the Republican's hometown where prosecutors have accused conservative allies of trying to derail the case.
Among those prosecutors have singled out is Rick Santorum, the former U.S. senator and GOP presidential candidate, who told a Dallas television station earlier this year that the felony indictments against Texas' top prosecutor were a witch hunt.
It is now unclear when Paxton — who has spent the majority of his two years in office under indictment — will stand trial over allegations that he improperly steered investors toward a tech startup without disclosing that he was being paid by the company. The trial was set to begin in May.
But state District Judge George Gallagher sided with special prosecutors who argued they couldn't get a fair trial in suburban Collin County, outside Dallas, where Paxton lives and where his supporters have publicly railed against the case. One Paxton ally has succeeded in tying up $200,000 prosecutors say they're owed after filing a lawsuit claiming that their fees are exorbitant.
In turn, prosecutors have threatened to quit if they don't get paid, in what legal observers say may be an unprecedented courtroom twist.
Gallagher did not set a new trial date or select a new venue in a brief one-page ruling.
But during a courtroom hearing this week, Gallagher expressed concerns over a flier for a Paxton fundraiser in 2013 that was hosted by a number of locally prominent Republicans in Collin County. The fundraiser was held two years before Paxton was indicted and at the home of a family that is also now challenging the money paid to prosecutors.
"We may have an ethical problem here," Gallagher said Wednesday.
Paxton's attorneys quickly asked the judge Thursday to reconsider his ruling and not dwell on what they called an ordinary fundraiser.
Paxton, who would face five to 99 years in prison if convicted, has pleaded not guilty and has signaled that he will run again in 2018. The delay now threatens to keep the case lingering over Paxton as he would begin a re-election campaign in earnest, although so far no Republicans have announced plans to challenge him in a primary.
The judge ordered both sides this week to stop talking to the press, but Paxton's former campaign manager called the ruling the latest in a line of unfair treatment.
"It's long past time for Ken Paxton to receive fair treatment under the law, yet Ken Paxton and his family continue being victimized by the system," said Anthony Holm, a Republican strategist.
Top Republicans in Texas, from Gov. Greg Abbott on down, have not flocked to Paxton's defense since his indictment but also have not criticized or abandoned him. All the while, Paxton has aggressively sought to take the mantle as Texas' freedom-loving, federal government-suing defender of conservative causes.
Gallagher also Thursday denied another attempt by Paxton to have the charges dismissed. Last year, Paxton beat a nearly identical civil lawsuit brought by the U.S. Securities and Exchange Commission after a federal judge ruled that Paxton was under no obligation to disclose his relationship with the company that paid him to recruit investors.