A bill that would create private school choice programs by allowing state funds to be used on private school education has passed out of the Texas Senate Thursday and on to the House. Some of the biggest concerns about the Republican-led bill came from other Republicans.
LISTEN: As heard on Texas Public Radio.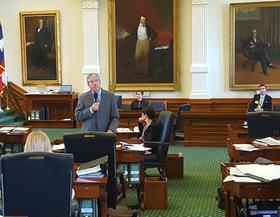 State Sen. Larry Taylor made several changes to his original bill aimed at creating private school choice programs in Texas. One change decreases the overall amount of state funds that fuel the bill's Education Savings Accounts and tax-credit scholarships.
"With this program we are going to talk about today, it does not affect our school finance system," Taylor explains.
But San Antonio Democrat, Jose Menendez is concerned the Bexar County schools he represents will be impacted because they could have fewer students attending and receive fewer state dollars over time.
"Especially when I represent a school district, Edgewood ISD for one, who fought for equity and still has very serious challenges in terms of funding," Menendez says.
Other state senators were also concerned about the impact of the bill. Because private schools are not required to meet state accountability standards, including what is taught in their schools, Kel Seliger, an Amarillo Republican worries the bill could create a system where state funds are going to private schools whose curriculum includes anti-American rhetoric.
"What about a prodigal school that pops up that teaches things that are anti-American, anti-Christian, anti-Israel, there is nothing that would prevent them from doing that," Seliger says.
Taylor says there are provisions in his bill that prevent this sort of thing from happening. In response, Seliger said he didn't understand how that would be possible without violating a school's constitutional rights.
The bill passed out of the Texas Senate on a vote of 18 to 13 with three Republican senators voting against the bill.
Copyright 2017 KSTX-FM. To see more, visit
KSTX-FM
.
Subscribe to Today in Houston
Fill out the form below to subscribe our new daily editorial newsletter from the HPM Newsroom.