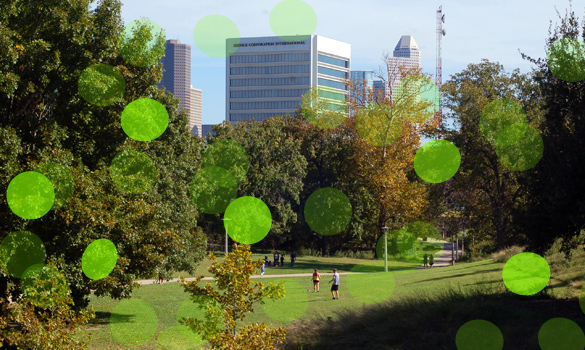 (Above: Experiencing Houston's rich greenery, like that seen at Buffalo Bayou Park, can often come with a downside — allergies. Photo: Michael Hagerty, Houston Public Media)
Springtime is back in Houston, and that means allergies are too. Hooray! The pollen counts provided by houstontx.gov are very high this month and slightly higher than last year. Pollen from oak trees account for over 75 percent of the tree pollen.
With that in mind, Dr. Dat Tran, an allergist and immunologist at UTHealth McGovern Medical School, answers your allergy questions.
Highlights from Our Conversation:
Tree pollen, such as oak, is up 10-15 percent over last year;

The benefits of allergy shots versus allergy drops taken orally;

Are more people suffering allergies — or are we just diagnosing it more?

Is there anything you can do to prevent your baby from developing allergies?