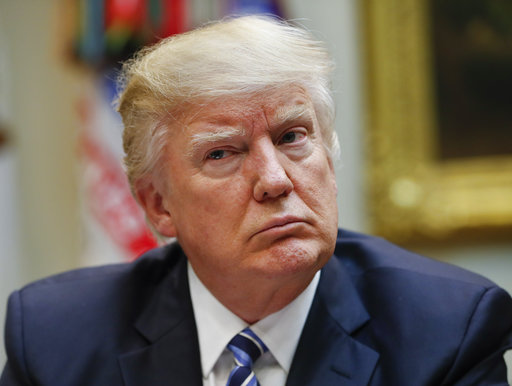 1. TRUMP TAKES AIM AT CLIMATE CHANGE
The U.S. president will sign an executive order that will suspend, rescind or flag for review more than a half-dozen measures that were part of Obama's plan to curb global warming.
2. TRUMP HAS TRADEMARKS IN JORDAN
To keep them active — including a controversial one for a casino with gambling illegal in the kingdom — he would need to reapply for them during his four-year term, raising potential ethical concerns, AP learns.
3. RED BULL HEIR AVOIDING PROSECUTORS
Vorayuth "Boss" Yoovidhya went back to enjoying a jet-set life within weeks after he was accused of killing a Thai police officer in a hit-and-run nearly five years ago, AP finds.
4. VIOLENT CLASHES RATTLE PARIS
Three police officers have been injured and 35 protesters arrested as an Asian community expresses outrage at the police killing of a Chinese man in his home.
5. INSPECTORS VISITED OAKLAND BUILDING BEFORE DEADLY BLAZE
Officials found it lacked fire extinguishers, smoke detectors in each apartment and a working fire sprinkler system, among other violations.
6. HOW STATES ARE ADDRESSING REPRODUCTIVE RIGHTS
Some state Democratic lawmakers are pressing ahead with efforts to protect Planned Parenthood funding, birth control access and abortion coverage.
7. PARTS OF AFRICA ON BRINK OF FAMINE
Trump's proposed foreign aid cuts mean the fallout could include a new wave of migration toward Europe, experts warn.
8. WHY TRUMP'S BUDGET CONCERNS HOMELESS ADVOCATES
The push to end homelessness among veterans would suffer without the U.S. Interagency Council on Homelessness, an agency Trump wants to eliminate, officials say.
9. WHAT STATE IS FRIENDLY TO SELF-DRIVING CAR INDUSTRY
Unlike California, companies operating autonomous vehicles in Arizona don't need to carry extra insurance or report accidents to the state.
10. RAIDER NATION NEED SIN CITY ITINERARY
The NFL team will be moving to Las Vegas sometime in the not distant future, but the iconic franchise is likely to belong to Oakland until 2020.