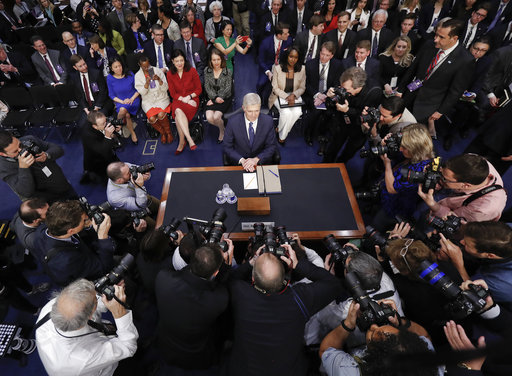 1. SUPREME COURT NOMINEE FACING DAYLONG QUESTIONING
Senate Democrats are determined to press Neil Gorsuch on everything from abortion and guns to his independence from Trump.
The U.S. president is trying to rally support for a revised version of the health care overhaul by taking his case directly to Capitol Hill.
3. US MOVES TO BOLSTER AIRLINE SECURITY
The temporary move would prohibit passengers on certain flights originating in eight other mainly Arab countries from packing most electronics in carry-on luggage, but regional airlines appear unaware.
4. IRISH REBEL TURNED POLITICIAN DIES
Martin McGuinness, the Irish Republican Army commander who led his underground paramilitary movement toward reconciliation with Britain, is dead at 66.
Park Geun-hye, South Korea's ousted president, apologized to the people as she underwent questioning by prosecutors over a corruption scandal.
6. 'BREAD WAR' BREWING IN VENEZUELA
Caracas' socialist government is seizing bakeries in the latest effort to combat long food lines.
7. HOW ONE CITY IS TACKLING BLIGHT EPIDEMIC
In historic Memphis, an effort is underway to reclaim the landscape of abandoned houses and trash-strewn vacant lots.
8. HAMAS AIMS TO IMPROVE INTERNATIONAL IMAGE
The Islamic militant group drafts a new political program to project a more pragmatic image, hoping this will improve ties with Egypt and help it get off Western terrorism lists.
9. FOX NEWS CHANNEL PULLS NAPOLITANO FROM AIR
The cable news network had disavowed legal analyst Andrew Napolitano's on-air claim that British intelligence officials helped Obama spy on Trump.
10. 'IF YOU CAN PLAY, GO OUT THERE AND PLAY'
Injured Miami Heat star Chris Bosh tells AP he has a simple perspective when it comes to the rest-or-play debate that is prompting the NBA to enact changes.