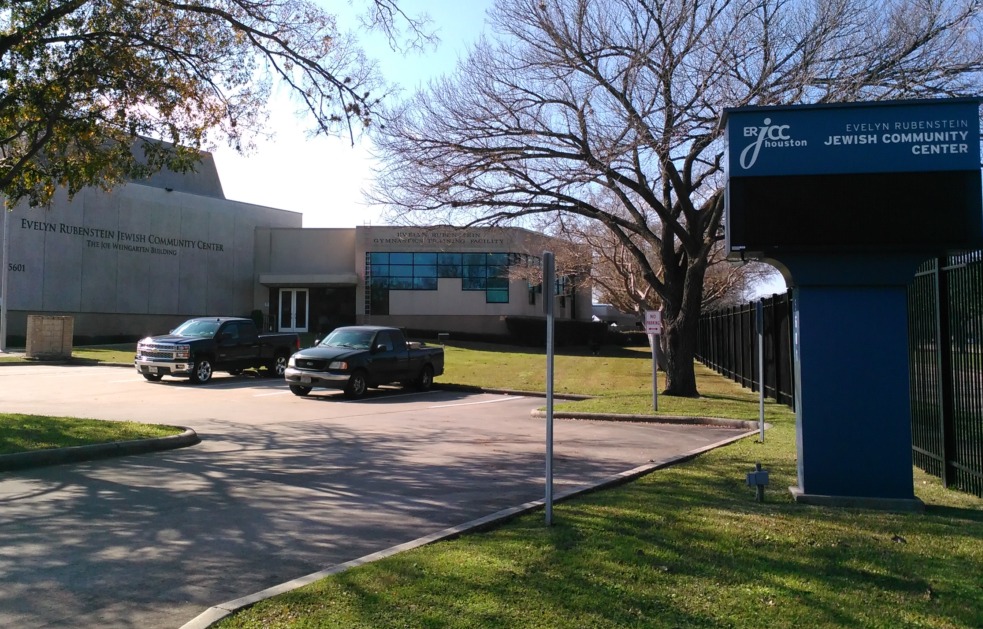 (Above:Â The Evelyn Rubenstein Jewish Community Center in Meyerland. Photo: Wikipedia Commons)
On Sunday (March 12, 2017), the Evelyn Rubenstein Jewish Community Center of Houston was evacuated for the second time in less than a month after receiving another bomb threat. JCCs and other Jewish organizations nationwide have received more than 150 such bomb threats since the start of the year.
NPR reported JCCs in eleven states received threats on one Monday in February. Why are Jewish organizations increasingly being targeted in this way? And how are Houston area organizations responding?
On this edition of Houston Matters, we talk with Dena Marks, associate director of the Anti-Defamation League of Houston, to get the lay of the land and ask if they've tracked an uptick in anti-Semitism in the region and learn about the national organization's Action Plan on Anti-Semitism. Then we talk with Joel Dinkin, executive vice president of the ERJCC about what steps his organization is taking in light of these increased incidents.
Also this hour…
The Futue of Nuclear Power in Texas
We've been devoting time in recent weeks to talking about the various sources of energy in Greater Houston and across Texas. Last week, we talked about wind power. On today's show, we examine nuclear energy with Charles McConnell, executive director of the Energy and Environment Initiative at Rice University, and Alex Trembath, communications director for the Breakthrough Institute.
MakerHealth Space
We often hear about "makers" – people who are using different tools to make things – be it traditional power tools or newer technology like 3D printers. But there are also makers in the healthcare industry. These are nurses, doctors and other professionals using technology and tools to design things to benefit their patients. UTMB in Galveston is home to the nation's first MakerHealth Space, where people are doing such work in a hospital setting. Michael Hagerty pays it a visit.
Richard Russo
Writer Richard Russo is known for his novels, such as Empire Falls, which won him the Pulitzer Prize for fiction in 2002. His third novel, Nobody's Fool (1993), took place in North Bath, N.Y., a blue-collar, Rust Belt town. And now, his latest novel, Everybody's Fool, revisits that town ten years later. Russo recently talked about his work with Houston Public Media's Dacia Clay and will hold an event at Brazos Bookstore on March 23 at 7 p.m.
Houston Matters offers a free daily, downloadable podcast here, on iTunes, Stitcher and various other podcasting apps.