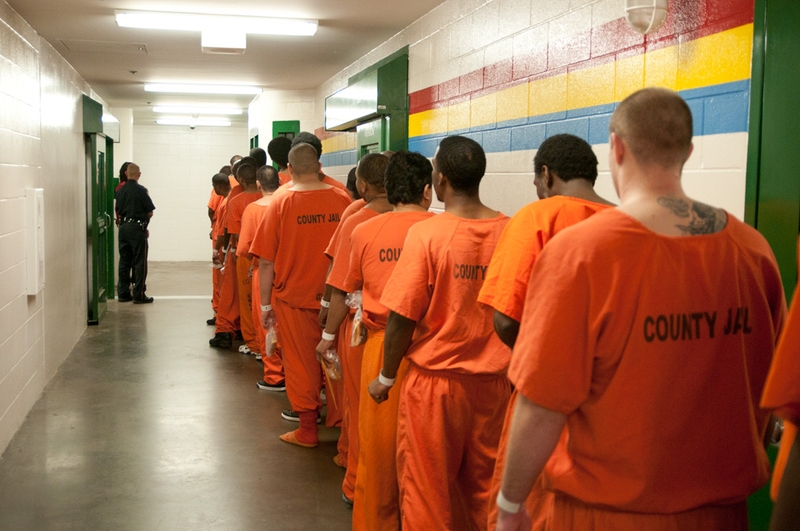 Amarillo resident Janet Blair-Cato lived on the edge of town, where she would rescue abandoned dogs – often pit bulls, drawing animal control's attention.
"I told him I rescue them, I don't fight them," she recalled once telling an officer. "So from that point, he started coming around and coming around, and then I got a barking ticket."
Blair-Cato soon found herself owing the city thousands of dollars in fines for the animal disturbance, as well as not having the proper vaccinations and tags for her dogs, and other related offenses. She also had a $384 speeding ticket on her record.
Blair-Cato entered into a payment plan with the court that worked until one day she received disturbing news: her latest payment didn't clear on time, so a warrant was issued for her arrest. She was not eligible to serve weekends or do community service, she said. She was left with two options: "pay it or lay it."
She spent 52 days in jail in 2014.
"I laid every bit of it out because I wasn't going to give them anymore money because it was a bottomless pit," she said. "All they had to do was turn them all into warrants again – it just ate up everything I had paid. So when I got out, two days later, I got another barking ticket, so I got rid of the dogs altogether. I haven't had a dog since."
Not every Texas city would have chosen to jail Blair-Cato over unpaid tickets. According to various experts and advocates, including Texas Supreme Court Chief Justice Nathan Hecht, cities where municipal judges impose such outcomes are violating the U.S. Constitution. He and others are hoping state law will soon reflect that.
"This is something we've done for a long time. It just has a lot of history to it," Hecht said. "I think part of it is a concern that no judge ever wants to release a criminal defendant who may then threaten public safety. So you're always going to err on the side of caution."
In January, state Rep. James White, R-Hillister, filed House Bill 1125, which would ban Texas judges from jailing people for an offense that is punishable only by a fine. State Rep. Diego Bernal, D-San Antonio, soon signed on as a joint author. On Thursday, White also filed House Bill 3729, which would require courts to ask whether a defendant can afford to pay a fine and offer alternatives to payment.
Bernal said representing a district with people from different socioeconomic backgrounds made him realize how a simple traffic ticket could dramatically affect someone's life. HB 1125 would "level the playing field" and "give people some dignity," he said.
Thousands of Texans are at risk of being arrested at any given moment for not paying fines related to traffic offenses or other city ordinance violations, according to a recently released report by Texas Appleseed and the Texas Fair Defense Project. Those who can't afford to pay often find themselves hit with additional fines or other restrictions such as being blocked from renewing their driver's licenses and vehicle registrations.
More than 200,000 Texans can't renew their licenses and approximately 400,000 have holds on vehicle registrations due to unpaid fines, according to the report. In 2015, almost 3 million warrants were issued in cases where the punishment was originally just a fine.
"What happens is that the current system is counterproductive, and it drives people further into debt because they're accumulating more tickets for driving illegally and on top of those tickets are all of the costs and fees that start snowballing as well," said Mary Mergler, criminal justice project director with Texas Appleseed. "So it drives people further into debt … and impedes people's abilities to make a living."
Courts generally don't offer alternatives to jailing or ask about a defendant's ability to pay, the study found. In 2015, judges rarely used community service to resolve "fine-only" cases – just 1.3 percent of the time. In fewer than 1 percent of cases, they waived fines or reduced payments owed because the defendant couldn't afford to pay, according to the study.
Many drivers feel a sense of helplessness related to paying off their mounting fines, said Emily Gerrick, a staff attorney with the Texas Fair Defense Project.
"It's very easy for people to accumulate thousands of dollars in ticket debt even if they're not bad drivers, just because they have to get their kids to school, they have to go to the doctor," she said. "There's no choice but to drive, so they're going to keep getting these tickets and then eventually, what ends up happening is they get their warrant, they go to jail."
That kind of disruption puts families, jobs and housing at risk, studies and individual accounts have shown.
"They're usually very distressed," Gerrick said, describing clients behind bars. "I've had them not know where their kids were when I saw them."
Mergler added that the situation undermines, rather than improves, public safety.
"People with outstanding warrants who are afraid of being arrested on those warrants are inclined to avoid contact with law enforcement, whether that's to report a crime or even to ask for help when they themselves are a victim of crime," she said.
The problem isn't unique to Texas. The U.S. Department of Justice highlighted Ferguson, Missouri's jailing practices in a 2015 report following the shooting death of teenager Michael Brown.
"Ferguson has allowed its focus on revenue generation to fundamentally compromise the role of Ferguson's municipal court. The municipal court does not act as a neutral arbiter of the law or a check on unlawful police conduct," the agency said in its report. "Instead, the court primarily uses its judicial authority as the means to compel the payment of fines and fees that advance the City's financial interests. This has led to court practices that violate the Fourteenth Amendment's due process and equal protection requirements."
In 2015, the American Civil Liberties Union, ACLU of Georgia and the Southern Center for Human Rights settled a lawsuit against DeKalb County, Georgia and Judicial Correction Services Inc. The groups sued on behalf a teenager who was jailed because he couldn't afford to pay fines stemming from a traffic ticket.
Other civil rights groups have brought forward similar cases in recent years in Alabama, Louisiana, Mississippi, Missouri and Tennessee.
Throwing someone in jail for not affording to pay fines needs to be made explicitly illegal in state law, Hecht said. The state's top judge pushed for such a change during his State of the Judiciary speech to a joint meeting of the House and Senate in February.
"The press for reforms has come from two quite different directions," Hecht said. "One of them is let's do better protecting society's interests without hurting criminal defendants more than is necessary. And on the other hand, not burdening the taxpayers with having to jail these people and then have to take care of them."
San Antonio's municipal court has not jailed anyone for an unpaid fine in "fine-only" cases for the past ten years, said John Bull, the court's presiding judge.
"Nobody could see what the benefit was to doing it," he said. "There was a cost to do it, but there wasn't a corresponding benefit to do it. The citations weren't getting paid, and then you were paying to house and feed them at $50 a day, so just from a purely economic standpoint, it made absolutely no sense."
The issue persists in municipal courts in other parts of the state because those courts are unlike any other, Bull said.
"When you look at all levels of court, they have jurisdiction for a certain period of time, and so if the judge in a felony court sentences someone to 20 years in prison for murder and then they parole out but they successfully complete parole, that case is over. It's just over," he said. "But at the class C level, they just never end, because it's like there's always some lingering fine out there."
Read more:
Texas Appleseed has been a financial supporter of The Texas Tribune. A complete list of Tribune donors and sponsors can be viewed here.
This article originally appeared in The Texas Tribune at https://www.texastribune.org/2017/03/14/thousands-texans-any-moment-face-arrest-unpaid-fines/.
Texas Tribune mission statement
The Texas Tribune is a nonprofit, nonpartisan media organization that informs Texans — and engages with them — about public policy, politics, government and statewide issues.