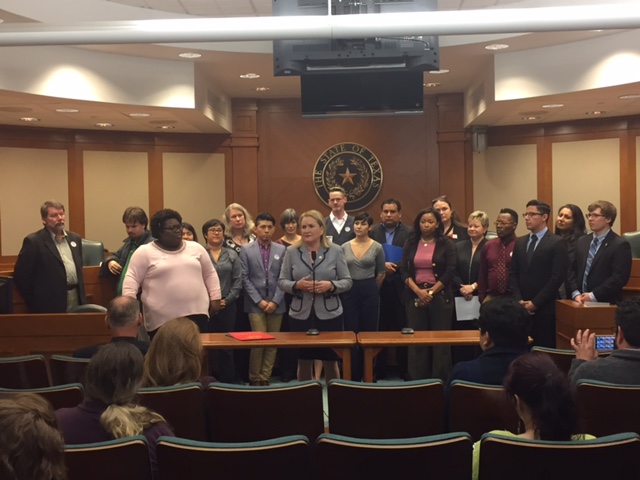 Two lobbying groups from the Houston region that don't typically work together joined forces in Austin this week to criticize bills that have to do with two of the hottest political topics this year for the Texas Legislature.
Members of the Houston GLBT Political Caucus and immigration activists who are worried about Senate Bills 4 and 6 visited the Texas Capitol on Monday to express their concerns to state lawmakers.
SB 4 would punish cities that don't cooperate with the federal government in regards to detaining undocumented immigrants, while SB 6 would require transgender people to use public bathrooms based on their gender at birth and not on their gender identity.
Tammi Wallace, co-founder and co-chair of the Greater Houston LGBT Chamber of Commerce, said at a press conference that "ultimately, SB 6 sends a message that Texas is not open for business and that we will discriminate, at all cost, to our state's economy on the back of business owners, particularly small businesses."
Carla Perez, a member of the Texas chapter of United We Dream, the largest group representing DREAMers in the United States, explained they are tying SB 4 and 6 together because that can make their advocacy more efficient.
"We are here to ensure that our elected officials know, and that the state knows, that you cannot just deport immigrants and throw our LGBTQ brothers and sisters under the bus," Perez noted at the press conference.
The Texas Senate has already passed the so-called anti-sanctuary cities bill and there is a public hearing scheduled for Wednesday March 15th in the House of Representatives, while the so-called bathroom bill is still being debated in the upper chamber.